Érik Joseph Bédard (Template:Pronounced baydar) (born March 6, 1979 in the Ottawa suburb of Navan, Ontario, Canada) is a Major League Baseball starting pitcher for the Boston Red Sox. Bédard previously pitched for the Baltimore Orioles where he was the staff ace, setting the franchise single season strike outs per nine innings record at 10.93 in 2007.[1]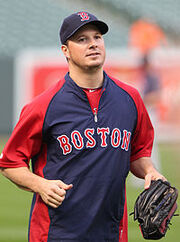 Early years
Edit
A Franco-Ontarian, Bédard began his baseball career in the Orleans Little League and the Ontario Baseball Association. Érik was a pitcher on the 1992 Orleans Junior Red Sox team which beat Glace Bay in the 1992 Canadian Championship.[2] Bédard did not play high school baseball, which is the norm in Canada due to the short season.
Although 5'4" and 120 pounds as a senior, he grew seven inches and gained 30 pounds during the summer between graduating from high school and beginning college. He accompanied a friend to a tryout at Norwalk Community College in Norwalk, Connecticut, and made the baseball team as a walk-on.
While in college, he added 10 miles per hour to his fastball, gained another 30 pounds, took the "lowest level" non-credit English language course to enhance his knowledge of the language, and became a junior college All-American.[3]
Professional career
Edit
As a left-handed starter, Bédard pitched four seasons with the Orioles. After posting dominating numbers when he was at the Double-A level, he quickly gained recognition as one of the best pitching prospects in baseball, gaining comparison to lefty Cy Young Award winner Johan Santana. However, an elbow ligament injury forced him to the operating table, and set his development back 18 months. After spending most of 2003 in rehab, he received an invitation to the big-league spring training the next year. He made the most of his opportunity, beating out other pitchers for the fifth spot in the starting rotation. In 2004, he posted a 4.59 ERA in 137 1/3 innings of work. His strikeout numbers were 7.93 K/9, and he had 71 BB allowed. Bédard was criticized for having a high pitch count (19.5 pitches/inning), forcing him to frequently make early exits from ballgames, and he was criticized for lacking a third type of pitch.
Under the tutelage of pitching coach Ray Miller, who rejoined the Orioles in the middle of the 2004 season, Bédard refined his control of the change-up (his third pitch) to go along with his 91-93 mph fastball and slurve. In the beginning of 2005, he posted a 2.08 ERA, but after a sprained knee sidelined him for two months, he posted a 5.44 ERA.
Bédard was named the Orioles' starting pitcher for Opening Day on April 2, losing the decision to reigning Cy Young Award winner Johan Santana in Minnesota by a score of 7-4.
On May 20, Bédard recorded his first major league hit, a single up the middle in the 5th against the Washington Nationals. In his next at-bat, he looped an RBI single over shortstop, going 2-2 with a sacrifice in the game.
On July 7, Bédard struck out 15 Texas Rangers, matching the Orioles franchise record set by Mike Mussina. In the same game, he faced the minimum number of batters (27), as the only two batters who reached base were later out on double plays. His 15 strikeouts also set the record for the most in a game by a Canadian. His performance throughout the month was recognized by Major League Baseball, which named Bédard the American League Pitcher of the month for July 2007.
Although he played for a losing team, Bédard's individual performance had put him among those shortlisted to contend for the American League Cy Young Award.[4] Teammate Kevin Millar has stated that Bédard "probably has the best curveball in baseball."[5] Bédard broke the franchise single-season strikeout record on 26 August. The previous record was held by Mike Mussina, who had 218 in 1997.
The results of an MRI on September 4 confirmed that Bédard suffered a strained oblique in his previous start on August 26.[6] Because the Orioles were eliminated from playoff contention later that week, manager Dave Trembley decided to shut down Bédard for the remainder of the season on September 9, prematurely ending Bédard's season by placing him on the 60-day disabled list.[7]
Bédard finished the season with a 13-5 record, posting a 3.16 ERA with 221 strikeouts. He was eligible for arbitration from the Orioles during the 2007-08 offseason.[8]
On February 8, 2008, Bédard was traded to the Seattle Mariners in a 5 for 1 deal sending outfielder Adam Jones and pitchers George Sherrill, Tony Butler, Chris Tillman and Kam Mickolio to the Orioles.[9] On February 13, Mariners manager John McLaren announced that Bédard would be their Opening Day starter.[10] Érik Bedard signed a one year, 7 million dollar deal with the Seattle Mariners on February 15th, avoiding any salary arbitration.[11] In spring training in 2008 he led the major leagues in home runs given up, with 9 in 24 innings.On July 10th, 2008 he was placed on the 15 day disabled list.[12] Bedard is not considered to even start baseball activities and won't even get on a mound until August.
References
Edit
External links
Edit
Community content is available under
CC-BY-SA
unless otherwise noted.