This page has been copied from Wikipedia under the provisions of the GNU Free Documentation License.
Please help Baseball Wiki by revising it.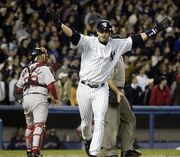 Aaron John Boone (born March 9, 1973 in La Mesa, California) is a major league infielder, currently with the Washington Nationals. He has previously played for the Florida Marlins, Cincinnati Reds, New York Yankees and Cleveland Indians. Although he's had a long and dependable career, he is probably best known for his series winning home run in Game Seven of the 2003 ALCS.
College career
Aaron Boone played baseball for the University of Southern California.
Professional career
On the last day of the 1998 season, the Reds helped him make baseball trivia history by starting the only infield ever composed of two sets of brothers: first baseman Stephen Larkin, second baseman Bret Boone, shortstop Barry Larkin, and third baseman Aaron Boone.
During a certain period of Boone's career, he was welcomed to the plate by his own fans with a loud "boo." This was a play on his last name and was a positive cheer rather than a heckle.
Boone's claim to fame is his 11th inning home run during Game 7 of the 2003 ALCS which gave the New York Yankees a 6-5 victory over the Boston Red Sox. The Yankees won the game and the series on the home run, thus prolonging the Sox' Curse of the Bambino for one more year. This home run was rated the 9th best home run of all time on Baseball Tonight.
On February 27, 2004, Boone was cut from the Yankee roster after tearing a knee ligament during a pick-up basketball game played in violation of his contract with the Yankees. He was replaced at third base by former Texas Rangers shortstop Alex Rodriguez. Since the Yankees would most likely not have tried to obtain Rodriguez if Boone had not been injured, it has been jokingly dubbed by some as the most important basketball injury in the history of baseball. During the 2004 season, the Yankees expressed an interest in re-signing Boone to play second base in 2005, replacing Enrique Wilson and Miguel Cairo, but Boone instead signed a two-year contract with the Cleveland Indians.
On December 29, 2006, Boone signed a one-year contract with the Florida Marlins[1].
On December 6, 2007, Boone signed a one-year, one million contract with the Washington Nationals.[2]
Family
He is the son of catcher and manager Bob Boone, the brother of all-star and the winner of four gold gloves, Bret Boone, and the grandson of former major leaguer Ray Boone. He is married to Playboy Playmate Laura Cover and together they have a son.
See also
List of second generation MLB players
External links