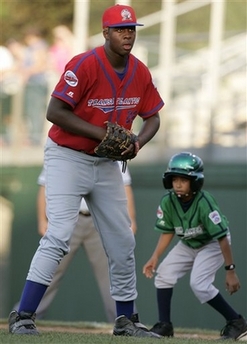 Aaron Durley (born 21 July 1993 in Houston, Texas) is a Little League baseball player, known for his exceptional size. He first became the object of media attention in 2005 (though garnered much more in 2006 when he had grown 4 more inches to 6'8"), when he played in the Little League World Series for the Arabian American team from Dhahran, Saudi Arabia, which is largely composed of the children of foreign petroleum workers, many from the United States. He had previously played for the Arabian American team in the 2005 Little League World Series.
As of August 2006, Durley is 6'8" (206 cm) tall and weighs 256 lbs. (116 kg), at age 13. He takes a size 19 US shoe.
For the past five years, Durley has lived with his parents in Saudi Arabia, where his father works for Saudi Aramco. Previous to that, he lived in Canada.
Aaron is attending middle school in Houston at Westbury Christian School and living with his grandparents. He currently is playing on the Westbury Christian Middle School Baseball Team.
External links
Edit
Community content is available under
CC-BY-SA
unless otherwise noted.