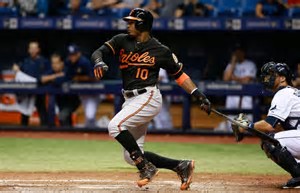 This page has been copied from Wikipedia under the provisions of the GNU Free Documentation License.
Please help Baseball Wiki by revising it.
Adam LaMarque Jones (born August 1, 1985 in San Diego, California) is an outfielder for the Baltimore Orioles. He was originally drafted by the Seattle Mariners with the 37th pick of the 2003 Major League Baseball Draft as a shortstop/right handed pitcher. Most experts believed that Seattle wanted to use him as a pitcher, but Jones said he'd prefer to play everyday and was made the shortstop of the Mariners' rookie league affiliate. A few years later when the Mariners acquired Yuniesky Betancourt, they asked Adam if he would move to the outfield. Jones agreed to give it a try and has continued to improve ever since. He shot through the Mariners minor league system in a relatively short amount of time. On July 12, 2006, he was called up to the Mariners replace the injured Jeremy Reed.
On August 9, 2006, Jones hit his first major league home run against the Texas Rangers.
On August 3, 2007, Jones returned to the majors for the first time on the season, starting in right field for the Mariners against the Boston Red Sox, going 2-4 and scoring the go-ahead run in a 7-4 victory.
On February 8, 2008, Jones was traded to the Baltimore Orioles in a deal for Érik Bédard.[1] Also going to the Orioles were left-handed reliever George Sherrill and minor league pitchers Kam Mickolio, Chris Tillman, and Tony Butler. Jones is now the Orioles' starting center fielder.
References
Edit
Community content is available under
CC-BY-SA
unless otherwise noted.