This page has been copied from Wikipedia under the provisions of the GNU Free Documentation License.
Please help Baseball Wiki by revising it.
Adrian Gonzalez (born May 8, 1982, in San Diego, California) is a Mexican-American Major League Baseball first baseman for the New York Mets. He was the first overall pick in the 2000 Major League Baseball Draft by the Florida Marlins.
The son of Mexican parents, Gonzalez lived 12 years of his youth in Mexico. He played for Mexico in the 2006 and 2009 World Baseball Classic.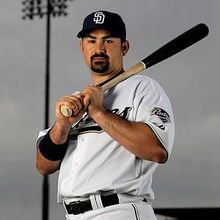 Texas Rangers (2004-2005)
Gonzalez was the first infield position player to be drafted first overall since Alex Rodriguez in 1993. He was drafted out of Eastlake High School and given a $3 million signing bonus. Slowed by injuries, he wasn't able to live up to his high expectations of being the number one pick as featured by major publications such as Baseball America, and written about by noted sports journalist Jason Blasco in an interview http://www.topprospectalert.com/adrian-gonzalez-interview.htm. After a wrist injury, the Marlins felt Gonzalez would be hindered swinging the bat, so he was subsequently traded to the Texas Rangers in a deal for Ugueth Urbina. He played in 16 games for Texas in 2004 and in 43 games in 2005. After the season, Gonzalez was traded to the San Diego Padres along with pitcher Chris Young and outfielder Terrmel Sledge. In return, the Rangers received Adam Eaton and Akinori Otsuka. Originally seen as an eventual replacement for Ryan Klesko at first base, Gonzalez was given the job when Klesko underwent shoulder surgery.
San Diego Padres (2006-present)
With extended playing time at first base in 2006, Gonzalez continued to improve his hitting, and showed flashes of gold glove caliber defense. On July 23, 2006, he was named the NL Player of the Week.[1] In his first full season, he led the Padres in batting average (.304) and home runs (24). He was the first player in Petco Park history to have more than one multiple home run game.
2007 season
On March 31, 2007, Gonzalez agreed to a $9.5 million, four-year deal, with a club option for $5.5 million in 2011. [2] In the 2007 season, Gonzalez led the Padres in home runs again, with 30, and had a team-high 100 RBIs.
2008 season
In the 2008 season, Gonzalez finished with a .279 average and once again led the Padres with 36 HRs and 119 RBIs. He was elected to the 2008 MLB All-Star Game as a reserve. He went 1 for 3 with a single and a sacrifice fly, scoring Miguel Tejada of the Houston Astros. He won his first Gold Glove Award in 2008 at first base.
Gonzalez played winter ball in the Mexican Pacific League for the Venados de Mazatlán. In the 2009 Caribbean Series, he led his team past the Dominican Republic's Tigres del Licey with a record-setting 3 home runs on February 4.[3]
2009 season
Gonzalez started off hot in 2009, hitting 23 homers and leading the Major League Baseball in that category at the end of May. This despite playing his home games at Petco Park, which Padres statisticians describe as an "extreme pitcher's park."[4] On May 18, Gonzalez was described as being one of the two most underrated players in the National League according to a poll of Major League executives and managers conducted by MLB.com.[4] On April 1, Gonzalez was named the NL Co-Player of the Week for the second time in his career. During that week, Gonzalez hit four home runs, tallied 10 RBIs, and had a 1.000 slugging percentage.[5] Gonzalez was elected to the 2009 Major League Baseball All-Star Game after voting by fellow players, managers and coaches.[6] He subsequently participated in that year's Home Run Derby where he hit two home runs in the first round. On August 1, Gonzalez finished 6-for-6 with three RBI as the Padres topped the Milwaukee Brewers 13-6. Gonzalez's six hits are the most by any Padre in a nine-inning game. Three others have accomplished the feat, but did it in extra-inning contests. Gonzalez hit five singles and a double.
He led the majors in walks in 2009, with 119,[7] while hitting forty home runs for the first time in his career.
2010 season
Gonzalez started the 2010 season playing well. On May 24, he was named the NL Player of the Week for the fourth time in his career.[8] On June 3, Gonzalez hit a walk-off grand slam in extra innings to lead his team toward a 5-1 victory over the New York Mets.[9] In July, Gonzalez was elected to participate in his third consecutive All-Star game.
Personal life
His brother is former Padres teammate Edgar Gonzalez. Their father was a member of the Mexican national baseball team.[10]
Gonzalez and his wife Betsy, reside in San Diego. [11] The couple created The Adrian and Betsy Gonzalez Foundation, which is focused on empowering underprivileged youth in areas of athletics, education and health.[12]
See also
You may see Adrian Gonzalez working out at the Family's new sports training facility in San Diego, California, the Gonzalez Sports Academy, AKA, "GSA." For more information go to: www.GonzalezSportsAcademy.com
References
External links
Template:Commons category
Template:Mexico 2006 World Baseball Classic roster Template:Mexico 2009 World Baseball Classic roster Template:MLB Number One Draft Picks Template:NL 1B Gold Glove Award