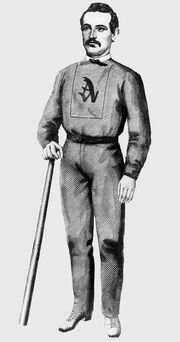 Alfred James Reach (May 25, 1840 – January 14, 1928) was an Anglo-American sportsman who, after becoming one of the early stars of baseball in the National Association, went on to become an influential executive, publisher, sporting goods manufacturer and spokesman for the sport. Al Reach and Lipman Pike are believed to be the first two baseball players paid for their services.
Born in London, Reach was already in his 30s when National Association began, and playing for the NA's version of the Philadelphia Athletics, he helped them win the first professional baseball pennant in 1871. Upon his retirement from playing in 1875, he helped found the Philadelphia Phillies franchise. Reach served as team president of the club from 1883 to 1902. Later, similar to Al Spalding, Reach formed a sporting goods company and earned millions. In fact, he sold his company to Spalding in 1889. Reach's Company published the Reach Baseball Guide annually tharough 1939, and the Spalding-Reach Guide in 1940 and 1941. The Sporting News then took over publication of the Guide.
Reach kept his interest in the Phillies franchise, selling out in 1903 to the owner of the Pittsburgh Pirates. He died at age 87 in Atlantic City, New Jersey.
External links
Edit
Community content is available under
CC-BY-SA
unless otherwise noted.