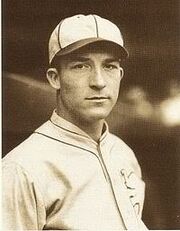 Aloysius Harry Simmons (May 22, 1902 - May 26, 1956), born Alois Szymanski[1][2] in Milwaukee, Wisconsin, was an American player in Major League Baseball for over two decades. His nickname was Bucketfoot Al.
Alois (also known as Aloysius) Szymanski said that he changed his name to Al Simmons after seeing an ad for a Milwaukee hardware store in the newspaper. The release of Wisconsin birth records on the Ancestry website cleared up the uncertainty as to his birthyear (1902) and birth name (Alois Szymanski).
A "bucketfoot" hitter who strode toward third base when hitting, Simmons starred as an outfielder for the Philadelphia Athletics during their heyday in the early 1930s, then went on to play for the Chicago White Sox, Detroit Tigers, Washington Senators, Boston Braves, Cincinnati Reds, and Boston Red Sox. He played in 4 World Series: 1929-1931 with the Philadelphia Athletics and 1939 with the Cincinnati Reds (1 game, replacing Wally Berger. He batted over .380 in 4 different seasons. He won The Sporting News AL MVP Award in 1929 (BBWAA selection was Lew Fonseca.
Al Simmons hit 307 home runs. The Philadelphia Athletics' outfielder compiled more hits than any right-handed batter in American League history until surpassed by Al Kaline. A deadly clutch-hitter and a favorite of Connie Mack, Simmons won batting titles in 1930 and 1931 to help the A's to consecutive pennants. He recorded 11 consecutive seasons as a .300 hitter and 100-RBI man. He still holds the major league record with 11 consecutive 100-rbi seasons to start a major league career.
Al Simmons' best year as a player was in 1930 when he drove in 165 runs and scored 152 in only 138 games, while batting .381 to win the first of 2 consecutive AL batting titles.
Simmons was elected to the Baseball Hall of Fame in 1953 after playing for twenty years from 1924 to 1943 and accumulating a lifetime batting average of .334. After his playing days ended, Simmons served as a coach for Mack's Athletics (1945-49) and the Cleveland Indians (1950).
In a 1976 Esquire magazine article, sportswriter Harry Stein published an "All Time All-Star Argument Starter," consisting of five ethnic baseball teams. Al Simmons was the right fielder on Stein's Polish team.
Simmons died of a heart attack in Milwaukee at age 54. He was buried at St. Adalbert's (Roman Catholic) Cemetery in Milwaukee, Wisconsin.
In 1999, he ranked number 43 on The Sporting News' list of the 100 Greatest Baseball Players, and was a nominee for the Major League Baseball All-Century Team. This represented belated recognition for Simmons, who had been one of baseball's most overlooked superstars despite his Hall of Fame status.
External links
Edit
Community content is available under
CC-BY-SA
unless otherwise noted.