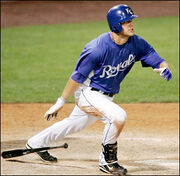 Alex Jonathan Gordon (born February 10, 1984 in Lincoln, Nebraska) is a Major League Baseball player for the Kansas City Royals.
He is the son of Leslie and Mike Gordon, both his father (Nebraska) and older brother (Eric, Nebraska-Omaha) played college baseball, while his grandfather (Charlie) was the long-time coach at Lincoln Southeast High School. Alex also has a younger brother, named Brett Gordon, who is named after Baseball Hall of Fame 3rd basemen and Kansas City Royals's star George Brett. Brett currently plays college baseball for Park University in the Kansas City area. Alex's cousin, Jake Kuebler, who is a senior at Southeast will play baseball at UNL as a freshman in 2009.
High school
Edit
Alex was a two-time Gatorade Nebraska Player of the Year after hitting .483 with 25 home runs and 112 RBI at Lincoln Southeast High School in Lincoln, Nebraska.
University of Nebraska
Edit
Gordon, a third baseman, played collegiately at the University of Nebraska. In 2005, Gordon won the Golden Spikes Award, Dick Howser Trophy, Brooks Wallace Award, ABCA National Player of the Year Award, and Baseball America Minor League Player of the Year Award.
Alex was drafted following his junior season at Nebraska where he swept the collegiate baseball awards for college player of the year, winning the Dick Howser Trophy, Golden Spikes Award, the Brooks Wallace Award and the ABCA Rawlings Player of the Year, he was also an ESPY Award Finalist for the Best Male College Athlete. He earned 1st-team All-America honors for the 2nd straight season, hit .372 (94-253) in 72 games with 22 doubles, 4 triples, 19 home runs and 66 RBI...was successful in 23 of 26 stolen base attempts (.885), drew 63 walks, compared to 38 strikeouts, Helped lead the Huskers to the 2005 Big 12 regular season and tournament titles and the school's 3rd College World Series appearance, Posted a .353 career average in his 193 games, where he hit 44 homers and drove in 189 runs, drew 139 walks and struck out just 106 times...Was only the 2nd 2-time 1st-team All-American in Nebraska history and finished the season as the Big 12 leader (conference games) in walks and on-base percentage, while ranking 3rd in home runs, total bases and slugging percentage, Was the highest draft pick out of Nebraska since Darin Erstad was taken 1st overall in the 1995 draft. He was named the No. 1 college draft prospect by Baseball America as well as the 2nd-best overall prospect, best pure collegiate hitter, the 2nd-best collegiate 5-tool talent, 2nd-best collegiate power hitter, best collegiate strike-zone judgment and 2nd-closest to the Majors among collegiate players, Was a member of the 2004 U.S. National Team and helped lead Team USA to an 18-7 overall record, seeing the majority of his playing time at 1st base, hit .388 with 4 home runs, 12 RBI and 18 runs scored in 24 contests and was named the top offensive player at the FISU World University Baseball Championships in Tainan, Taiwan after leading all players with a .524 average (11-for-21) with 2 homers, 5 RBI and 8 runs scored in 8 games.
Minor Leagues
Edit
He was drafted in 2005 Amateur Draft by the Royals with the second pick. He hit 29 home runs and stole more than 20 bases with an on-base percentage well over .400 in his first full season in minor league baseball with the AA Wichita Wranglers, and was generally regarded as one of the best hitting prospects in baseball. Gordon was selected for the 2006 All-Star Futures Game.
Alex Gordon declined to play for Team USA in 2006, while leading the Wichita Wranglers to the Texas League playoffs. Gordon performed exceptionally well in his first full minor league season, winning the Texas League Player of the Year awarded to the best player award and Baseball America's Minor League Player of the Year award.
Baseball card issue
Edit
Gordon shortly after gained distinction through his baseball card. Topps issued Gordon's card prematurely, as only players on 25-man rosters or who have played in at least one Major League game are eligible. As a result, Topps stopped producing the card and cut holes in some of the existing cards. Examples that found their way into retail stores have garnered bids in the thousands of dollars on eBay.
Major Leagues
Edit
Gordon receives comparisons to Hall of Famer George Brett, another lefthanded batting Royals third baseman.[1]
In his first major league at bat, Gordon struck out with the bases loaded against Curt Schilling. Gordon got his first major league hit on April 5, 2007 against another celebrated rookie, Boston's Daisuke Matsuzaka.
On April 10, 2007, Gordon hit his first major league home run off pitcher Josh Towers of the Toronto Blue Jays.
Gordon was struggling in the major leagues. The Royals however stayed patient with him.[2] He hit .185 with 3 home runs and 8 RBIs through the first two months as an everyday starter of the regular season. However he was hot in June, batting .327 with 3 home runs and 14 RBIs. He stayed consistent through the summer, hitting .253 in July, and .271 in August. However, he slumped to a .244 average for the final month of the season.
On August 17, 2007, Gordon got his 100th major league hit off pitcher Dan Meyer of the Oakland Athletics.
On September 2, 2007, Gordon had the first multi-home run game of his career, connecting off Boof Bonser of the Minnesota Twins in the 2nd inning, and in the 3rd inning off Julio DePaula.
On September 7, 2007, Gordon hits a single off former college teammate Joba Chamberlain of the New York Yankees in the bottom of the eighth inning.
On September 12, 2007, Gordon hit his 34th double of the year in the seventh inning off Glen Perkins of the Minnesota Twins, establishing a Royals rookie record.
Gordon switched his uniform number from #7, the number he had as a rookie, to #4.[1]
On Major League Baseball's opening day of 2008, March 31, Gordon hit a two-run home run off of Detroit Tigers ace Justin Verlander, with Mark Grudzielanek on first base.
On April 2, 2008, during the final game of the Tigers-Royals series, Gordon hit his second home run; another two-run home run with Mark Grudzielanek on base.
Gordon is off to a quick start this season, leading the Royals in hits (40), HRs (5), runs scored (20), and RBIs (19) through the first 37 games with a .282 average.
2004 Big 12 Player of the Year.
2004 Big 12 All-Star Third Baseman
2004 First Team College All-American
2005 Big 12 Player of the Year
2005 Big 12 All-Star Third Baseman
2005 First Team College All-American
2005 Baseball America College Player of the Year
2006 Texas League Player of the Year
2006 Baseball America Minor League Player of the Year
References
Edit
↑ Kaegel, Dick. Royals to bring back powder blues Royals.com, 6 December 2007.
External links
Edit
Persondata
NAME
Gordon, Alex
ALTERNATIVE NAMES
SHORT DESCRIPTION
DATE OF BIRTH
1984
PLACE OF BIRTH
DATE OF DEATH
PLACE OF DEATH
Community content is available under
CC-BY-SA
unless otherwise noted.