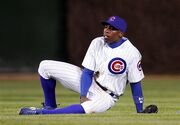 Alfonso Guilleard/Pacheco Soriano (born January 7, 1976 in San Pedro de Macoris, Dominican Republic) is a Major League Baseball player with the Chicago Cubs.
Career in Japan
Soriano began his professional baseball career in Japan with the Hiroshima Carp, training at their Carp Academy for Dominican players. In 1997, he was promoted briefly to the varsity team, and, wearing uniform number 74, he appeared in nine games, batting .181 (2 for 17) with two walks. In 1997, Soriano earned a salary of $40,000 after he unsuccessfully sought a raise to $180,000 through arbitration. [1]
Career in the United States
Soriano signed as a free agent with the New York Yankees in 1998 and played in New York for five seasons. In 2002, Soriano led the American League with 696 at bats, 209 hits, 92 extra base hits, 41 stolen bases, 128 runs and set a Yankees team record for most At Bats (696) and most Strikeouts (157) in a season. During his time with the Yankees, Soriano hit 98 home runs and 270 RBIs, hitting 39 and 38 of those home runs in the 2002 and 2003 seasons, respectively. In 2003, Soriano set the record for most leadoff home runs in a season with 13.
In 2004, the Yankees traded Soriano to the Texas Rangers (along with minor leaguer Joaquin Arias) for Alex Rodriguez and cash amounting to $67 million of the $179 million remaining on Rodriguez's contract.[2]
On May 8, 2004, Soriano had six hits in nine innings—the first Texas Ranger to do so—in a 16-15, 10-inning victory over the Detroit Tigers. (The game featured a bizarre, hour-long fifth inning, where Detroit scored eight runs in the top half of the inning to take a 10-run lead over the Rangers, only to see Texas score 10 runs in the bottom half of the inning to tie the game, the largest deficit ever overcome by the Rangers and tying a MLB record for most runs in an inning by two teams.) That same year, Soriano was elected to the Major League Baseball All-Star Game as the starting second baseman. He hit a three-run home run off of Roger Clemens in the first inning and was named the MLB All-Star MVP.
In 2005 he finished sixth in the AL for stolen bases, and third for extra base hits (as well as eighth for strike-outs).
2006 Season
On December 7, 2005, Soriano was traded to the Washington Nationals in exchange for Brad Wilkerson, Terrmel Sledge, and minor league pitcher Armando Galarraga. The Nationals publicly announced that they planned to use Soriano as an outfielder because Soriano's natural position, second base, is filled by All-Star Jose Vidro. Soriano stated he would not play in the outfield (a statement he has made about the position throughout his entire career, probably because his offensive skills will earn him more money in free agency at second, a position at which sluggers are typically rare, than in the outfield, where offensive players of his caliber abound) and requested a trade, preferably to an AL club. He stated that at the end of the season, when he is a free agent, he will sign with a team that will let him play second base.
On February 10, 2006, Soriano set a record for the highest salary ever awarded in arbitration, receiving $10 million, even though he lost his request of $12 million. The previous high was set in 2001 by Andruw Jones of the Atlanta Braves when he earned $8.2 million. The Nationals offered Soriano a five-year, $50-million extension, but Soriano turned it down. [3]
On March 20, 2006, Nationals manager Frank Robinson wrote Soriano in the lineup to play left field. Soriano refused to take the field, and the Nationals organization has threatened him with disqualification, which would have meant forfeiture of his salary, and he would not have received credit for service time in fulfillment of the obligations of his contract. With his contract's service terms officially still unfulfilled, he would then not have been eligible for free agency at season's end.
Two days later, Soriano relented and played in left field for the Nationals in their exhibition game against the St. Louis Cardinals. Robinson indicated that he considers Soriano's move to left field to be permanent and he will not consider moving Soriano back to second base at any point this season. In his comments following that game, Soriano indicated that he would accept his new position without further argument. As the season got underway, however, Soriano began to enjoy his new position, and by the All Star break he led the league in outfield assists and became one of the few players ever to start the All-Star game at two different positions.
Soriano is on pace for perhaps the best season of his career; by the end of July he was on pace to become a "40-40" man: 40 (actually 49) home runs and 40 steals. He has already obliterated his old career high in walks. (Previously 38 BBs.)
Soriano also became the third man to start All-Star games for both leagues at two different positions
To trade, or not to trade?
As the trading deadline of July 31 approached, the Nationals were in a dilemma. On one hand, Soriano had initially expressed his distaste for playing left field, and he was in the last year of his contract, which will grant him free agency at the end of the season. If the Nationals lose Soriano at the end of the season, they will receive both a first round draft pick and a "sandwich" pick in between the first and second round as compensation. Soriano also did not want to engage in contract negotiations during the season. On the other hand, as the deadline approached, Soriano expressed his enjoyment with left field, and his strong desire to stay with the team. [4] Both fans and players began to be more vocal in their support to keep Soriano. Manager Frank Robinson praised Soriano's leadership in the clubhouse, and further suggested that Soriano should be considered for MVP of the National League. In the end, Nationals general manager Jim Bowden felt that what he was offered was not worth trading him. The "non-trade" is a risk for the Nationals and made headlines across the country. [5]. The Nationals hope to sign him to a long term deal before the season ends. [6]
Trivia
Soriano began playing baseball at the age of six.
Started as third baseman, then switched to shortstop, then switched to second base, and then switched to left field.
Soriano attended Eugenio Maria de Osto High School in the Dominican Republic [7]
External links
See also
List of players from Dominican Republic in MLB
Persondata
NAME
Soriano, Alfonso
ALTERNATIVE NAMES
SHORT DESCRIPTION
DATE OF BIRTH
1976
PLACE OF BIRTH
DATE OF DEATH
PLACE OF DEATH