Andy Sonnanstine (born March 18, 1983 in Barberton, Ohio) is a relief pitcher for the Tampa Bay Rays. Sonnanstine is a graduate of Wadsworth High School in Wadsworth, Ohio, and attended Kent State University.
Sonnanstine made his first Major League start against the Toronto Blue Jays, receiving a no-decision. He picked up his first major league win on June 10, 2007, in a game against the Florida Marlins.
Sonnanstine demonstrated strikeout potential in 2007 when, through seven innings of work against the Marlins, he struck out ten batters, including a franchise-record seven in a row, while allowing two runs on seven hits. He also went 2-for-3 as a batter, scored his first run and drove in his first career RBI.
Sonnanstine has impressed many by his mental approach to the game, as he is a fierce competitor who takes a mental approach similar to that of Greg Maddux.[1]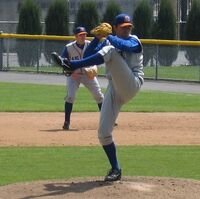 One of Sonnanstine's best starts came on August 31, 2007 against the New York Yankees at Yankee Stadium, where he pitched 8 innings, allowing 2 hits and no earned runs (1 unearned run) with 5 strikeouts and no walks. He ended his rookie campaign with a 6-10 record, pitching 130 2/3 innings with an ERA of 5.85.
In another career night, on April 19, 2008, Sonnanstine pitched a complete game shutout against the Chicago White Sox. He allowed just 3 hits and struck out 4 batters while walking only one.[2]
Andy is a graduate of Wadsworth High School in Wadsworth, Ohio.
Community content is available under
CC-BY-SA
unless otherwise noted.