I don't know how good Mickey Mantle was, or Hank Aaron, or Willie Mays. But Barry is a great player. And Barry has been a great player. I've always looked at Barry's numbers and been amazed by them. Just now, he's hitting more home runs, so people are talking more about him.
Barry Lamar Bonds (born July 24 1964 in Riverside, California) is a former American Major League left fielder. He holds many MLB records, including most home runs in a single season (73). Bonds is generally thought of as being one of the top hitters of all time on a list headed by legends such as Babe Ruth, Ted Williams, Rogers Hornsby and Ty Cobb. Barry Bonds broke Hank Aaron's career home run record when he hit his 756th home run (22nd of the season) on Tuesday night, August 7, 2007 in San Francisco vs. Mike Bacsik (Jr.) of the Washington Nationals. Congratulatory messages were sent by Hank Aaron and Commissioner Bud Selig. Frank Robinson represented Selig.

Since 2003, Bonds has been a key figure at the center of the BALCO scandal, and a number of journalists have alleged that Bonds used steroids or other performance-enhancing substances, despite the fact that Bonds has never failed a steroids test. (He did fail an amphetamines test in 2006, but there is no penalty for a first offense of that nature). To date Bonds has not been charged with any crime in connection with the BALCO incident. Additionally, a recent grand jury retired without issuing a single indictment.
Early career
Edit
Although originally drafted by the San Francisco Giants (the team with which he would later star), Bonds chose to go to college first, playing baseball at Arizona State University. He began his major league career in 1986 with the Pittsburgh Pirates, who selected him with the 6th overall pick in the 1985 draft. Bonds played with the Prince William Pirates for the 1985 season (with Bobby Bonilla) and, during the last game of the season, played all nine positions.

In 1986, Bonds finished 6th in Rookie of the Year voting, hitting 16 home runs and stealing 36 bases. Over the next 3 years, he would be criticized for not living up to his potential, despite having some respectable numbers. He hit 25 home runs in his sophomore season along with 32 stolen bases, and made the NL top 10 in triples, runs scored, and extra base hits. In 1988, he got even better, hitting .283 with 24 home runs, the latter being among the league leaders. He also made the top 10 in slugging, on-base %, runs scored, total bases, extra base hits, times on base, intentional walks, and at-bat per home run ratio. He started off his 1989 campaign well, but then struggled(and failed) to hit 20 home runs, and his whole campaign suffered. He did crack the top 10 in walks, runs, doubles, extra base hits, intentional walks, stolen bases, and games played. It should be noted that Bonds likely would've also made the top 10 in RBI at some point during his first 4 years, but, despite leading the team in home runs, Jim Leyland deemed him not ready to be a run producer. 1990 however, was the year that Bonds really came into his own. He won the MVP for the first time, hitting .301 with 33 home runs and 114 RBI (finally out of the leadoff spot). His 52 stolen bases were good for third in the league. He won his first Gold Glove and Silver Slugger Awards. He made the top 10 in on-base %, runs scored, total bases, doubles, home runs, RBI, walks, extra base hits, times on base, and intentional walks, and he led the league in slugging% (.565). In 1991, his home run production was down (25), but he drove in 116 runs, stole 43 bases, walked 107 times, led the league in on-base %, and won another Gold Glove and Silver Slugger award. His surly attitude towards the media allowed Terry Pendelton to win more MVP votes than him, and he only came in second, despite being the superior player. In 1992, Bonds would not be denied, as he won his 2nd MVP, despite hitting the DL for the first time. He dominated the NL, hitting .311, leading the league in on-base %, slugging %, runs scored, walks, extra base hits, intentional walks, and times on base. Bonds would help propel the Pirates to the playoffs, and then he would be involved in the play that would send the Pirates home, making a relatively poor throw to the plate on a single by pinch-hitter Francisco Cabrera allowing sore-legged Sid Bream to score the winning run.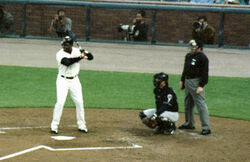 In 1993, Bonds left the Pirates to sign a lucrative free agent contract (worth a then-record $43.75 million over six years) with the Giants, with whom his father spent the first seven years of his career. In 1993, Bonds peaked (at least until almost a decade later). He hit .336, and led the league with 46 home runs, 123 RBI, a .677 slugging %, a .458 on-base %, and 365 total bases. Unfortunately, as good as the Giants were (winning over 100 games), the Braves were even better, and despite Bonds's late season efforts, the Giants missed the playoffs. This is the primary reason for the existence of the wildcard. In 1994, at the strike, Bonds was on a tear, and had a wicked bat after the all star break. His season numbers looked really good too. He hit .312 with 37 home runs (was projected to have his first 50 home run season when the strike hit), was leading the league in walks, and was among the league leaders in slugging %, onbase %, extra base hits,and stolen bases, among other things. In 1995, Bonds had another great season. He made the top 6 in slugging %, runs scored, total bases, triples, home runs, RBI, extra base hits and times on base, and he led the league in games played, on-base%, walks, intentional walks and times on base. He had another great season of defense. And all of his accomplishments for 1995 were unacknowledged. He didn't win the silver slugger or gold glove awards, and he didn't even make the top 10 in the MVP voting, despite having far more impressive numbers than the MVP Barry Larkin. In 1996, Bonds made history, becoming the first NL'er to hit 40 home runs and steal 40 bases in the same season (42 and 40). He drove in 129 runs and walked a then-National League record 151 times. He also hit .308, and made the top 5 in on-base%, slugging %, runs, RBI, and home runs. Finally, he joined the very exclusive 300 home run/300 stolen base club, with fellow members Willie Mays, Andre Dawson, and his own father, Bobby Bonds. In 1997, Bonds hit .291, his lowest number since 1989, but his other numbers were very impressive. He hit 40 home runs again, drove in 101 runs, and made the top 6 in on-base %, slugging %, games played, runs scored, home runs, stolen bases, extra base hits, and times on base. He also led the league in walks again with 145, just 6 off his NL record of a year before. He tied his father in 1997 for having the most 30/30 seasons in a career (and would've likely broken it if not for the strike). In 1998, Bonds got off to a very rocky start, and some were starting to wonder if Barry was beginning to age. By season's end however, he had put those notions to rest. He hit .303 with 37 home runs, drove in 122 runs, and made the top 10 in virtually every single offensive category, often top 5. He won his 8th Gold Glove, and made history, becoming the first man ever to have 400 home runs and 400 stolen bases and yet, was only voted 8th in the MVP voting, likely due to baseball's home run fever in 1998, led by the McGwire/Sosa home run chase.
Throughout the decade of the 1990s, Bonds was an exceptionally patient hitter and a great slugger who stole bases and played Gold Glove defense. Bill James ranked Bonds as the best player of the 1990s, noting that his selection for the 1990s' 2nd-best player (Craig Biggio) had been closer in production to the decade's 10th-best player than he was to Bonds.
Resurgence
Edit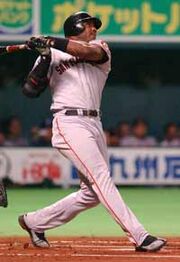 In 1999, with only statistics through 1997 being considered, Bonds ranked Number 34 on The Sporting News list of the 100 Greatest Baseball Players, making him the highest-ranking active player (next-best was Greg Maddux at Number 39), while Ken Griffey Jr. came in at Number 93. When the Sporting News list was redone in 2005, Bonds jumped up 28 spaces to Number 6 All Time, behind only Babe Ruth, Willie Mays, Ty Cobb, Walter Johnson, and Hank Aaron. However, while Bonds was nominated as a finalist for the Major League Baseball All-Century Team that year, Griffey was actually elected to it. That same year, baseball historian and sabermetrician Bill James wrote of Bonds, "Certainly the most un-appreciated superstar of my lifetime... Griffey has always been more popular, but Bonds has been a far, far greater player." As of 1999, James rated Bonds as the 16th best player of all time, even though his career was far from complete. "When people begin to take in all of his accomplishments," James predicted, "Bonds may well be rated among the five greatest players in the history of the game."

By the year 2000 Bonds was regarded as a surefire Hall of Famer, but it was in the beginning of the next millennium when Bonds would surpass his peers and reach a level of offensive production that only a select few in the history of the game have achieved. In 1999, he hit 34 home runs in just 355 at-bats in just 102 games. In 2000, at age 36, Bonds hit .306, slugged .688 (career best at that time), hit 49 home runs in just 143 games (also a career high to that point), and collected a league-leading 117 walks. He had started off that season even hotter, hitting 28 home runs and slugging over .730 at the all star break, but some minor injuries on the season quieted him down somewhat. The next year, however, he would make his 2000 season look pathetic by comparison. Barry Bonds put on an offensive show in 2001. He started off slow, but once he hit his 500th home run, he took off. Through the teams first 50 games, he'd already compiled 28 home runs. He hit 73 home runs, the major league record, but that's just the beginning. He hit 39 home runs by the all-star break (ML record), hit a home run every 6.52 at-bats (ML record-McGwire in '98 hit one every 7.2), drew 177 walks (ML record at the time), had a .515 on-base percentage, a feat not seen since Mickey Mantle and Ted Williams some 40+ years before him. He also had an ML record and absolutely absurd .863 slugging percentage (411 total bases in just 476 at-bats), and his OPS (on-base+slugging) was miniscule percentage points behind Babe Ruth in 1920 for the highest of all time. In 2002, he didn't stop. He hit 46 home runs, but he did that in just 403 at-bats in only 143 games. He hit a career high .370, struck out only 47 times, and despite playing in 9 fewer games than the season before, he shattered his own walks record, drawing 198, with a ML record 68 intentional. He slugged .799, at the time, at the time the 4th highest total all time. And, he broke Ted Williams' ML record for on-base%, with a staggering .583. He also broke Ruth's OPS record this season by 2 points. And, he hit his 600th home run, less than a year and a half after hitting his 500th. 2003 was tough for Bonds. A little more injury-plaged in 2003, Bonds played in just 130 games. However, he still won his 3rd straight MVP. He hit 45 home runs in just 390 at-bats, along with a .341 batting average. He slugged .749, walked 148 times, and had an on-base % well over .500 for the 3rd straight year. He also turned himself into the charter and only member of the 500 home run/500 stolen base club. Finally, in 2004, Bonds had what was arguably his best season. He hit .362, and absolutely blew away his own walks record(again), drawing an awesome 232 walks, 137 more than AL leader Eric Chavez. He slugged .812, 4th highest all time, and broke his on-base % record by becoming the first person to have an on-base % over .600. He also broke his OPS record. He passed his godfather on the all time home run list, then hit his 700th home run near the end of the season. And, he hit 45 home runs in just 373 at-bats, and he struck out just 41 times, putting him in elite company, as few people have ever had more home runs than strikeouts in a season. In the new millennium, MLB was shrouded with the controversy of steroids. Even though Bonds has never tested positive, suspicion was cast. During an investigation of BALCO Laboratories Bonds' Grand Jury testimony was illegally leaked and obtained by the media. In the testimony he allegedly admitted he may have unknowingly been given "the clear" and "the cream", when he was told the substances were flaxseed oil. This ignited much media speculation on Bonds in relation to the BALCO investigation.
2005 injury problems
Edit
On March 22, 2005, Bonds announced that he could be sidelined for the rest of the 2005 season because of surgery on his knee. At the press conference, Bonds also indicated that he was having psychological problems and was frustrated by the focus on his alleged steroid use and the negative portrayal of him in the media. Later, Bonds sounded positive about his rehabilitation and told fans at the Opening Day festivities, "I will be back!" The chances of Bonds' return to the playing field were covered relentlessly throughout the summer by ESPN, in anticipation of potentially unprecedented scrutiny by the media and baseball fans (baseball had toughened its steroid-testing program since Bonds had last played and Bonds was tested regularly even though he did not play). On May 4, Bonds revealed on his website that he had undergone a third arthroscopic knee surgery because of a bacterial infection in his knee. This setback led many to assume that Bonds would not play in the 2005 season, and in the process raised much speculation as to whether Hank Aaron's career home run record of 755 would ultimately be out of Bonds' reach.

On August 1, in an interview with MLB.com, Bonds stated that he would most likely not return before the end of the 2005 season, due to continued buildup of fluid in the knee. On August 5, though, he stated on his website that while he was unsure of his status, he remained optimistic. In September, Bonds started working out with the team while they were in Los Angeles to play the Dodgers. On September 10, the Giants announced that Bonds would be activated on September 12. He was indeed activated that day, and immediately returned to being a starter in left field. In his return against the San Diego Padres, he nearly hit a home run in his first at-bat, but the ball was ruled to be only a double due to fan interference. Bonds finished the night 1-for-4 with a double. Upon his return, Bonds mostly continued his pre-injury dominance at the plate, hitting home runs in four consecutive games from September 18 to September 21 and finishing with five in only 14 games.
2006 season
Edit
On February 19, 2006, Bonds announced in an interview with USA Today that he plans on retiring at the conclusion of the 2006 season, with or without the all-time home run record. "I've never cared about records anyway," he said, "so what difference does it make? Right now, I'm telling you, I don't even want to play next year. Baseball is a fun sport. But I'm not having fun...I love the game of baseball itself, but I don't like what it's turned out to be. I'm not mad at anybody. It's just that right now I am not proud to be a baseball player."[1]

On March 9, 2006, after his first game of the preseason with the San Francisco Giants, Bonds said that he would know around the All-Star Break and in a time period ranging from July to August 2006, whether or not he would be returning for the 2007 MLB season.

Bonds started the 2006 season with a slump. Bonds hit under .200 for his first 10 games of the season. Bonds didn't hit a home run until April 22nd, it was his biggest home run slump since the 1998 season.

In a 2005 interview with MLB.com, Bonds stated that he could play into 2007 if he remains healthy and if he is close to Aaron's 755 home runs, although he also noted that he might retire before then if he is able to win a World Series title. Bonds hit 28 home runs in 2007 for a record final total of 762 home runs - 7 more than Hank Aaron. [http://sanfrancisco.giants.mlb.com/NASApp/mlb/news/article.jsp?ymd=20050623&content_id=1101660&vkey=ne
Achievements
Edit
Home runs
Edit
In 2001, Bonds set the single-season home run record, hitting 73 to break Mark McGwire's 70-homer mark set in 1998. This came after then-Giant Shawon Dunston said of his teammate Bonds in Sports Illustrated (June 5, 2000), "He's not going to hit 70 homers, but he believes he can. That's frightening."
On April 12, 2004, Bonds hit his 660th home run, tying him with his godfather Willie Mays for 3rd on the all-time career home run list (and second in the National League) in a game against Milwaukee Brewers pitcher Matt Kinney at SBC Park. Larry Ellison caught the home run and returned it to Bonds. He hit his 661st home run at the same venue the next day, placing him in outright third behind Babe Ruth (714) and Hank Aaron (755). Ellison also caught number 661 in McCovey Cove just past the right field stands in SBC Park, but kept it for himself with Bonds's blessing.
Bonds hit his 715th career home run on May 28, 2006, off of Byung-Hyun Kim of the Colorado Rockies to pass Babe Ruth's career total of 714 and move into second place behind Aaron's career total of 755.
Home runs and Stolen Bases
Edit
On June 23, 2003, Bonds recorded his 500th stolen base in the eleventh inning of a game against the Los Angeles Dodgers at Pacific Bell Park. Bonds later scored the winning run. By chance, his ailing father Bobby was in attendance that night. With 633 career home runs at the time, Bonds became the first 500-500 player in baseball history.
Bonds holds almost every major league record in existence for intentional walks: four in a nine-inning game (2004), 120 in a season (2004) and 604 in his career (more than the next two players on the all-time list, Hank Aaron and Willie McCovey, combined). Bonds has the top three highest single-season intentional walk totals, with 120 in 2004 (he broke his previous record of 68 intentional walks on July 10 in his last plate appearance before the All-Star break), 68 in 2002, and 61 in 2003. He has been the league leader in the category for 13 of the past 14 seasons. Oddly, though, he did not lead in 2001, when he hit a record 73 home runs, finishing with 35. Sammy Sosa led the NL with 37.
On May 28, 1998, Bonds became one of only four players in major league history to be intentionally walked with the bases loaded, when the Arizona Diamondbacks elected to give up a run and face catcher Brent Mayne instead.
On July 4, 2004, Bonds passed Rickey Henderson to take the all-time lead in career walks, drawing his 2191st walk.
In 2001, Bonds set the single-season mark for walks (177). In 2002, Bonds bettered his own record for walks with 198. In 2004, he broke his own single-season record for walks, becoming the first player with over 200 in a season and ending the season with 232. His total of 232 walks was 105 more than the next closest leader, Lance Berkman, Todd Helton, and Bobby Abreu who all had 127.
Other Records
Edit
In 1998, Bonds tied John Olerud for the National League record of 15 consecutive plate appearances reaching base. He tied this record again in 2003.
In 2001, Bonds's slugging percentage of (.863) set a single-season record. He also slugged .812 in 2004, only the second time in history that a player has bettered .800 twice (Babe Ruth was the other, with .847 in 1920 and .846 in 1921, respectively).
In 2002, Bonds amassed a .582 on-base percentage, breaking Ted Williams' 1941 record of .551. In 2004, Bonds finished with a .609 OBP, the only time a player has bettered .600 over a full season.
In 2002, Bonds won the National League batting title with a .370 average, becoming the oldest player to win the honor for the first time. In 2004, he won his second batting title with a .362 average.
During the 2002 post-season, Bonds set the record for most home runs hit in a single post-season (8). Bonds hit .471 with 4 home runs and 13 walks (seven intentional) in the World Series, thereby slugging 1.294 with a .700 on-base percentage. All but the batting average and the home runs were World Series records. Reggie Jackson hit 5 home runs in the 1977 World Series for the New York Yankees, and holds the record by himself.
In 2004, Bonds set the single-season OPS record with a total of 1.422.
In 2004, Bonds became the first player in history with more times on base (376) than official times at bat (373). This was due to the record number of walks, which count as a time on base but not a time at bat. He had 135 hits, 232 walks, and 9 hit-by-pitches for the 376 number.
Chasing the all-time home run record
Edit
I like to be against the odds. I'm not afraid to be lonely at the top. With me, it's just the satisfaction of the game. Just performance.

—Barry Bonds
On May 7, 2006, Bonds drew within one home run of tying Babe Ruth for second place, hitting his 713th career home run into the second level of Citizens Bank Park in Philadelphia, off pitcher Jon Lieber in an ESPN nationally-televised game in which the Giants lost to the Philadelphia Phillies. The towering home run, which was one of the longest in Citizens Bank Park's two season history, traveling an estimated 450 feet, hit off the facade of the third deck in right field and was Bonds' first pulled home run of the 2006 season. Curiously, and perhaps revealingly, the jeers from the Philadelphia crowd that had haunted Bonds earlier that night turned noticeably into cheers as he completed his swing, watched the flight of the ball, rounded the bases, and touched home plate, all this to flashbulbs exploding everywhere throughout the stands. The mixed and often paradoxical reaction to Bonds' impending achievement exemplifies the polarizing effect of his controversial career on baseball aficionados and casual observers alike. Some have ventured to say that while many fans hate Bonds, they all come to the park to see him play.
On May 9, 2006 in a game against the Chicago Cubs, Bonds hit what appeared to be his 714th home run. However, Cubs outfielder Juan Pierre leaped up at the wall and robbed him of # 714.
On May 20, 2006, Bonds tied Ruth, hitting his 714th career home run to deep right field to lead off the top of the 2nd inning with a 1-1 count. The home run came off of left handed pitcher Brad Halsey of the Oakland A's, in an interleague game played in Oakland, California at the McAfee Coliseum (formerly known as the Oakland-Alameda County Coliseum or the Oakland Coliseum). Since this was an interleague game at an American League stadium, Bonds was batting as the designated hitter in the cleanup spot in the lineup for the Giants. The Bambino's 714 mark was tied by Bonds who hits left handed, the pitcher Halsey pitches left handed, and the fan who caught it, Tyler Snyder is left handed; all this to tie arguably the best left handed hitter in history. Echoing the comment Aaron made when he reached the 715 mark 32 years earlier. Bonds, like Aaron needed more at bats, however to break the record. Bonds was quoted after the game as being "just glad it's over with" and stated that more attention could be focused on Albert Pujols, the heir apparent to Bonds. Bonds went 1 for 3 with 2 walks, a run and an RBI for the day in a 4-2 victory over the Athletics as designated hitter batting cleanup.
On May 28, 2006, Bonds passed Ruth, [2] hitting his 715th career home run to center field off of Colorado Rockies pitcher Byung-Hyun Kim. It came on a 3-2 pitch, with one man on base, in the bottom of the fourth inning of the final game of a home stand at AT&T Park. The ball was hit an estimated 445 feet into center field where it went through the hands of several fans but then fell onto an elevated platform in center field. Then it rolled off the platform where Andrew Morbitzer, a 38-year-old San Francisco resident, caught the ball while he was in line at a concession stand. Mysteriously, broadcaster Dave Flemming's radio play-by-play of the home run went silent just as the ball was hit, apparently from a microphone failure. But the televised version, called by Duane Kuiper, was not affected. This historic home run was not officially celebrated by MLB; however, the Giants organization unfurled two large banners from light standards alongside the scoreboard in center field to honor the event. And as Bonds took his position in left field at the top of the fifth inning, Ed Montague, the long-time National League and MLB umpire and crew chief who was officiating at second base for this game, approached Bonds to congratulate him, and the two hugged. Bonds went 2 for 3 with a walk, run scored and two RBI for the day in a 6-3 loss to the Rockies while batting cleanup and playing left field.
Bonds re-signed with the Giants for a five-year, $90 million contract in January 2002. His salary for the 2005 season was $22 million, the second-highest salary in Major League Baseball (the Yankees' Alex Rodriguez earned the highest, $25.2 million). In 2006 Bonds will earn $20 million (not including bonuses), the fourth highest salary in baseball. Not including the 2006 season, he has made approximately $153 million during his 19-year career, making him one of baseball's highest paid players.
Controversy
Edit
The BALCO Scandal
Edit
In 2003, Bonds became embroiled in a scandal when Greg Anderson of the Bay Area Laboratory Co-operative, Bonds' trainer since 2000, was indicted by a federal grand jury in the United States District Court for the Northern District of California and charged with supplying anabolic steroids to athletes, including a number of baseball players. This led to speculation that Bonds had used performance-enhancing drugs during a time when there was no mandatory testing in Major League Baseball. Bonds declared his innocence, attributing his changed physique and increased power to a strict regimen of bodybuilding and legitimate dietary supplements.
During grand jury testimony on December 4, 2003 — which was obtained through unknown means by the San Francisco Chronicle (leaking grand jury testimony is a felony) and published almost a year later, on December 3, 2004 [3] — Bonds allegedly said Anderson gave him a rubbing balm and a liquid substance he called "the cream" and "the clear". BALCO founder Victor Conte had identified "the clear" as the designer steroid THG, and prosecutors contended "the cream" was a testosterone-based ointment. Bonds said that at the time he did not believe them to be steroids, deeming instead that they were flaxseed oil and arthritis cream.
In August 2005, all four defendants in the BALCO steroid scandal trial, including Anderson, struck deals with federal prosecutors that did not require them to reveal names of athletes who may have used banned drugs.
Perjury Investigation
Edit
On April 13, 2006, CNN reported that federal investigators were looking into whether or not Bonds committed perjury during his 2003 grand jury testimony relating to the BALCO steroids scandal (see "The BALCO Scandal", above) [4]. In the time since CNN broke the story, other news sources, including the San Francisco Chronicle and ESPN, have reported it, as well. According to these sources, the United States Attorney's Office in San Francisco has brought evidence before another grand jury to determine if Bonds should be indicted. Before testifying to the original grand jury (in 2003), witnesses were told that the they could not be charged with any crime other than perjury based on their testimony.
On July 5, 2006, Greg Anderson was found in contempt of court by U.S. District Judge William Alsup for refusing to testify before a federal grand jury investigating perjury accusations against Bonds. [5] Anderson was denied bail and immediately sent to the Federal Correctional Institution in Dublin, California. Anderson's attorney, Mark Geragos, said he would file an appeal based on his assertion that the subpoena to testify violated Anderson's plea bargain agreement in the BALCO case. [6]
On July 11, 2006, it was reported that MLB officials expected Bonds to be indicted on perjury and tax evasion charges as early as one week from that day. [7].
On July 20, 2006 the grand jury investigating the incident retired with out issuing an indictment. Bond's trainer, Greg Anderson, was immediately released and promptly subpoenaed to testify before a new grand jury that will take up the case [8]. Anderson's attorney, Mark Geragos, stated that he will continue to refuse to testify, meaning that Anderson could very well be jailed again for contempt of court and held for as long as the new grand jury's term lasts, which could extend beyond a year.
On July 22, 2006, it was reported that federal prosecutors had obtained Barry Bonds' medical files as part of their investigation into whether the slugger perjured himself when he said he never knowingly used steroids. U.S. Attorney Kevin Ryan had said he had postponed his decision on whether to seek an indictment of Bonds "in light of some recent developments", and the receipt of the medical records was apparently one of those developments. The records are believed to include information about three operations Bonds had last season to treat his right knee, as well as a serious elbow injury that required surgery in 1999. Bonds' former girlfriend, Kimberly Bell, testified that Bonds blamed the elbow injury on steroid use. According to the San Francisco Chronicle, prosecutors had subpoenaed the documents nearly two months ago, but Bonds' attorneys went to federal court to stop the government from obtaining the records. [9]
On August 17, 2006, Greg Anderson again refused to testify before the grand jury investigating Bonds. U.S. District Judge William Alsup ordered Anderson to return to court August 28 for a contempt hearing. In requesting the hearing, prosecutors for the first time publicly acknowledged they are targeting Bonds. [10]
Player's Union
Edit
Bonds withdrew from the MLB Players Association (MLBPA) union's licensing agreement because he felt independent marketing deals would be more economically viable for him. His name and likeness can not be used in any merchandise, even if the company strikes a deal with the MLBPA. In order to use his name or likeness, a company must deal with Barry himself. For this reason he does not appear in some baseball video games, forcing game-makers to create generic athletes to replace him. For example, in MVP Baseball 2005 Barry Bonds's likeness is replaced by a white man with a beard named Jon Dowd.
Bonds on BondsEdit
Main article: Bonds on Bonds
In April of 2006, ESPN premiered a new 10-part reality TV series starring Bonds. The show, titled Bonds on Bonds, revolves on the life of Bonds and his chase of Babe Ruth and Hank Aaron's home run records, but has mostly been met with public indifference. It is produced by Tollin/Robbins Productions, producers of the Nickelodeon series All That and many other shows and movies. Currently, this show is on hiatus.
The first segment of Bonds on Bonds, aired Tuesday, April 4 nationwide on ESPN2. Much of the premiere episode dealt with how Bonds has coped with questions about whether steroids have fueled his athletic performance. At one point, Bonds even started to break down in tears. "If it makes them happy to go out of their way to try to destroy me, go right ahead. You can't hurt me any more than you've already hurt me," he said. He continued by saying, "You don't see me bringing anyone else into this. I'm going to take it myself." Bonds paused as his eyes welled and he choked back tears, "And I'm going to take it because there's so many people who depend on me."
In different segments throughout the program, Bonds acknowledged his often rocky relations with the press but cast himself as a victim of critics out to tear him down. He described himself as "mentally and emotionally drained" but insisted he was not going to let anyone "bring me down."
Love Me, Hate MeEdit
In May of 2006, former Sports Illustrated writer Jeff Pearlman released a scathing unauthorized biography of Bonds entitled Love Me, Hate Me: Barry Bonds and the Making of an Anti-Hero. Though obscured by Game of Shadows, the book offered a rare insight into Bonds. Perhaps most noteworthy were the details of his three years at Arizona State University, during which time Bonds was voted off the team by a 22-2 margin by teammates. The vote came after head coach Jim Brock had suspended Bonds for violating multiple team rules. "I'd never seen the expression on Jim Brock's face that I saw right there," ASU hitting coach Jeff Pentland told Pearlman. "Absolute shock. It was obviously a plan to have the vote come out in favor of Barry, and it backfired." Brock overruled his players and allowed Bonds back.
Love Me, Hate Me also provided the insight of Jay Canizaro, a former Giants second baseman who told Pearlman that Bonds had begun using steroids after the 1998 baseball season. Canizaro, who admitted to have used steroids while at Oklahoma State, said Bonds reported to spring training with remarkable additional muscle, an acne-coated back and a new trainer--Greg Anderson. According to Love Me, Hate Me, Canizaro approached Anderson and asked what Bonds was using. "He was calling out Deca-Durabolin and testosterone and all different things that were steroids and hormones," said Canizaro. "Then he told me he could easily put a cocktail together for me, too." [11]
Accomplishments
Edit
Record for most home runs in a season (73)
2nd all time for career home runs (762)
Record for most walks in a career (2,311)
13-Time All-Star (1990, 1992-98, 2000-04)
3-Time Major League Player of the Year (1990, 2001, 2004)
8-Time Gold Glove winner for National League Outfielder (1990-94, 1996-98)
7-Time National League MVP (1990, 1992-93, 2001-04)
12-Time Silver Slugger winner for National League Outfielder (1990-94, 1996-97, 2000-04)
Led the National League in slugging percentage (1990, with .565)
Led the National League in on base percentage (1991, 1993, 1995)
Led the Major Leagues in extra base hits (1992-93, 2001)
Led the Major Leagues in on base percentage (1992, 2001-04)
Led the Major Leagues in slugging percentage (1992-93, 2001-04)
Led the National League in runs scored (1992, with 109)
Led the National League in runs created (1992, with 135)
Led the Major Leagues in home runs (1993, 2001)
Led the National League in RBIs (1993, with 123)
Led the Major Leagues in total bases (1993, with 365)
Led the Major Leagues in runs created (1993, 2001-02, 2004)
3-Time National League Hank Aaron Award winner (2001-02, 2004)
Led the Major Leagues in batting average (2002, with .370)
Led the National League in batting average (2004, with .362)
Career statistics (as of August 9, 2006)
Edit
   
Year Ag Tm  Lg   G   AB   R   H  2B 3B HR RBI SB CS  BB  SO  BA   OBP  SLG TB  SH SF IBB HBP GDP   
+---+--+---+--++---++---+---+---+--+--+--+---+--+--+---+---+----+----+----+---+--+--+---+---+---+   
1986 22 PIT NL  113  413  72  92 26  3 16  48 36  7  65 102 .223 .330 .416 172  2  2   2  2   4   
1987 23 PIT NL  150  551  99 144 34  9 25  59 32 10  54  88 .261 .329 .492 271  0  3   3  3   4   
1988 24 PIT NL  144  538  97 152 30  5 24  58 17 11  72  82 .283 .368 .491 264  0  2  14  2   3   
1989 25 PIT NL  159  580  96 144 34  6 19  58 32 10  93  93 .248 .351 .426 247  1  4  22  1   9   
1990 26 PIT NL  151  519 104 156 32  3 33 114 52 13  93  83 .301 .406 .565 293  0  6  15  3   8   
1991 27 PIT NL  153  510  95 149 28  5 25 116 43 13 107  73 .292 .410 .514 262  0 13  25  4   8   
1992 28 PIT NL  140  473 109 147 36  5 34 103 39  8 127  69 .311 .456 .624 295  0  7  32  5   9   
1993 29 SFG NL  159  539 129 181 38  4 46 123 29 12 126  79 .336 .458 .677 365  0  7  43  2  11   
1994 30 SFG NL  112  391  89 122 18  1 37  81 29  9  74  43 .312 .426 .647 253  0  3  18  6   3   
1995 31 SFG NL  144  506 109 149 30  7 33 104 31 10 120  83 .294 .431 .577 292  0  4  22  5  12   
1996 32 SFG NL  158  517 122 159 27  3 42 129 40  7 151  76 .308 .461 .615 318  0  6  30  1  11   
1997 33 SFG NL  159  532 123 155 26  5 40 101 37  8 145  87 .291 .446 .585 311  0  5  34  8  13   
1998 34 SFG NL  156  552 120 167 44  7 37 122 28 12 130  92 .303 .438 .609 336  1  6  29  8  15   
1999 35 SFG NL  102  355  91  93 20  2 34  83 15  2  73  62 .262 .389 .617 219  0  3   9  3   6   
2000 36 SFG NL  143  480 129 147 28  4 49 106 11  3 117  77 .306 .440 .688 330  0  7  22  3   6   
2001 37 SFG NL  153  476 129 156 32  2 73 137 13  3 177  93 .328 .515 .863 411  0  2  35  9   5   
2002 38 SFG NL  143  403 117 149 31  2 46 110  9  2 198  47 .370 .582 .799 322  0  2  68  9   4    
2003 39 SFG NL  130  390 111 133 22  1 45  90  7  0 148  58 .341 .529 .749 292  0  2  61 10   7   
2004 40 SFG NL  147  373 129 135 27  3 45 101  6  1 232  41 .362 .609 .812 303  0  3 120  9   5   
2005 41 SFG NL   14   42   8  12  1  0  5  10  0  0   9   6 .286 .404 .667  28  0  1   3  0   0

2006 42 SFG NL   91  249  49  61 15  0 16  48  3  0  89  38 .245 .455 .486  121  0  1  33  8   6
+---+--+---+--++---++---+---+---+--+--+--+---+--+--+---+---+----+----+----+---+--+--+---+---+---+   

</center>
See also
Edit
External links
Edit
Community content is available under
CC-BY-SA
unless otherwise noted.