Template:BaseballWiki:Introduction/TabsTop
Template:BaseballWiki:Introduction/Tab1 Template:BaseballWiki:Introduction/Tab2 Template:BaseballWiki:Introduction/Tab2 Template:BaseballWiki:Introduction/Tab3 Template:BaseballWiki:Introduction/TabsBottom
See "edit" above? On BaseballWiki, you can edit articles right now, without logging in.
What is BaseballWiki?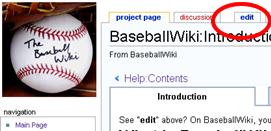 BaseballWikiis a baseball encyclopedia collaboratively written by many of its readers. It is a special type of website, called a wiki, that makes collaboration easy. Many people are constantly improving BaseballWiki, making thousands of changes an hour, all of which are recorded on article histories and recent changes. Inappropriate changes are usually removed quickly, and repeat offenders can be blocked from editing.
How can I help? Don't be afraid to edit—anyone can edit almost any page, and we encourage you to be bold! Find something that can be improved, whether content, grammar or formatting, and make it better.
You can't break BaseballWiki. Anything can be fixed or improved later. So go ahead, edit an article and help make BaseballWiki the best baseball source on the Internet!
Make your first edit right now:
Click here to add a new section. (If there are already sections under "Test edits", you can also click on the appropriate "[edit]" link and edit someone else's text.)
Type a subject line and some text
Please, remember that while BaseballWiki is a free encyclopedia, it is not a forum! No profanity, libel, or personal attacks will be tolerated.
Sign by entering four tildes (~~~~) or by clicking on the signature icon ; this will automatically produce your name and the date.
Click Show preview to test your changes, or Save page when you're happy with the way it looks. (It will usually not stay for long, though.)
Test edits
Community content is available under
CC-BY-SA
unless otherwise noted.