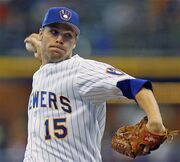 Ben M. Sheets (born July 18, 1978 in Baton Rouge, Louisiana) is a Major League Baseball pitcher who plays for the Milwaukee Brewers baseball team. He currently resides in Highland Park, Texas.[1] Sheets throws a four-seam fastball clocked between 94-98 mph (151-158 km/h), a curveball in the 80-83 mph (129-134 km/h) range, and a changeup that arrives in the mid-70's. Sheets also has great command of his three pitches, as evidenced by the outstanding strikeout-walk ratios he has posted over recent seasons.
He and his wife Julie have two sons, Seaver and Miller.
Sheets is also part owner of the American Hockey League's Milwaukee Admirals.
Prep and college
Edit
Sheets graduated from St. Amant High School and went to college at Northeast Louisiana University (now the University of Louisiana at Monroe) on a baseball scholarship. He once struck out 20 batters in a game against Louisiana Tech.
Minor leagues
Edit
Drafted by the Brewers in the first round (10th overall) of the 1999 draft, he made his professional debut with the Ogden Raptors of the Pioneer League. On August 2 against the Idaho Falls Chukars, Sheets struck out eight batters while allowing just one hit through five innings. He didn't stay very long in Rookie ball, being promoted to Class A Stockton of the California League on August 9. In his seven minor league starts that year, Sheets averaged a strikeout ratio of 10.09 batters per nine innings.
In 2000, Sheets was on the United States national team for the 2000 Summer Olympics in Sydney. He pitched 22 innings, struck out 11 batters, walked one, and gave up 11 hits during the tournament, and faced off against Cuban ace Pedro Luis Lazo in the Gold Medal Game, giving up three hits—all singles—with two by Omar Linares, advancing just one runner to second base for the entire game. Sheets gave up no walks, struck out five, and 16 of 27 outs were ground ball outs, in a 4-0 complete game shutout.
By 2001, Sheets had been promoted to the Brewers' starting rotation and went 11-10 that season with a 4.76 ERA. By 2004, Sheets began establishing himself as a strikeout threat, throwing 264 to finish third in the category in the majors behind Randy Johnson and Johan Santana. After posting an ERA above 4.00 in Sheets' previous three seasons, Sheets compiled a dominant 2.70 ERA and 0.98 WHIP (Walks and Hits per Inning Pitched), which ranked Sheets fourth and third, respectively, among all starting pitchers in the Major Leagues. Most impressively, Sheets amassed only 32 walks, giving Sheets a strikeout-to-walk ratio of over 8:1, far and away the best in the Major Leagues. A mediocre 12-14 win-loss record during this outstanding season was primarily the result of poor run support. That season, Sheets finished 8th in the Cy Young Award voting.
During 2004, his fastball was being clocked regularly at 96 to 98 miles per hour, primarily a result of improved health. In 2003, Sheets had been troubled by bulging discs in his lower back, but these problems subsided in 2004. That season he also struck out 18 batters in a May 16, 2004 game against the Atlanta Braves. On June 13, 2004, Sheets struck out three batters on nine pitches in the third inning of a 5-4 loss to the Houston Astros. Sheets became the 26th National League pitcher and the 35th pitcher in Major League history to accomplish the nine-strike/three-strikeout half-inning.
Sheets has since struggled with health issues. A series of inner ear infections that caused dizziness and a loss of balance forced Sheets onto the DL for a period of time in the beginning of the 2005 season. Sheets started the 2006 season on the DL but quickly came off it only to pitch 3 starts before going on the DL again with shoulder tendinitis. Sheets returned to the starting rotation two weeks after the All-Star break. Sheets pitched a 7-inning shutout against the Pittsburgh Pirates. In his second game back from the DL he would pitch nearly a complete game shutout but in the 9th, Sheets gave up a 2-run homer to Ken Griffey Jr of the Reds.
On April 2nd, 2007, Sheets started both his and the Brewers' season on a high note by throwing an opening day complete game, two-hitter against the Los Angeles Dodgers.[1]. Sheets has gone back on the DL in 2007 however. After his stint on the DL he had come back strong, only to be saddled again with another injury. A strained hamstring in mid to late August forced him to miss the rest of the 2007 regular season.
He started the first game on Opening Day 2008 in a 4-3 win over the Cubs. He batted eighth in the lineup, making him the first Brewers starting pitcher to bat in a position other than ninth.[2] He also gave up Kosuke Fukudome's first major league hit in the bottom of the second. In his second start of the 2008 season, Sheets threw only the second, complete-game shutout of his career, beating the San Francisco Giants 7-0 in a five-hit, eight-strikeout performance. On July 9th, 2008 He had an 11 strikeout performance including the first 6 outs as strikeouts. That topped his previous season high of 8.[3] On July 14, 2008, it was announced that Sheets will be the starting pitcher for the National League in the All-Star Game. Pitching in his fourth All-Star Game, Sheets will become the first Milwaukee Brewer pitcher to start an All-Star Game. It will also be the first time that Sheets has been in Yankee Stadium. In his 2008 All-Star outing, he pitched two scoreless innings, giving up one hit, walking two, and striking out three.
Sheets is among the worst hitting pitchers of his generation, with a career slugging percentage of .085 (as of August 2008).
Highlights
Edit
Sheets is a four time All-Star. He was an All-Star in 2001, 2004, 2007, and 2008. His total All-Star numbers are: 4.1 innings pitched, 3 hits, 0 runs, 4 strikeouts, 2 walks.[4]
References
Edit
External links
Edit
Community content is available under
CC-BY-SA
unless otherwise noted.