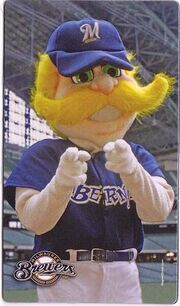 Bernie Brewer is the mascot for the Milwaukee Brewers.
The Bernie Brewer character became the team's mascot in 1973, appearing as a cheerful man with a big mustache. A beer-barreled chalet was built for him inside the stadium where he led the crowd cheering. Following each home run and every victory by the Brewers, he would slide down and plunge himself into a huge beer mug in celebration. He was joined by a companion Bonnie Brewer, who would playfully swat at the backside of the opposing team's third base coach with a broom as the field crew swept the base paths.
Bernie Brewer was a fixture at Brewers home games until 1984, when the Brewers re-built the bleachers, replacing the chalet with a sound tower and sending Bernie into retirement. By popular demand, Bernie Brewer came out of his retirement in 1993, when the fans voted for his return. Bernie was brought back not as just a mustachioed man in ederhosen, but a full-body costume of a man, including large foam head. The chalet was then rebuilt (it had been in storage on the third base side under the box seats) above the left-center field bleachers. The original beer mug that Bernie used to slide into is still in Milwaukee, Wisconsin as part of the Lakefront Brewery, Inc. tour.
Community content is available under
CC-BY-SA
unless otherwise noted.