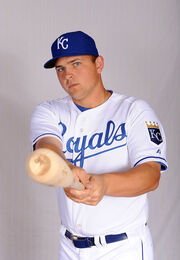 Billy Ray Butler (born April 18, 1986 in Orange Park, Florida) is a Major League baseball designated hitter for the Kansas City Royals. He has also played first base, left field, and right field.
Butler was selected by the Royals in the first round (14th overall) of the 2004 First-Year Player Draft out of high school and signed for a $1.45 million bonus, $250,000 below the recommended slot value for that pick. He attended Wolfson High School in Jacksonville, Florida, where he was teammates with fellow first round draft pick Eric Hurley who is a pitcher selected by the Texas Rangers. He turned down a scholarship to play for the University of Florida to go pro.[1]
In 2006 Butler led the Texas League with a .331 batting average. Despite taking time out to play for Team USA Butler ammased 96 RBIs while playing right field for the Double-A Wichita Wranglers. A third baseman in high school, Butler played right field and left field for Wichita in 2006. He was also selected to play for the United States squad in the 2006 All-Star Futures Game, where he hit the go ahead home run and was selected game MVP.[2][3] He made his major league debut on May 1, 2007, singling in his first at bat, but was sent to minors after playing 10 games. He was recalled on June 19th after the Royals put slugger Mike Sweeney on the Disabled List.[4]
Awards
2004 Kansas City Royals Minor League Player of the Year
2004

Pioneer League

All-Star 3B
2004 Rookie League All-Star 3B
2005 California League Rookie of the Year
2005 High A All-Star DH
2005 Baseball America 1st team Minor League All-Star DH
2005 Kansas City Royals Minor League Player of the Year
2005 California League All-Star DH
2005 California/Carolina League All-Star Game MVP
2006

Futures Game

MVP
References
External links