This page has been copied from Wikipedia under the provisions of the GNU Free Documentation License.
Please help Baseball Wiki by revising it.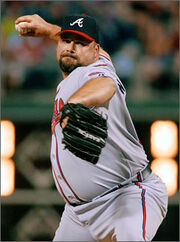 Robert Joe Wickman (born February 6, 1969 in Green Bay, Wisconsin) is a former Major League Baseball relief pitcher. Wickman played for the New York Yankees (1992-1996), Milwaukee Brewers (1996-2000), Cleveland Indians (2000-2006), Atlanta Braves (2006-2007), and Arizona Diamondbacks (2007). He batted and threw right-handed.
During a childhood farming accident, Wickman lost part of his index finger on his right hand, to which he credited much of the sinking motion on his fastball.
School career
Edit
At Oconto Falls High School, Wickman played football, baseball and basketball, being named an All-State pick in basketball. After high school, he attended University of Wisconsin-Whitewater and was selected by the Chicago White Sox in the 1990 amateur draft (2nd round). In 1992, he was sent by Chicago to the New York Yankees in the same trade that brought Steve Sax to the White Sox.
Major league career
Edit
On May 7, 2006, Bob Wickman became the Indians' all-time franchise leader in saved games with 130, surpassing the record previously held by Doug Jones.
On July 20, 2006, Wickman was traded to the Atlanta Braves for Single-A Rome catcher Max Ramírez. Wickman then served as Atlanta's closer, recording his first save on July 24.
On September 20, 2006, Wickman signed a one-year contract extension to stay with the Atlanta Braves for the 2007 season.
On August 24, 2007, due to recent struggles, the Braves released Wickman. This move came after he gave up a walk-off home run to the Reds' Adam Dunn in extra innings. Wickman complained after the game that he didn't like pitching in non-save situations.
On September 7, 2007, Wickman signed a contract with the Arizona Diamondbacks, a move that signaled that he had backed off his disdain for non-save situations, given that the team had an established closer in Jose Valverde. Wickman pitched in 8 games for the Diamondbacks, going 0-1 with a 1.35 ERA. He became a free agent after the season, subsequently retiring.
External links
Edit
Persondata
NAME
Wickman, Bob
ALTERNATIVE NAMES
SHORT DESCRIPTION
DATE OF BIRTH
1969
PLACE OF BIRTH
DATE OF DEATH
PLACE OF DEATH
Community content is available under
CC-BY-SA
unless otherwise noted.