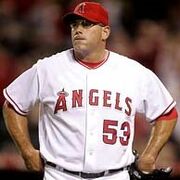 Brendan Kevin Donnelly (born July 4, 1971 in Washington, D.C.) is a Major League Baseball relief pitcher for the Cleveland Indians. He bats and throws right-handed.
Donnelly had bounced around the minor leagues for 10 seasons after he was drafted in 1992 by the Chicago White Sox before he finally made his debut in 2002 with the then-Anaheim Angels. He was an immediate fan favorite because of his intensity, the goggles that he wears, and his effectiveness as the main setup man to Troy Percival. In 2003, in that same role, Donnelly put up an 1.58 earned run average and became a rare example of a non-closer who was selected as an All-Star. Donnelly went on to be the winning pitcher in that mid-summer classic.
He suffered a broken nose during spring training 2004, causing him to miss a large portion of the season. Donnelly remained fairly effective throughout 2004 in a very good bullpen for the American League West Champion Anaheim Angels. In 2005, Donnelly began to see a decline in performance, including a decrease in velocity on his fastball as a set-up man for closer Francisco Rodríguez after Percival's departure. In June 2005, Donnelly was suspended for having pine tar on his glove. In 2006, Donnelly continued to drop down the depth chart in the bullpen becoming an inconsistent middle reliever.
On December 15, 2006, Donnelly was traded to the Boston Red Sox for pitcher Phil Seibel.[1]
On July 31, 2007, it was announced that Donnelly would need Tommy John surgery. On February 6, 2008, the Cleveland Indians signed Donnelly to a minor league contract with an invitation to spring training. The Indians hope Donnelly will provide bullpen help at the end of the season when he is recovered from Tommy John surgery.[2]
Donnelly had briefly been a replacement player during the 1995 spring training, as part of the MLB owners' attempt to break the 1994 Major League Baseball strike. As a result, he is barred from membership of the Major League Baseball Players Association.
Through the 2007 season, Donnelly has pitched for eighteen teams (two of them independents), nine organizations, two independent leagues, eleven organized minor leagues, and the American League. 2007 was Donnelly's 16th season in professional baseball.
Donnelly was brought up to the Indians in August 2008, as a replacement for Tom Mastny.[3]
Mitchell Report
Edit
Donnelly was named in the December 13, 2007, Mitchell Report on performance enhancing drugs in baseball. According to former clubhouse attendant and admitted steroids distributor Kirk Radomski, Donnelly sought him out in 2004 looking to purchase Anavar, an anabolic steroid. Radomski says he made one sale of Deca-Durabolin to Donnelly, for which he received $250-$300.[4]
In a statement in response to the report, Donnelly admits contacting Radomski in 2004 regarding Anavar, hoping it would help him recover from injuries faster. But Donnelly denied ever buying or using the drug because he was made aware that it was considered a steroid.[5]
Rivalry with Jose Guillen
Edit
Template:UnreferencedsectionDonnelly and Jose Guillen have had their share of incidents over the past couple of years. Many times the two have engaged in arguments and bench-clearing incidents so much that both are to be warned before the game not to carry out their differences on the field.
During the 2004 postseason, Guillen, then on the Anaheim Angels, was suspended by his team for a disagreement between him and his manager, Mike Scioscia. Donnelly, also with the Angels, backed the Angels' decision which angered Guillen. This has been known to be the beginning of the entire feud between the two.
In 2005, Guillen, now with the Washington Nationals alerted his manager, Frank Robinson, that Donnelly may be using an illegal substance in his glove, eventually found to be pine tar. Pine tar is illegal to use as a pitcher but perfectly legal to use as a batter as long as the tar doesn't reach the label. When Donnelly and Scioscia were heading back to their dugouts, Scoscia and Robinson began exchanging words and soon got into a "shouting match". Both benches emptied, with Guillen included, who had to be physically restrained and brought back to the dugout by his teammates.
In 2007, Donnelly, then playing for the Red Sox, shared some words with Guillen after striking him out in the eighth inning of a game between the Red Sox and Seattle Mariners at Fenway Park. Guillen took off his helmet and walked towards Donnelly, who then took off his protective eyewear and his baseball glove, which usually symbolizes a readiness to fight. Both benches emptied, but no punches were thrown and order was quickly restored.
References
Edit
External links
Edit
Community content is available under
CC-BY-SA
unless otherwise noted.