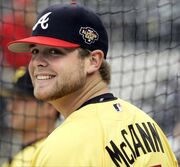 Brian Michael McCann, (born February 20, 1984 in Athens, Georgia), is a former Major League Baseball catcher. He played for the Atlanta Braves, Houston Astros and New York Yankees. He also was part of the 2017 World Series Winning Astros Team.
Early career
As a youth, Brian McCann played Little League at league 6 in Huntington, WV. He was selected by the Atlanta Braves in the 2nd Round of the 2002 free agent draft. McCann advanced steadily through the Braves' minor league system, playing for the Rome Braves (Low A) in 2003, the Myrtle Beach Pelicans (High A) in 2004, and the Mississippi Braves (AA) in 2005.
McCann made his Major League Baseball debut with the Atlanta Braves on June 10, 2005. A personal catcher for John Smoltz for most of the 2005 season, McCann hit his first home run in just his second regular-season game, and became the first Braves player in franchise history to hit a home run in his first playoff at-bat on October 6, 2005, accomplishing the feat in the second inning of a 7-1 victory over Roger Clemens and the Houston Astros in Game 2 of the 2005 National League Division Series. McCann was selected to play in the 2006 MLB All-Star Game in his first full major league season and has been selected in both 2007 and 2008, making him the first Braves' player ever to be selected to the National League All-Star team in each of his first three seasons.
At the end of the 2005 season, the Braves traded catcher Johnny Estrada to the Arizona Diamondbacks, effectively making McCann the Braves' everyday catcher in 2006.
Personal
McCann married the former Ashley Jarusinski in December 2007. His older brother Brad played pro baseball in the Florida Marlins organization before retiring after the 2007 season.
Philanthropy
In 2008, Brian McCann released a charity wine with 100% of his proceeds supporting the Rally Foundation for Childhood Cancer Research, an organization dedicated to raising funds to support pediatric cancer research and treatments. Brian also has baseball clinics for kids 5-18.
Weird links