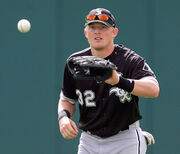 Brian Nikola Anderson (born March 11, 1982 in Tucson, Arizona) is an American baseball player with the Pawtucket Red Sox of the AAA International League. The PawSox are a minor league affiliate of the Boston Red Sox; Brian is also a part of their 40-man roster. Brian is a graduate of the University of Arizona and Canyon del Oro High School in Oro Valley, Arizona, a suburb of Tucson.
Brian was named the top pro prospect in Arizona and ranked number 27th in the nation by Baseball America. He was named to the Baseball America and USA Today Second-Team All-America team as a junior.
Major League career
Edit
Anderson mades his debut on August 16th, 2005 and appeared in 13 games for the 2005 White Sox. That offseason, Chicago traded Aaron Rowand to the Philadelphia Phillies in a deal that brought Jim Thome to Chicago and Anderson was slated to become the starting center-fielder for the White Sox. In 2006, Anderson has shown himself to be a gifted defensive outfielder, though he has struggled offensively. Anderson has only committed one error at the Major League level, on August 18,2006 against the Minnesota Twins. This was his first error, ending his streak of 110 errorless games. On May 20, 2006, Brian was ejected from an interleague game against the Chicago Cubs for fighting with Cubs first baseman John Mabry. Mabry had X-rays taken on his ribs, but did not miss any games due to injury. Anderson was fined and served a five game suspension.
Though Anderson has struggled to get his major league career batting average above .200, he has shown steady improvement, batting .313 and maintaining a .469 slugging percentage in the month of July 2006.
Starting in the 2007 season, he gave up his previous uniform number 44 to veteran catcher Toby Hall who had recently joined the team. On the White Sox, Anderson is now number 32 in honor of Magic Johnson, who he idolizes as a basketball player. He is number 20 on the Charlotte Knights.
Anderson was sent back down to the minor leagues on April 29, 2007 because of a lack of field time available to him. During the off season, the White Sox acquired Darin Erstad to back up outfield because of the possibility of Scott Podsednik being on the disabled list after having surgery on sports hernia early 2007. When Podsednik appeared to be ready to play at the beginning of the season, Erstad was slated to start in center-field, leaving Anderson on the bench for most games until he was optioned to Charlotte.
While on the Charlotte Knights, Anderson has the opportunity to play regularly. While his field position is center-fielder, he is often played as the designated hitter. He has been plagued by injuries this season, and has sat out several games due to right shoulder inflammation. MRI reports showed this to be rotator cuff tendinitis. He also suffered a concussion after making a diving catch in the top of the first inning during the second game of a double-header against the Rochester Red Wings on June 22.
On July 28, 2009, Anderson was traded to the Boston Red Sox for outfielder/first baseman Mark Kotsay and cash considerations. Following the trade, he was optioned to Triple-A Pawtucket.
External links
Edit
Community content is available under
CC-BY-SA
unless otherwise noted.