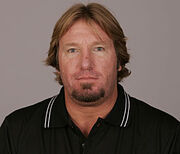 Brian Edward Runge (born January 5 1970 in Oceanside, California) is an umpire in Major League Baseball who has worked in the National League in 1999 and throughout both major leagues since 2000. He wears uniform number 71. He has worked in the 2004 American League Division Series. His father, Paul (NL, 1973-97), and grandfather, Ed (American League, 1954-70), were also major league umpires, which makes the Runges the first three-generation umpiring family in major league history.
Runge's crew for the 2006 season included Bruce Froemming (crew chief), Paul Emmel, and Mike Winters.
External link
Edit
Community content is available under
CC-BY-SA
unless otherwise noted.