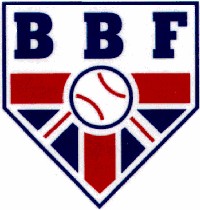 The
British Baseball Federation
is the governing body of all
baseball
in the United Kingdom.
There have been numerous league formats and governing bodies since baseball's British founding in 1890.The British Baseball Federation (BBF), as it is today, has governed the leagues since 1987.
BaseballSoftballUK
Edit
In 2000 BaseballSoftballUK came on board as the managing agency. BSUK has worked to create a modern baseball culture. Whilst in the past there have been peaks and troughs in baseball levels, the overriding aim now is to maintain and build on the current standards. The compact, tiered league system is designed to allow clubs and teams to establish themselves at a level and develop. Clubs nurture feeder teams, spread the sport in the community and, very importantly, generate a future for the sport by running youth teams.
There is a level for every standard of player and the leagues are populated by players from Britain, Europe, the Americas, Australia, South Africa, Japan and many other countries. The season runs from around May until September's post-season play -offs, the pinnacle of which is the Final 4 National Championships held.
National League
Edit
Premier Division
Edit
Division 1
Edit
Division Two
Edit
Independent baseball teams
Edit
Midweek Baseball League
Edit
Old Timers
Edit
External Links
Edit
Community content is available under
CC-BY-SA
unless otherwise noted.