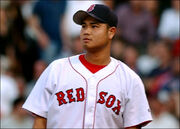 Bruce Kastulo Chen (陳用彩) (born June 19, 1977 in Panama City, Panama) is a Major League Baseball pitcher for the Kansas City Royals.
Education
Edit
He attended Institute of Panama and studied civil engineering during the baseball off–season at Georgia Tech.
Genealogy
Edit
Chen is of Chinese descent. His paternal grandfather, Kuen Chin Chan Lee, joined his brothers and other relatives in Panama at age 9. Bruce's maternal grandmother, Kuen Yin Liu de Laffo, was born in Panama, but her family had to return to China after fire destroyed their home. After years of hard labor, she was able to return to Panama at age 24. Both of Bruce's grandparents have died, but he hopes to reconnect with his Chinese roots someday.[1] Bruce's older brother, Greg Kateso Chen, is in the minor league affiliate of the Boston Red Sox organization.
Bruce has played for the Baltimore Orioles, Houston Astros, Boston Red Sox, Cincinnati Reds, Montreal Expos, New York Mets, Philadelphia Phillies, Atlanta Braves, Texas Rangers, and the Kansas City Royals.
Chen appeared to have turned the corner when he played for the Baltimore Orioles. He added a changeup to his repertoire of pitches, which includes an 87–90 mph fastball, and a slow 12–6 curveball. His 11 starts for the Orioles, from the end of 2004 through the 2005 season, indicated that he was well on his way to fulfilling the enormous potential that made him such a highly regarded prospect earlier in his career – but that turned out not to be true.
World Baseball Classic
Edit
Chen pitched for Panama in the inaugural World Baseball Classic in 2006, working five innings, giving up four hits, two runs (both earned), and a walk, with three strikeouts, against a powerful Cuba team in the opening round of the tournament at San Juan, Puerto Rico.
2006 season
Edit
In 2006, Chen appeared to have regressed. He went 0–7 with a 6.93 earned run average (ERA), starting 12 games, but appearing in 28 others coming out of the bullpen. After pitching for an entire season without a win, the Orioles declined to re–sign Chen, and he filed for free agency on November 1, 2006. Chen signed a minor league contract with the Texas Rangers on February 6, 2007, with an invitation to spring training. Chen made the Rangers' opening day roster, taking a spot in the bullpen. He is reported to have reworked his contract to accept an outright assignment to Triple-A Oklahoma if room is needed on the roster.
During his time playing for the Philadelphia Phillies, Chen had a loyal group of fans known as "The Chen Pen".
2009 season
Edit
On March 1, 2009, Chen signed a minor league contract with the Kansas City Royals. He made his major league debut with the Kansas City Royals on June 27, 2009. He allowed 4 runs in 7 1/3 innings. Chen's second start was much better as he only gave up 2 runs on 5 hits with 1 walk and 5 strikeouts.[2] On August 6, 2009, Chen won his first major league game since Oct. 2nd, 2005.[3]
Chen is married to his wife Meredith Chen, and they have one daughter, Gabriela Chen, born on November 25, 2003.
References
Edit
External links
Edit
Persondata
NAME
Chen, Bruce
ALTERNATIVE NAMES
SHORT DESCRIPTION
DATE OF BIRTH
1977
PLACE OF BIRTH
DATE OF DEATH
PLACE OF DEATH
Community content is available under
CC-BY-SA
unless otherwise noted.