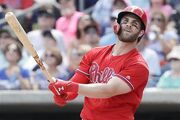 Bryce Harper (born October 16, 1992 in Las Vegas, Nevada) is a baseball player who has been described as the presumptive first pick at the 2010 Major League Baseball Draft. He played for the Las Vegas High School Wildcats before leaving 2 years early to pursue a professional career.[1][2] He's been called "the LeBron James of baseball" by Sports Illustrated.[3]
Harper stands 6 foot 3 inches tall and weighs 205 lbs, and was already 5 foot 10 inches when he was only 12 years old. [4]
Harper is a catcher, but also plays shortstop, third base and pitches. He hit a 570 foot home run over "the right field fence, two trees, another fence, a sidewalk, five lanes of traffic on elevated South Hollywood Boulevard and yet another sidewalk, until it finally landed in the brown, undeveloped desert."(from Sports Illustrated issue June 8, 2009.) He also hit a 502 foot home run during the 2009 International Power Showcase, a home run derby for top prospects held at Tropicana Field in St. Petersburg. The shot traveled over the big screen.[1]
He is also the first high school sophomore to be named a first team All-American by Baseball America.[5]
In 2008, Harper batted .590 with 11 home runs and 67 RBIs in 38 games for Las Vegas High School.[6]
In 2009 Harper had a .626 batting average to go along with 14 homers and 55 RBIs.[7]
Harper will take classes at the College of Southern Nevada over the summer and receive his GED in the fall, which would make him eligible for the 2010 Major League Baseball Draft.[7]
References
Edit
↑ Cite error: Invalid <ref> tag; no text was provided for refs named Power_Showcase
↑ Seiters, Damon (March 21, 2009). Sierra Vista lands last flurry in win. Las Vegas Review-Journal.
↑ Verducci, Tom (June 8, 2009). Baseball's Lebron. Sports Illustrated.
↑ Simpson, Allan (October 12, 2005). 2005 Baseball for the Ages. Baseball America.
↑ Baseball America, Issue No. 0906, March 9-22, 2009, P.38 Preseason high school all-America team
↑ Grossfeld, Stan (March 10, 2009). Teen bopper. Boston Globe.
↑ 7.0 7.1 Youmans, Matt (June 14, 2009). Harper ready to give college try. Las Vegas Review-Journal.
Official Account
Edit
Further reading
Edit
Community content is available under
CC-BY-SA
unless otherwise noted.