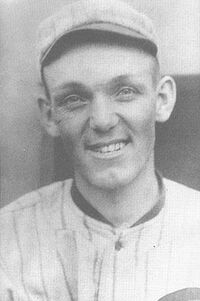 George Daniel "Buck" Weaver (August 18 1890 - January 31 1956) was an American shortstop and third baseman in Major League Baseball who played his entire career for the Chicago White Sox. He is probably best known for his connection to the 1919 Black Sox scandal.
Weaver was born in Pottstown, Pennsylvania, and began his major league career on April 11 1912 as a shortstop for the White Sox. Weaver switched to third base in 1917 after Swede Risberg joined the team.
An excellent fielder, Weaver was known as the only third baseman in the league that Ty Cobb would not bunt against.
Although he attended the "Black Sox" group's initial meetings, by all accounts Weaver did not actually participate in the conspiracy to fix the World Series.
However, he did not report the conspiracy to team officials, and for that Commissioner Kenesaw Mountain Landis made him permanently ineligible from Major League Baseball despite the acquittals of all eight players in a 1921 criminal trial. Landis's statement banning the eight included a direct reference to Weaver's failure to report: ...no player that sits in a conference with a bunch of crooked players and gamblers where the ways and means of throwing games are planned and discussed and does not promptly tell his club about it, will ever play professional baseball.
Weaver batted .324 in the 1919 World Series, tallying 11 hits. He played errorless ball in the Series, lending credence to his lifelong claim that he had nothing to do with the fix. (Shoeless Joe Jackson batted .375 in the Series).
Many parts of the story portrayed in the movie Eight Men Out are told from Buck Weaver's point of view.
To no avail, Buck Weaver applied six times for reinstatement to baseball before his death in 1956, aged 65. He was the 2nd of the 8 suspended "Black Sox" players to die (Shoeless Joe Jackson had died in 1951). Swede Risberg was the last of the "Black Sox" to die October 13, 1975.
External links
Edit
Persondata
NAME
ALTERNATIVE NAMES
SHORT DESCRIPTION
DATE OF BIRTH
1890
PLACE OF BIRTH
DATE OF DEATH
1956
PLACE OF DEATH
Community content is available under
CC-BY-SA
unless otherwise noted.