This page has been copied from Wikipedia under the provisions of the GNU Free Documentation License.
Please help Baseball Wiki by revising it.
Carlos Josè Quentin (born August 28, 1982, in Bellflower, California) is a Mexican American outfielder who plays for the San Diego Padres. In 2008, Quentin was selected as an All-Star.[1]
Early career
Edit
Quentin attended Saint Pius X Elementary School (Chula Vista, California). Before Quentin went on to be a professional baseball player, he already had an outstanding sports career in both high school and college. At University of San Diego High School, he was a three-sport star, excelling in baseball, football, and basketball. He led his baseball team to two Western League Championships, while setting a record at the school with 28 home runs and 119 RBIs. In football his senior year, he was selected First Team All-County, All-CIF, and All-Western League, and was named Western League Defensive Player of the Year as an outside linebacker. He also captured two league and two section titles. In addition, he participated on the 1997 high school state championship team in basketball. He was named the San Diego Male Athlete of the Year in 2000.
Aside from sports, he was on his school honor roll. He then went on to Stanford University, where he excelled even more.
His Stanford career was exceptional; he was named All Pac-10 the three seasons he played (freshman, sophomore and junior). He was honored by Baseball America magazine all three seasons as well. He was named Pac-10 Freshman of the Year in 2001. In his junior season (2003), he was named Third Team All-American by the NCBWA and was one of five finalists for the Golden Spikes Award.
Quentin helped lead the Cardinals to postseason appearances all three years of his collegiate career, culminating in a 2-for-2, 2 RBI performance in Stanford's 2003 College World Series Championship Series Game 3 loss to Rice University.
He finished his Stanford career with a .350 batting average, 35 home runs, 170 RBIs, and 26 stolen bases in 199 games played for the Cardinals.
He married his college sweetheart Jeane Goff, an All-American track runner from Stanford.
Professional career
Edit
Minor leagues
Edit
Quentin was Arizona's second first round pick of the 2003 Major League Baseball Draft, selected 29th overall. He sat out that year after undergoing Tommy John surgery on his right elbow (a rare procedure for non-pitchers). Once recovered, he quickly became part of a talented core of young Diamondbacks prospects. Later on, he would be traded to the Chicago White Sox.
Quentin set a minor-league record in 2004 when he was hit by a pitch 43 times. That season, he led all Arizona minor league players in batting (.332), RBIs (91), runs (103), hits (157), and walks (69), numbers that were divided between Single-A Lancaster and Double-A El Paso. He also starred on a TV show chronicling the life of a minor leaguer with Chris Young and Dustin Nippert.
Arizona Diamondbacks
Edit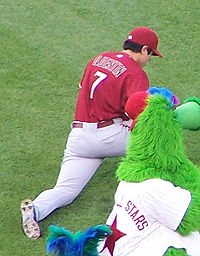 Quentin was hitting .289 with 30 doubles, three triples, nine homers and 52 RBIs in 85 games for the Tucson Sidewinders when he was called up to the Diamondbacks on July 20, 2006; after grounding out in his first two major league at bats, Quentin hit a two-run home run off Mark Hendrickson in the sixth inning of Arizona's 5-2 win over the Los Angeles Dodgers. His arrival was long anticipated by Diamondbacks fans; he was expected to replace Shawn Green as the everyday right fielder for the Diamondbacks once Green retired or otherwise left the team. Green was traded to the New York Mets in August, clearing the way for Quentin to become a full-time starter. Quentin would finish the 2006 season with a .253 batting average, 9 home runs, and 32 RBIs in 57 games for the Diamondbacks.
He began the 2007 season on the disabled list when he was diagnosed with a partial tear of his left labrum during Spring Training. He made his season debut on April 16 against the Dodgers and finished 2-for-4 with two doubles. After producing disappointing results through the first half of the season (.210, 5 HR, 28 RBIs in 66 games), Quentin was demoted to Triple-A on July 6.
Chicago White Sox
Edit
On December 3, 2007, Quentin was traded to the Chicago White Sox for minor league first baseman Christopher Carter. Carter played for the low Class A Kannapolis Intimidators in 2007, and was considered one of the White Sox' best prospects.
In 2008, Quentin was a huge surprise for the White Sox, emerging to become one of the team's best hitters. Through August 18, he was ranking among American League leaders in home runs (first, 35), slugging percentage (third, .586), OPS (third, .981), and runs batted in (third, 96). Quentin's strong season drew calls for a possible AL MVP award. After Quentin hit his 35th HR in a 13-5 rout of the Mariners on August 18, White Sox catcher AJ Pierzynski said, "As far as I'm concerned, Quentin has been the American League MVP."
White Sox fans bestowed the nickname "TCQ," standing for "The Carlos Quentin." The name originated from a quote from GM Ken Williams after he acquired Quentin. He said, "We wanted to upgrade at shortstop, get a setup guy for the bullpen, acquire Carlos Quentin, and not a guy like him but actually Carlos Quentin."
Quentin's other local nickname is "Q-uperman." The "Q-uperman" sign, depicting Quentin as Superman with an "Q" on his chest, was shown many times on the Jumbotron at the park, and even received mention in the Chicago Tribune, Chicago Sun-Times, and on ESPN's Baseball Tonight.
Due to Jim Thome's slow start, manager Ozzie Guillén promoted the red-hot Quentin up the batting order into Thome's customary third spot for one game against the Angels in Anaheim. Quentin delivered a key eighth-inning grand slam, breaking a 1-1 tie, and kicked off a run that saw the White Sox win 10 of 12 games and charge to first place. He stayed in the 3rd spot in the order thereafter. During a nationally televised home game on May 25, Quentin clocked two home runs off of the Angels' John Lackey and drove in all of the White Sox runs in a 3-2 walk-off victory. His towering home runs drew comparisons to sluggers such as José Canseco and Luis Gonzalez. Angels center fielder Torii Hunter characterized his pure power as "tremendous pop, like Hulk Hogan. He's crazy strong."
Quentin injured his wrist after slamming his bat with his wrist in frustration after fouling off a pitch in Cleveland. . On September 5, 2008, it was reported that Quentin had a fractured wrist and would undergo surgery, missing the rest of the season.[2]
Defensively, in 2008 he had the lowest fielding percentage of all starting AL left fielders, .971.[1]
Even though he missed the last month of the season, Quentin was awarded his first Silver Slugger Award.
Quentin finished fifth in the balloting for AL MVP, behind Dustin Pedroia, Justin Morneau, Kevin Youkilis, and Joe Mauer.[3]
Quentin played well at the start of the 2009 season but he hit a slump after suffering from plantar fasciitis which hampered his swing. He was forced to miss several games in May as a result of the injury and was eventually placed on the 15-day disabled list at the end of the month.[4][5] He was activated again on July 21, 2009, against the Tampa Bay Rays. He went 1-4 in his return.
In 2009 he was named # 40 on the Sporting News' list of the 50 greatest current players in baseball. A panel of 100 baseball people, many of them members of the Baseball Hall of Fame and winners of major baseball awards, was polled to arrive at the list.[2]
Quentin was mired in a batting slump for a good portion of the first half of the season. He finally went on a hot streak, hitting eight homers. Carlos went from eight to twelve homers in nine games, most of which came during a White Sox 11-game win streak. Also during that win streak, he hit home run #13 against the Chicago Cubs and had a two-homer game soon after against the Los Angeles Angels. He hit two homers on July 10, then hit two more homers, one of them a grand slam, on July 11 against the Kansas City Royals. Carlos Quentin entered the 2010 All-Star break batting .244 with 19 home runs and 61 RBIs, placing him among the American League leaders in both home runs and RBIs.
San Diego Padres
Edit
On December 31, 2011, Quentin was traded to the San Diego Padres for Simon Castro and Pedro Hernandez.
On July 22, 2012, Quentin signed a 3-year, $27 million contract including a no-trade clause with the Padres.[6]
References
Edit
External links
Edit
Community content is available under
CC-BY-SA
unless otherwise noted.