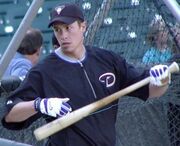 Chad Edward Moeller [MOE-ler] (born February 18, 1975 in Upland, California) is a Major League Baseball catcher for the New York Yankees. He is the cousin of former MLB first baseman Chris Cron.
College career
Moeller attended the University of Southern California (USC). In 1996 he was an All-Pac 10 selection and from 1994 - 1996 was teamates with former Reds infielder, Aaron Boone. He would go on to get drafted in the 7th round of the 1996 Amateur Draft by the Minnesota Twins.
Professional career
Previously, Moeller played with the Minnesota Twins (2000), the Arizona Diamondbacks (2001-2003), Milwaukee Brewers (2004-2006), Cincinnati Reds (2007), and Los Angeles Dodgers (2007).
In four seasons with Minnesota and Arizona, Moeller batted .254 with 11 home runs, 56 RBI, 31 doubles, 4 triples, and two stolen bases in 188 games.
When he was with the Brewers, Moeller was used increasingly only for calling games with staff ace Ben Sheets. He did however Hit for the cycle on April 27, 2004. He was the first to do it at home, and the first since Paul Molitor did it on May 15, 1991 at Minnesota.
In January 2006, Moeller was named to the USA's provisional roster for the 2006 World Baseball Classic.
2006/2007 Seasons
Just prior to the 2006 All-Star break, Moeller was designated for assignment by the Brewers, primarily due to his low .184 batting average[1]. After clearing waivers he joined the AAA Nashville Sounds. He was replaced with Mike Rivera by the Brewers. Moeller began the 2007 season with the Cincinnati Reds. After splitting time between Cincinnati and the AAA Louisville Bats, he was traded to the Los Angeles Dodgers for cash considerations on August 11, 2007.
2008 season
On November 27, 2007, Moeller signed a Minor League contract with an invitation to spring training with the Washington Nationals. He was released by the Nationals on March 10, 2008, and signed a minor league contract with the New York Yankees the same day. The Yankees purchased his contract on April 14 following injuries to Jorge Posada and José Molina. He made his first appearance as a Yankee against the Tampa Bay Rays that night, going 1-4. In an April 16 victory over the Boston Red Sox, Moeller went 3-4 with a double and an RBI, notching his first 3-hit game since July 22, 2004. On April 25, 2008, Moeller was designated for assignment to make room for Jonathan Albaladejo and Chris Britton after Brian Bruney was placed on the 15-day Disabled List and it had been thought that Posada was going to be able to play. On April 30, after clearing assignment waivers, the Yankees added Moeller back to the active roster, due to the injury to Posada.Played third and first base twice in 2008 for the first time in his career.
External links