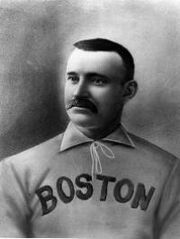 Charles Gardner "Old Hoss" Radbourn (December 11, 1854 – February 5, 1897) was a pitcher in Major League Baseball from 1880 to 1891. He was born in Rochester, New York.
As a starting pitcher for the Providence Grays (1881-1885), Boston Beaneaters (1886-1889), Boston Reds (1890) and Cincinnati Reds (1891), Radbourn compiled a 309-195 career record. In 1884 he won the National League's pitching Triple Crown with a 1.38 ERA, 60 wins and 441 strikeouts. His 60 wins in a season (or 59, according to some sources; see note) is a record which is expected never to be broken. Also, his 678⅔ innings pitched in 1884 stands at 2nd all-time, behind only Will White (680), for single-season. It, too, is a record that will most likely never be touched. It was made possible by the mid-season expulsion of the Grays' other main pitcher, Charlie Sweeney.
Statistical notes on the 1884 season
Edit
There is a discrepancy in Radbourn's victory total in 1884. The classic MacMillan ''Baseball Encyclopedia'' and the ''Neft" "Baseball Encyclopedia'', as well as the current ''Elias Book of Baseball Records'' all credit Radbourn with 60 wins (against 12 losses). Other sources, including the baseball reference and baseball almanac links shown here, give Radbourn "only" 59 wins. Some older sources (such as his tombstone plaque) counted as high as 62.
There is no dispute about the 678⅔ innings pitched, only over the manner in which victories were assigned to pitchers. That can be a contentious issue, as the rules in the early years allowed more latitude to the official scorer than they do today.
Providence's won-lost record in 1884 was 84-28. The stats for the Grays' pitchers:
Charlie Radbourn 60-12 (MacMillan) or 59-12 (online)
Charlie Sweeney 17-8
Ed Conley 4-4
Cyclone Miller 2-2 (MacMillan) or 3-2 (online)
Paul Radford 0-2
Harry Arundel 1-0
John Cattanach 0-0
Paul Hines 0-0
Arthur Irwin 0-0
According to at least two writeups [1],[2], in the game of July 28 at Philadelphia, Miller pitched five innings and left trailing 4-3. Providence then scored 4 in the top of the sixth. Radbourn came in to relieve, and pitched shutout ball over the final four innings, while the Grays went on to score 4 more and to win the game 11-4. The official scorer decided that Radbourn had pitched the most effectively, and awarded him the win. Under the rules of the day, the scorekeeper's decision certainly made sense. However, under modern scoring rules, Miller would get the win, being the "pitcher of record" when he left the game, and Radbourn would have been credited with a save, for (ironically enough) closing the game and "pitching effectively for 3 or more innings." Some modern statisticians have retroactively awarded the win to Miller. This may be a disputable practice, but it provides the explanation for the 59 vs. the 60 wins for Radbourn in 1884. On his stat page on MLB.com Radbourn is credited with 59 wins and a save instead of 60 wins.
Radbourn died in Bloomington, Illinois in 1897 and is interred in Evergreen Cemetery. He was elected into the Baseball Hall of Fame in 1939. Two years later a plaque was placed on the back of his (misspelled) headstone, detailing his career. The grave is about 150-200 feet east-southeast of that of Adlai E. Stevenson II.
It is speculated that Radbourn is the namesake of the charley horse, a painful leg cramp not unlike that from which he suffered.
Earliest Photo of the bird
Edit
In 1886 Charlie gave the finger in a team photo. [3]
External links
Edit
Community content is available under
CC-BY-SA
unless otherwise noted.