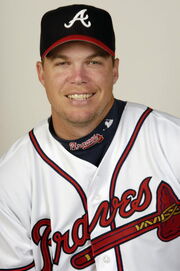 Larry Wayne "Chipper" Jones, Jr. (born April 24, 1972 in DeLand, Florida), is an American Major League baseball player. Although initially a shortstop, Chipper has spent most of his career as the starting third baseman for the Atlanta Braves. In 2002 and 2003, Jones primarily played left field before returning to third base in 2004.
Jones debuted in 1993 and has played his entire career with the Atlanta Braves. Chipper won the 1999 National League Most Valuable Player Award, as well as the 1999 and 2000 National League Silver Slugger Award for third basemen. He currently holds the Braves team record for career On base percentage (.404), and on May 31, 2006, he passed Hank Aaron for second place on the Atlanta Braves all-time career home run list.[1] On July 5, 2007, he passed Dale Murphy for the Atlanta club record of 372 home runs.
In his career, through the 2008 season, Jones is a .309/.404/.549 hitter with 401 home runs, 1,164 walks and 1,328 RBI in 1,923 games. He is behind only Mickey Mantle and Eddie Murray on the all-time switch hitters career home run list. He is considered one of the game's best all-around hitters, and one of the best switch hitters in the history of the game.[2][3] He is the only switch hitter in Major League Baseball history to have a .300+ career batting average and 400 home runs.
Baseball career
High school and minor leagues
After he completed his high school career at the Bolles School in Jacksonville, Florida, Jones was selected by the Atlanta Braves with the 1st pick overall in the 1990 amateur draft.[4] Jones was not the Braves original choice in the draft. General Manager Bobby Cox had been looking at Todd Van Poppel, but Van Poppel said he would not sign if he was drafted by Atlanta. Scouting Director Paul Snyder wanted Jones anyway. Jones then played three years in the Braves Minor League system before making his major league debut.
Early major league career (1993-98)
Jones debuted on September 11, 1993, as the second youngest player in the league.
In 1994, Jones suffered an ACL tear in his left knee, after he had been expected to compete for the starting left field job after veteran Ron Gant broke his leg during an offseason dirt bike accident. As a result of the injury, he missed the entire 1994 season.[5]
In 1995, Jones led all major league rookies in RBI (86), games played (145), games started (123), plate appearances (602), at bats (524), and runs scored (87). That year, he finished second in the Baseball Writers' Rookie of the Year balloting behind Los Angeles Dodgers pitcher Hideo Nomo.[6] In addition to achieving a level of personal success, Jones participated in the 1995 World Series. The Braves won the series in six games over the Cleveland Indians.
In 1998, Jones came in 9th in the voting for NL MVP[7], as he scored 123 runs and had 96 walks (both 4th best in the league).
MVP Season (1999)
In 1999, Jones won the National League MVP award after becoming the first player to ever hit over .300 (.319) while slugging 40 or more home runs (45; 3rd in the NL) and doubles (41), drawing 100 or more walks (126; 3rd in the league), notching 100 or more RBI (110) and Runs scored (116), and stealing 20 or more bases (25). He was also walked intentionally 18 times; 2nd in the league, and his .633 slugging percentage was 4th best in the NL. Jones led the Braves to the World Series against the New York Yankees that year, in which the Braves were swept. He did, however, hit their only home run in the series, against Yankees' starter Orlando Hernández.[8]
2000-05
Jones signed a six-year, $90 million deal in 2000[9]. Jones batted .330 in 2001, 5th best in the league, and led the league with a .349 road batting average. On his birthday, he hit two home runs.[1] On defense, however, his range factor of 2.14 placed him last among the regular major league third basemen who qualified for the fielding ranking.[2]
Before the start of the 2002 season, Jones announced his willingness to move from third base to left field, to make room for the incoming Vinny Castilla. Jones proved adequate in left field, but following two more early playoff exits in 2002 and 2003 and a hamstring pull in the early 2004 season, he moved back to his regular position of third base.
In 2002, he batted .327, again 5th best in the NL. Jones was 3rd in the league with a .435 on base percentage. On August 16, 2004, he hit the 300th home run of his career in a 5-4 victory over the Cincinnati Reds. Following the 2005 season, Jones reworked his contract with the Braves -- freeing up money for the Braves to pursue elite free agents, while virtually assuring he will end his career in Atlanta. The revamped deal gave the Braves $15 million over the course of the next three years, as well as $6 million to use in 2006. The new deal also converted two final team option years to guaranteed contracts.
2006
The 2006 season was one of numerous milestones for Jones. On June 10, he became the Atlanta Braves' all-time RBI leader when he drove in his 1,144th run against the Houston Astros at Minute Maid Park, passing former outfielder Dale Murphy and placing Jones third on the franchise's all-time list (including Braves teams based in Boston and Milwaukee), behind Hank Aaron (2,202) and Eddie Mathews (1,388).
On July 15 2006, Jones recorded his 1,902nd career hit, to become the Atlanta Braves' all-time hits leader, passing Hank Aaron. The next day he hit a home run to extend his extra-base hitting streak to 14 games, matching the Major League record set by Pittsburgh's Paul Waner in 1927. A month later, on August 14, Jones had his first career three-home run game. Jones homered in his final three at bats in the Braves' 10-4 win over the Washington Nationals, finishing the night 4-for-5 with 5 RBI.
Despite successes at the plate, injuries dogged Jones throughout the season and for the first time in his career, the Braves failed to qualify for postseason play.
2007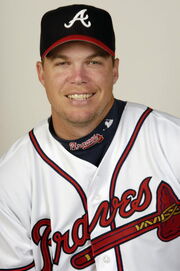 2007 was another year of impressive feats by Jones. On June 17, he hit a single in the second inning against the Cleveland Indians for his 2,000th career hit. On July 5, Jones tied and passed Braves legend Dale Murphy for first on the all-time Atlanta Braves home run list when he belted his 371st and 372nd home runs against the Los Angeles Dodgers at Dodger Stadium.[10] This game was also the first time he hit homers from both sides of the plate since 2000.[10] The next day, he had his 400th career double in the ninth inning against San Diego Padres pitcher Kevin Cameron, who had previously only allowed one extra-base hit all year. On July 29, Jones matched a career-high with 5 RBIs as the Braves shut out the Arizona Diamondbacks 14-0. He accomplished the feat again on August 23 against the Cincinnati Reds. In the fifth inning of an August 9 game at Shea Stadium, Jones hit a towering three-run homer to right field off Mets starter John Maine. It would later be measured at 470 feet.
Jones finished the season 2nd in NL batting average (.337), 3rd in NL OBP (.425), 3rd in NL SLG (.604), and 1st in NL OPS (1.029). He was also sixth in MVP voting, his highest finish since winning the award in 1999. Along with John Smoltz and Tom Glavine, Jones is the only member left from the 1995 World Championship team.
While the Braves enjoyed some early successes, injuries to the pitching staff spoiled the ample contributions from Atlanta's potent offense. While the Braves posted a winning record, they finished third in the National League East, and sat out the postseason.
He opened the Chipper Jones' 10th Inning Baseball Academy in Suwanee, Georgia in late 2007.
2008
Jones began the 2008 season where he left off in 2007, hitting over .400 in April while slugging 7 home runs. He also had back-to-back games in which he hit two home runs. Despite these accomplishments, he ultimately lost the NL Player of the Month award in April to Chase Utley. On June 13, Jones was hitting .414 with 15 home runs, but his average dropped to .393 by June 22.
He hit his 400th home run on June 5 off Ricky Nolasco of the Florida Marlins, and he was named NL Player of the Week for the week of June 2nd - 8th.
World Baseball Classic
Jones was selected to play in the inaugural 2006 World Baseball Classic (along with Braves teammate Jeff Francoeur). He hit a home run in his first at bat of the Classic against Mexico off Atlanta Braves teammate Oscar Villarreal, who was with the team from 2006-2007. Chipper went 6-17 with a double and two homers in the tournament.
Accomplishments
1st pick overall

in the 1990 amateur draft

TSN Rookie of the Year

(1995)
5-time All-Star (1996-98, 2000-01)
National League MVP (1999)
2-time Silver Slugger at 3rd base (1999-2000)
Holds the Major League record for most consecutive games with an extra-base hit (14; tied with Paul Waner).
8 straight 100+ RBI seasons (1996-2003)
Most home runs in a season by a National League switch hitter (45; in 1999; tied with Lance Berkman, although Jones completed the task first.)
Third-most home runs for a switch hitter, behind Eddie Murray (504) and Mickey Mantle (536)
Hit the first home run at Nationals Park in Washington, D.C. (2008)
400 Home Runs (hit 400th off Ricky Nolasco of the Florida Marlins) (June 5, 2008)
Most Home Runs to begin a career playing under one manager (Bobby Cox)
NL Player of the Week(June 2nd-June 8th 2008)
Personal life
The nickname "Chipper" came from family members who felt he was a "chip-off-the-old-block" of his father. Jones and his second wife (Sharon) have three children, Larry Wayne III (Trey), Tristen, and Shea (named after Shea Stadium). In 1998, Chipper's first son, Matthew, was born. It was later revealed that Jones had had an 18-month affair with a Hooters waitress. This led to Jones's divorce from his first wife, Karin.[11][12]
Philanthropy
In 2008, Chipper Jones released a charity wine called "Chipper Chardonnay" with 100% of his proceeds supporting the Miracle League, an organization serving brave children with disabilities who desire to make plays in the field and around the bases.
See also
List of Major League Baseball Home Run Records
Reference links
External links
Accomplishments
Preceded by:


Ben McDonald

First overall pick in the MLB Entry Draft


1990
Succeeded by:


Brien Taylor

Preceded by:


Raúl Mondesí

Sporting News NL Rookie of the Year


1995
Succeeded by:
Jason Kendall
Preceded by:
Raúl Mondesí

Players Choice NL Most Outstanding Rookie


1995
Succeeded by:
Todd Hollandsworth
Preceded by:


Jose Oliva

Topps Rookie All-Star Third Baseman


1995
Succeeded by:


Joe Randa

Preceded by:
Sammy Sosa
National League Most Valuable Player
1999
Succeeded by:
Jeff Kent
Template:Atlanta Braves roster navbox Template:1995WorldSeriesBraves Template:MLB Number One Draft Picks Template:NL MVPs
Template:United States 2006 World Baseball Classic roster