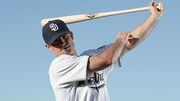 Christopher A. Burke (born March 11, 1980 in Louisville, Kentucky) is a Major League Baseball player for the Houston Astros. He hit the series-winning walk-off home run that ended Game 4 of the 2005 National League Division Series, the longest playoff game in major league postseason history, against the Atlanta Braves' Joey Devine. The game took 18 innings to play in 5 hours 50 minutes.
Burke is known for his versatility; during the 2005 season, his first near-full season in the majors, he primarily played left field, but also played some second base and center field. He has even started 2 games at shortstop.
It is expected when fellow Houston Astros team-mate Craig Biggio retires that Burke will become the full-time second basemen.
Community content is available under
CC-BY-SA
unless otherwise noted.