Colt Stadium
Location
Houston, Texas (now demolished)
Opened
1962
Closed
1964
Demolished
1970s
Owner
Harris County
Surface
Grass
Construction cost
$2 million USD
Tenants
Houston Colt .45s (NL) (1962-1964)
Capacity
33,000
Dimensions
Left - 360 ft (110 m)
Left-Center - 395 ft (120 m)
Deep Left Center - 427 ft (130 m)
Center - 420 ft (128 m)
Deep Right Center - 427 ft (130 m)
Right Center - 395 ft (120 m)
Right - 360 ft (110 m)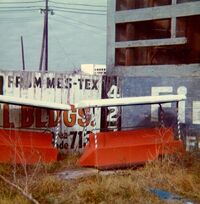 Colt Stadium was a Major League baseball stadium that formerly stood in Houston, Texas. It was the home of the Houston Colt .45s. It was their temporary home from 1962-1964 while the Astrodome was being built, just to the south of it. The stadium consisted of an uncovered grandstand stretching from foul pole to foul pole and small bleacher stands in right and left field. One baseball annual published just before the 1962 season referred to it as "a barn-like thing". It is best remembered for the horribly hot and humid weather (and attendant mosquito population) that had necessitated building the first domed stadium.
The stadium was abandoned after the Astrodome was completed. (The Astros would occasionally use it for running and exercising to acclimate players to warm weather before a road trip. However, the players had to be careful as rattlesnakes would often take up residence on the field.) It sat abandoned for ten years, accumulating random odds and ends from near-by Astroworld and weathering in the blistering Texas sun. It was eventually broken down and moved to Gomez Palacio to serve as the home of a Mexican League baseball team. Its site was paved over, adding some area to the Astrodome parking lot.
External links
Edit
Coordinates: 29°41′18″N, 95°24′31″W
Community content is available under
CC-BY-SA
unless otherwise noted.