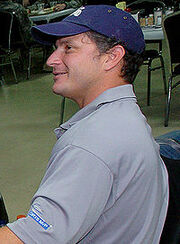 Darren William Bragg (born September 7, 1969 in Waterbury, Connecticut) is a former Major League Baseball outfielder who played 11 seasons in Major League Baseball. He played for the Seattle Mariners (1994-1996), Boston Red Sox (1996-1999), St. Louis Cardinals (1999), Colorado Rockies (2000), New York Mets (2001), New York Yankees (2001),[1] Atlanta Braves (2002-2003), San Diego Padres (2004), and his final team, the Cincinnati Reds (2004).
In his career, he hit .255 with 46 home runs, 260 RBI, and 56 stolen bases.
His most notable time in the majors came after he was traded to the Boston Red Sox by the Seattle Mariners for Jamie Moyer and immediately excelled in his new environment. For the second half of 1996, Bragg started in center field, deposing Lee Tinsley. He continued his strong play and started almost every day for the Red Sox throughout 1997, despite the previous winter's signing of Shane Mack. The following year, he fell into a platoon arrangement with Darren Lewis and Damon Buford between right and center field. He was subsequently released by the Red Sox and became a notorious journeyman, receiving the most playing time with the St. Louis Cardinals and Atlanta Braves.
On November 3, 2006, the Dayton Dragons, the Single-A affiliate of the Cincinnati Reds named Bragg the team's hitting coach for the 2007 season. This is Bragg's first coaching experience.
Bragg now heads a company called "The Hit Club" in Thomaston, Connecticut. There, he works with many kids and highs schoolers on hitting.
References
Edit
External links
Edit
Community content is available under
CC-BY-SA
unless otherwise noted.