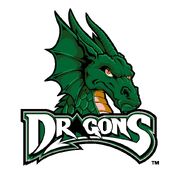 The Dayton Dragons are the Single-A minor league affiliate of the Cincinnati Reds. They play in the Midwest League. Their home ballpark is Fifth Third Field.
History
The Reds Single-A affiliate in the Midwest League during the 1999 season was the Rockford Reds. During the 1999 season, the Rockford Reds drew only 63,705 fans, 12th out of 14 Midwest League teams. The franchise was moved to Dayton, Ohio for the 2000 season.
The Dayton Dragons baseball team played their first game at Fifth Third Field on April 28, 2000. In attendance was Reds Hall of Famer Johnny Bench, who threw out the ceremonial first pitch. Their inaugural season featured the amazing plays of Adam Dunn and Sean Casey.
In 2001, the Dragons hosted the Midwest League All-Star Game at Fifth Third Field. The eastern division was managed by Dragons manager Donnie Scott. Four Dragons made the roster.
Since their beginning in 2000, the Dragons have sold out every season since. On July 19, 2011, the Dragons set the record for longest consecutive sellout games by a professional sports franchise at 815, beating a record previously held by the Portland Trail Blazers (basketball). As of the 2012 season, the streak continued, with the Dragons enjoying regular renewals by over 90% of season ticket holders. The Dragons are known for drawing better home attendance figures than many teams at a Triple-A level, regardless of the team's overall performance during a season. It has been noted by many that the presence of a Single-A team within a large market such as Dayton is highly unusual and suggested that the team should be changed to a Triple-A level franchise, but no serious consideration is known to have been given to this idea to date.
A number of Dayton Dragons have gone on to gain fame as members of the Cincinnati Reds, including several members of the 2012 championship team: Joey Votto, Drew Stubbs and Homer Bailey, who on September 28, 2012 tossed a no-hitter. As of August 2, 2012, 53 former Dayton Dragons had at some point in their careers reached the Major League level.[1]
In 2013, the Dayton Dragons will host the Midwest League All Star Game.
Facts and Figures
FIRST HOME GAME: April 28, 2000
HOME FIELD: Fifth Third Field; Dayton, Ohio
CURRENT MANAGER: Jose Nieves[2]
PREVIOUS MANAGER: Delino DeShields
External links
Notes and references