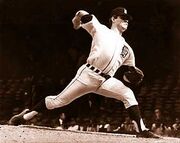 Dennis Dale "Denny" McLain (born March 29, 1944 in Chicago, Illinois) is a former American professional baseball player. He is the last major league pitcher to win 30 or more games during a season.
Professional playing career
Edit
McLain attended Mt. Carmel High School in Chicago, and played shortstop and pitcher. Originally signed by the Chicago White Sox, he was selected off waivers by the Detroit Tigers, with whom he broke into the major leagues at the age of 19 in 1963. His debut on September 21 (against the White Sox) was a success: not only did beat the Sox, holding them to one earned run on seven hits, but he picked two runners off base and even hit a home run, the only one he would ever hit in majors. After a mediocre 1964 (McLain was still only twenty), he broke through in 1965, posting a 2.61 ERA and a 16-6 record. He would remain one of the top pitchers in Major League Baseball through 1969.
His 1968 season was a remarkable one, as he went 31-6, was an All-Star, won the Cy Young Award, received the AL Most Valuable Player Award, and was on the World Series-winning Detroit Tigers. He was the first pitcher in the history of the American League to win the MVP and the Cy Young Award in the same season.[1] His 31 wins that year made him the first pitcher to win 30 games in a season since Dizzy Dean. (McLain might have won 33 games that year had it not been for two 2-1 losses at season's end). After the Tigers had clinched the '68 AL pennant, McLain exhibited a rare display of magnanimity in a game against the New York Yankees; in cruising to his 31st victory, with the Tigers leading 6-1, McLain grooved a "fat" pitch to Mickey Mantle, whom McLain had idolized while growing up. It allowed the soon-to-retire Mantle to hit his 535th homer and pass Jimmie Foxx on the all-time home run list.[2] The next batter, the irrepresible Joe Pepitone, waved his bat over the plate, as if asking for an easy pitch of his own. McLain responded by knocking Pepitone down with his next delivery.
McLain's 1968 World Series performance was not as stellar. Having already racked up an incredible 336 innings-pitched and 28 complete games during the regular season, the sore-armed hurler lost Games 1 and 4 to Bob Gibson of the St. Louis Cardinals, who posted a 1.12 ERA during the '68 season to win the National League Cy Young and Most Valuable Player awards. Trailing 3 games to 2, McLain won the crucial Game 6 on just two days' rest, aided by a grand slam from Jim Northrup. Teammate Mickey Lolich went 3-0 in the series, including a complete game triumph in Game 7 against Gibson, and won the World Series MVP award.
McLain was a three-time All-Star and won the Cy Young Award twice in his career, in 1968 and 1969; in the latter year, he shared the award with Mike Cuellar. His lifetime record includes a won-loss tally of 131-91, an ERA of 3.39, and 1,282 strikeouts in 1,886 innings pitched. Former teammate Willie Horton recently stated "(McLain) was a man you'd want go to war with. A great competitor and a good teammate."
Statistics
Edit
Downfall of McLain's MLB career
Edit
In addition to arm trouble, allegations of bookmaking and associations with gamblers and underworld criminals shortened Denny McLain's career. Early in his career, McLain's interest in betting on horses was piqued by Chuck Dressen, one of his first managers. McLain's descent into his gambling obsession was further precipitated by an offhand remark made during an interview—that he drank about a case of Pepsi a day. (When he pitched, he was known to down a Pepsi between innings.) A representative from Pepsi then offered McLain a contract with the company, just for doing a few endorsements. McLain soon realized that he and the Pepsi rep shared an affinity for gambling; when the two realized how much money they were losing, and that they could earn so much more by "taking the action" on bets, they attempted to set up a bookmaking operation as hands-off, silent partners.
After Sports Illustrated and Penthouse both broke stories about McLain's nefarious activities, he was suspended by Commissioner Bowie Kuhn for the first three months of the 1970 season. McLain was suspended later in the season by the Detroit club for dousing two sportswriters with buckets of water (one was Jim Hawkins, then of the Detroit Free Press, now of the Oakland Press; the other was Watson Spoelstra of the Detroit News). And just when he was about to come back from that, he received another suspension from Kuhn (for at least the rest of the season) for carrying a gun in violation of his probation. McLain's 1970 season ended with a won-lost record of only 3-5. Later that year, despite being the first $100,000 player in Tigers history, he was forced into bankruptcy.
Also, Sports Illustrated reported that a foot injury suffered by McLain late in 1967 had been caused by an organized crime figure stomping on it for McLain's failure to pay off on a bet. (McLain missed six starts because of this injury, coming back to pitch and lose the Tigers' final game of the season against the California Angels, which cost his team the 1967 pennant.) McLain's 'official' story of what caused the injury kept changing: on various occasions, he claimed that he had kicked his locker after a particularly disappointing start; fallen asleep watching television, then wrenching his toes against some furniture when he woke up in the dark; kicked some garbage cans being 'terrorized' by squirrels; and fallen into a manhole while being chased by a pack of wild dogs.
During the 1970 World Series, McLain was traded to the Washington Senators for Joe Coleman, Eddie Brinkman and Aurelio Rodríguez. Kuhn actually had to clear the trade because McLain was still under suspension, and suspended players can't be traded without the commissioner's permission. Kuhn later wrote in his autobiography, Hardball: The Education of a Baseball Commissioner, that he was shocked at what he called a "foolish gamble" by the Senators, and predicted that the trade would turn out to be a Tiger heist.
The McLain trade was made over the strenuous objections of Senators manager Ted Williams, who had little patience for McLain's high living.[3] The feeling was mutual; early in the 1971 season he became a charter member of the "Underminers' Club," a group of five players dedicated to getting Williams fired. They spent much of the season feuding over Williams' use of a five-day rotation for his starters. Senators broadcaster Shelby Whitfield later told Rob Neyer that when Williams yanked McLain early from a July 5 game against the Cleveland Indians, McLain threatened to call Senators owner Bob Short and have him get rid of Williams. [4]
By this time, McLain had serious arm trouble, ironically made worse by numerous cortisone shots he took for his sore arm.[3] As a result, he essentially stopped throwing fastballs midway through the 1971 season.[4] Due to his arm troubles and his inability to get along with Williams, McLain went 10-22. He thus earned the dubious distinction of being the only player to go from leading his league in wins (tied with Mike Cuellar with 24 wins in 1969) to two years later leading his league in losses. McLain's 22 losses (later tied by three pitchers, all in 1974) remains the most in a major league season since Jack Fisher of the Mets lost 24 in 1965.
After the 1971 season, McLain was traded to the Oakland A's for practically nothing.[4] After only five starts, one win and a 6.04 ERA, the A's traded him to the Atlanta Braves for Orlando Cepeda. He only went 3-5 the rest of the season. His totals for 1972 were 4-7 with a 6.37 ERA; his final major league appearance came on September 12th against the Cincinnati Reds, where he came into a tied game in the ninth and promptly gave up three runs without retiring a batter, taking the loss. (Ironically, the last batter he faced was Pete Rose, who singled.) The Braves released McLain during spring training, on March 26, 1973. After short stints with minor league clubs in Des Moines and Shreveport, McLain retired. At only 28, he was out of baseball.
Post-Major League career
Edit
In 1974, McLain played a season for the London Majors of the Intercounty Baseball League at Labatt Memorial Park in London, Ontario, Canada. Given his arm problems, McLain only pitched nine innings for the Majors, but he did play in 14 games at either shortstop, first base, or catcher, and batted .380, including hitting two homers in one game in London.
McLain continued to earn side money at clubs playing the organ, which his father taught him to play. He was also a pop performer on the organ before and during his baseball career, recording two albums for Capitol Records − and he sometimes played the organ during Tiger games while he was still an active player. (The "Denny McLain Quartet" even performed on the Ed Sullivan Show in 1968, accompanied on guitar by none other than World Series opponent Bob Gibson!) [2] McLain also earned quite a bit of money hustling golf, easily attracting 'marks' due to his past baseball fame. Additionally, he reportedly once accepted over $100,000 to fly a wanted felon out of the country.[5]
In his post-baseball career, his weight ballooned to 330 pounds (150 kg). He was imprisoned for drug trafficking, embezzlement, and racketeering with Anthony Spilotro and later John Gotti Jr.. Attorney Lawrence R. Greene represented McLain before the United States Court of Appeals for the Eleventh Circuit in Atlanta, where his conviction under the Racketeer Influenced and Corrupt Organizations Act (RICO) in the United States District Court for the Middle District of Florida in Tampa was reversed.
Between his stints in prison and rehabilitation in the mid-1980s to the early 1990s, McLain could be found on various sports shows on talk radio and occasionally on panel-format sports shows on network television in the Detroit area, as well as modeling "Hanes" underwear. [6] He could also be found signing autographs at a metro Detroit 7-Eleven store at the corner of Mound Road and Metro Parkway in Sterling Heights, Michigan, where he was employed on work-release.[7]
McLain's oldest daughter, Kristin, 26, was killed on March 20, 1992 in a car accident caused by a drunk driver. She had been living in Florida and was moving back home to Michigan when she was killed just a few miles from her parents' home.[8] In part to escape his grief, McLain and several partners bought the Peet Packing Company (Farmer Peet's) located in the small town of Chesaning, Michigan in 1994. The company went bankrupt two years later. In 1996, he was convicted on charges of embezzlement, mail fraud, and conspiracy in connection with the theft of $2.5 million from the Peet employees' pension fund. McLain spent six years in prison; to this day he insists he knew nothing about the shady financial deals alleged by the government. The employees never received all money owed to them.[9]
During the Detroit Tigers 2006 playoff run, McLain was the baseball analyst for Drew and Mike on WRIF radio in Detroit.
In 2007, McLain released his autobiography I Told You I Wasn't Perfect, co-authored by longtime Detroit sportscaster and author Eli Zaret. Prior to that, McLain and Zaret hosted a sports television show together in Detroit.
McLain currently resides in Pinckney, Michigan, with his wife, Sharon, the daughter of Lou Boudreau.[10]
Kevin Costner's character in the motion picture The Upside of Anger was partly based on McLain (and also partly on Kirk Gibson, another Tiger of World Series note).
Denny now writes a monthly editorial column for Michigan In Play! a Detroit sports magazine.
On April 11, 2008, McLain was arrested without incident after deputies discovered an outstanding warrant against him for failing to appear for a January 16th court hearing. [11]
External links
Edit
References
Edit
Nobody's Perfect by Denny McLain with Dave Diles (The Dial Press, New York, 1975).
Strikeout: The Story of Denny McLain by Denny McLain and Mike Nahrstedt (Sporting News, 1988).
I Told You I Wasn't Perfect by Denny McLain and Eli Zaret (Triumph Books, 2007).
Thirty-one and six: The story of Denny McLain by Robert B. Jackson (H. Z. Walck, 1969).
Community content is available under
CC-BY-SA
unless otherwise noted.