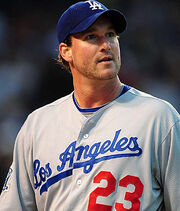 Derek Lowe was born on June 1st 1973, in Dearborn, Michigan. He is a former pitcher for the Seattle Mariners, Boston Red Sox, Los Angeles Dodgers, Atlanta Braves, Cleveland Indians, New York Yankees and Texas Rangers. He throws right handed and bats right handed.
Early Years
Edit
Lowe attended Edsel Ford High School (Dearborn, Michigan) and was a four-sport letterman in baseball, golf, soccer and basketball. He was an All-League honoree in all four sports and was a first team all-state pick in basketball.
Minor League Career
Edit
Lowe was drafted by the Seattle Mariners in the 8th round of the 1991 amateur draft. He signed with the Mariners on June 7, 1991. The Mariners immediately assigned him to their rookie league team, where he went 5-3 with a 2.41 ERA in 12 starts.
He spent the next several years working his way through several minor league teams: 1992 - Bellingham ("A" level = 7-3, 2.42 - 13 starts), 1993 - Riverside ("A+" level, 12-9, 5.26, 26 starts), 1994 - Jacksonville ("AA" level, 7-10, 4.94, 26 starts), 1995 - Port City ("AA" level, 1-6, 6.08, 10 starts), 1996 - Tacoma ("AAA" level, 6-9, 4.54, 16 starts).
Seattle Mariners
Edit
Lowe made his Major League debut on April 26, 1997, working 3 2/3 innings in relief against the Toronto Blue Jays. He made his first major league start on May 27, 1997, against the Minnesota Twins, giving up four runs in 5 innings. His first career win came on June 6 against the Detroit Tigers, pitching 5 1/3 innings and giving up 3 runs in the Mariners 6-3 victory.
Seattle, however, was desperate for immediate bullpen help and packaged Lowe and catcher Jason Varitek into a deal with the Boston Red Sox for Heathcliff Slocumb. The Mariners' willingness to trade Lowe may have stemmed from his involvement in an incident earlier that year in Federal Way, Washington. Lowe was charged with fourth-degree domestic violence by King County police after his girlfriend claimed that he struck her. Lowe was released on $1,000 bond the next day, and he allegedly violated a no-contact order by returning to her home shortly after his release.[1]
Boston Red Sox
Edit
Lowe compiled a 5-15 record over his first two seasons, during which he split time starting and relieving, but came into his own in 1999 after being transferred into the closer's role, finishing the season with 15 saves and a 2.63 ERA.
Lowe had his best season as a closer in 2000 when he led the American League with 42 saves. He was regarded as an unconventional closer, however, as he didn't overwhelm hitters. As a result, despite 24 saves early in the 2001 season, Lowe lost the closer's job soon after the trading deadline, July 31, when he lost the job to the newly acquired star closer Ugueth Urbina. Lowe was left in limbo, forced to take various setup jobs in the bullpen.
In 2002, Lowe moved back into the starting rotation, a move which paid off immediately. He posted a 21-8 record, a 2.58 ERA, and finished 3rd in Cy Young Award voting behind Barry Zito and teammate Pedro Martínez. Lowe also no-hit the Tampa Bay Devil Rays at Fenway Park on April 27 that year, the first no-hitter pitched in that stadium since Dave Morehead's gem in 1965.
Lowe struggled through much of the 2003 season, but boosted by the strength of Boston's thunderous offense, posted a 17-7 record despite a 4.47 ERA. He recorded an improbable save in deciding Game 5 of the American League Division Series, helped by two clutch strikeouts.
In 2004, he finished 14-12 with a 5.42 ERA in 33 starts, spending part of the season demoted to the Red Sox bullpen. During the postseason he rebounded with a 3-0 record and 1.86 ERA in four games, three of them starts. He was the winner in the final game of all three postseason series — American League Division Series against the Los Angeles Angels of Anaheim, American League Championship Series against the New York Yankees, and World Series against the St. Louis Cardinals — as the Red Sox won their first World Series in 86 years. Lowe is the only pitcher in baseball history to accomplish this feat.
Los Angeles Dodgers
Edit
On January 11, 2005, he finalized a $36 million, four-year contract with the Los Angeles Dodgers. Despite his signing with a new team, Lowe wore a Boston Red Sox uniform, with his career-long number of 32, during the Red Sox World Series ring ceremony on April 11, 2005, after already making a start for the Los Angeles Dodgers.
As of the end of the 2007 season, Lowe has a career won-loss record of 112-96 with 85 saves and 3.81 ERA.
On August 31, 2005, Lowe nearly pitched the second no-hitter of his career. After giving up a leadoff single to the Cubs' Jerry Hairston, Jr., Lowe did not allow another Chicago hit, picking up a one-hit, two-walk, 7-0 complete game victory while facing only 29 batters.
Lowe is one of only 7 ballplayers who pitched in the NL in 2007 who won at least 12 games in each year from 2004-2007, the others being Carlos Zambrano, Greg Maddux, Roy Oswalt, Tim Hudson, Jason Marquis, and Jeff Suppan.
For the 2008 season, after being the opening day starter for the Dodgers for the last three years, he was moved to the second starting position, with the honor of the first position going to Brad Penny.
In May 2008, Lowe (along with Johnny Damon and Brad Ausmus) was one of only three active major league ballplayers who had played at least 10 years in the majors without ever going on the disabled list.[2] Damon was placed on the disabled list on July 5, 2008, so Lowe and Ausmus remain the only players on that list.
Personal Life
Edit
On August 3, 2005, FSN West in Los Angeles announced that "Dodger Dugout" anchor Carolyn Hughes had been suspended pending an investigation into a potential relationship between her and Lowe. Shortly thereafter, the pitcher filed for divorce from his wife of seven years, Trinka Lowe, by whom he fathered two children. Hughes' husband had also filed for divorce and, as of early 2006, Lowe and Hughes were living together.
Accomplishments
Edit
References
Edit
External links
Edit
Community content is available under
CC-BY-SA
unless otherwise noted.