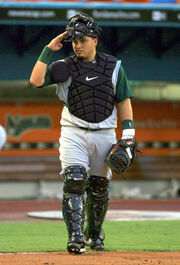 Dioner Favian Navarro (born February 9, 1984 in Caracas, Venezuela) is a Major League Baseball catcher and switch-hitter who plays for the Tampa Bay Rays. Navarro is nicknamed "Little Pudge" due to his physical resemblance to Tigers catcher Iván Rodríguez.
In 2000, Navarro was signed by the New York Yankees as an amateur free agent. At that time, he was one of the highest rated prospects in the Yankees minor league system. He debuted with the Yankees on September 7, 2004, and played in seven games, batting .429 (3-for-7) with one RBI and two runs scored.
Before the 2005 season, Navarro was traded to the Los Angeles Dodgers in a three-team deal that sent Randy Johnson from the Arizona Diamondbacks to the Yankees, Javier Vázquez from the Yankees to the Diamondbacks, Shawn Green from the Dodgers to the Diamondbacks, and several other minor leaguers to the Dodgers.
In 2006, both Navarro and Russell Martin were invited to spring training to compete for the starting catcher. Both played well, but at the end of the spring Navarro was named the Dodgers' catcher, and Martin was sent to the Triple-A Las Vegas 51s. However, while Martin thrived in Las Vegas, Navarro played only adequately in Los Angeles, and showed signs of inexperience. On 5 May 2006, Martin was called-up to the Dodgers after a wrist injury landed Navarro on the disabled list. Martin played well after the injury to Navarro, and kept the job as catcher, as Navarro was demoted to the minor leagues. On June 26, 2006, Navarro was traded along with pitcher Jae Seo and outfielder Justin Ruggiano to the Tampa Bay Devil Rays for catcher Toby Hall and pitcher Mark Hendrickson. Navarro made his debut as a Ray on June 28, 2006 against the Florida Marlins going hitless with two walks.
In 2007 he batted only .227 and tied for the lead of all major league catchers in errors, with 14.
Navarro was much improved in 2008, after working on his hitting and his strength in the Venezuelan Winter League, leading his team with a .312 batting average and guiding his pitchers to the third-lowest ERA in the majors (3.60) as of July 10th.[1] On July 6th, it was announced that Navarro was selected to be on the American League squad for the 2008 MLB All-Star Game.
Personal life
Edit
Navarro married his wife, Sherley, at age 18; they have a son, Dioner Jr. (b. 2005), and she has a son, Gerson, from a previous relationship. They have lived in the Tampa Bay Area during offseasons since he was drafted and first signed by the Yankees, and currently live in Riverview, Florida.[2]
He has dealt with a great deal of adversity in his young life. On 2003-09-27, their first wedding anniversary, Sherley suffered a cerebral aneurysm in Tampa. Doctors gave her a 0-5% chance of surviving surgery, and said it was likely she would die on September 30. She survived, and made a full recovery. Navarro has worn the #30 in her honor ever since.[3]
On 2006-07-05, days after his acquisition by the Devil Rays, Navarro's SUV was clipped by another vehicle, causing his SUV to roll over. He and his family escaped serious injury, but the other vehicle fled the scene.[4]
His son, Dioner Jr., was born with multicystic dysplastic kidney. He needed to have one of his kidneys removed in September 2006, and further surgery in 2007.[5]
His mother, who still resides in Venezuela, suffered a cerebral aneurysm in early February 2008. Navarro left the Rays' pre-spring training workouts to be with her and returned when her condition stabilized. [6]
References
Edit
External links
Edit
Community content is available under
CC-BY-SA
unless otherwise noted.