This page has been copied from Wikipedia under the provisions of the GNU Free Documentation License.
Please help Baseball Wiki by revising it.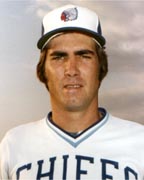 Douglas Reagan Ault (March 9, 1950 – December 22, 2004) was a Major League Baseball first baseman/designated hitter who played for the Texas Rangers (1976) and Toronto Blue Jays (1977-1978, 1980). He batted right-handed and threw left-handed.
A native of Beaumont, Texas, Ault was a varsity baseball star at Texas Tech. He was signed by the Rangers in 1976 as an amateur free agent and played nine games in his first season.
Ault joined the new Blue Jays franchise through the 1976 expansion draft. On April 7, 1977, in front of 44,649 Opening Day spectators at Exhibition Stadium, Ault delivered Toronto's first homer with a first-inning blow off Chicago White Sox left-hander Ken Brett. Ault homered again in the third inning, this time was a two-run shot that tied the score at 4-4 in a game the Blue Jays went on to win, 9-5.
At the time, Ault's feat tied a major league record for the most home runs in an Opening Day game. Since then, George Bell (also a Blue Jay) hit three homers on 1988 opening day, Tuffy Rhodes matched the feat in 1994, and Dmitri Young matched the feat in 2005.
Ault's 64 RBI in 1977 set a club rookie record that lasted until Eric Hinske drove in 84 runs in 2002.
In a four-year career, Ault was a .236 hitter with 17 home runs and 86 RBI in 256 games.
Following his playing career, Ault served as a manager in the Blue Jays organization for the Single-A teams Dunedin, Kinston and St. Catharines. He also managed the Triple-A Syracuse Chiefs.
Ault died at his home in Tarpon Springs, Florida, of a self-inflicted gunshot wound. His home was a few miles from the Blue Jays' spring training complex in Dunedin. He was 54 years old.
Boxscore and play-by-play of the opening day game on April 7, 1977, at Retrosheet[1]
References
Edit
External links
Edit
Community content is available under
CC-BY-SA
unless otherwise noted.