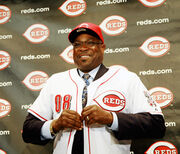 Johnnie B. "Dusty" Baker, Jr. (born June 15, 1949 in Riverside, California) is a former outfielder in Major League Baseball and the current manager of the Cincinnati Reds.[1] He previously led the San Francisco Giants and Chicago Cubs, winning the 2002 National League pennant with the Giants.
Biography
Edit
Playing career
Edit
Drafted by the Atlanta Braves in the 1967 amateur draft out of Del Campo High School near Sacramento, California, Dusty Baker began his professional baseball career as an outfielder for the Braves in 1968. After spending sixteen full seasons with the Atlanta Braves, Los Angeles Dodgers, as well short tenures with both the San Francisco Giants, and Oakland Athletics, Baker finished his prosperous career as a player with .278 batting average, 242 home runs, and 1,013 runs batted in. Furthermore, a few of Baker's accomplishments as a player include playing for the National League All-Star team in 1981 and 1982, winning three League Championship series in 1977, 1978, and 1981. Baker ultimately won a World Series title in 1981 with the Dodgers. Baker also earned a spot as a footnote in history. On April 8, 1974, Baker was on deck when Hank Aaron hit home run 715 to pass Babe Ruth in career home runs. (He said he hit a double "That nobody saw and nobody cared" in that at-bat.) Baker played his final season in 1986.
Managerial career
Edit
San Francisco Giants
Edit
Baker's coaching career, ironically, started with his former Dodger arch-rival: the San Francisco Giants. Baker began his coaching career as a first base coach for the San Francisco Giants in 1988, and then spent the following four years (1989–1992) as the hitting coach, and finally became the manager in 1993, replacing the departing Roger Craig. In his very first year as Giants manager, he won the N.L. Manager of the Year award, leading the team to a 103–59 record, which was the second-best record in baseball that year (behind the 104–58 Atlanta Braves), and 31 games better than their 72–90 finish the previous year. His Giants went on to win division titles in 1997 and again in 2000; Baker would win Manager of the Year honors in both of those years as well. In 2002, his Giants gained the Wild-Card berth and from there advanced to the World Series, where they lost in seven games to the Anaheim Angels. It was during his San Francisco tenure that the term "Dustiny" was coined by the late former Giants pitcher Rod Beck. Despite Baker's success in San Francisco, the Giants let him leave to manage the Chicago Cubs and hired Felipe Alou to replace him.
Chicago Cubs
Edit
Baker made a major impact with the Cubs in his first season as manager for the ball club. With the help of an impressive pitching staff and big gun batters such as Sammy Sosa and Moisés Alou, the Chicago Cubs were able to claim their first divisional title in over a decade. Baker instantly became an icon in the Chicago sports scene, as a plethora of Cubs fans could be seen sporting "In Dusty We Trusty!" shirts. However, the Cubs' hopes for winning a World Series title were cut short during the 2003 National League Championship Series against the Florida Marlins. While angered Cubs fans denounced the defeat as a mere series of unfortunate "mishaps," the Marlins would go on to claim the 2003 World Series title. Still crushed by defeat, numerous Cubs began to wear T-shirts featuring the spoonerism, "Muck the Farlins!".
Following the 2003 season, Baker and the Cubs failed to see another playoff berth. In 2004, the team was involved in a heated wild card chase with the Houston Astros, but fell out of contention near the season's end. In the subsequent season, the Cubs lost several of their key players, most notably ace pitchers Mark Prior and Kerry Wood, to injuries. The team finished the season with a 79–83 record, marking the first time in three years that the Cubs finished with a losing record. The Cubs' performance declined in the next season, as they fell to 66-96, and finished last in the entire National League.[2]
While the Cubs' organization stated that Baker would remain the team's manager throughout the 2006 season, they did not renew his contract. They allowed Baker to address the media in a press-conference in early October, where he officially announced his departure. The Cubs turned to Lou Piniella to replace Baker for the 2007 Chicago Cubs season. Under Piniella, the Cubs made it to the National League Division Series, but fell to the Arizona Diamondbacks in a three game sweep.
Cincinnati Reds
Edit
On October 13, 2007, Baker was hired as manager of the Cincinnati Reds, replacing interim manager Pete Mackanin. He also is the first African American manager in Reds history.
Criticism
Edit
Baker, an old-school baseball traditionalist, was scrutinized for the Cubs' declining productivity. To sabermetricians, many of his methods were puzzling, such as his tendency to put players with a poor on-base percentage, such as Neifi Perez, Jose Macias, Corey Patterson, and Jerry Hairston Jr. at or near the top of his lineups. Baker rejected (and still rejects) the importance of on-base percentage, arguing that extra baserunners simply "clog up the bases" unless they can run well. [3] This flies in the face of statistically-oriented baseball strategy and has made Baker a frequent target among the sabermetric community. Additionally, many fans, commentators, and writers blamed his consistent tendency to overuse young pitchers for damaging the career of Kerry Wood and derailing the career of Mark Prior.[4] Baker was widely known as a "player's manager," attempting to mollify his athletes rather than focusing on team output above personal interests, and favoring his favorite players regardless of their statistical output.
In 2003, Baker was the subject of some controversy when he stated that "black and Hispanic players are better suited to playing in the sun and heat than white players." Dusty, defending his beliefs, later said, "What I meant is that blacks and Latinos take the heat better than most whites, and whites take the cold better than most blacks and Latinos. That's it, pure and simple. Nothing deeper than that."[5]
Broadcasting career
Edit
He served as an ESPN analyst during the 2006 MLB Postseason and served in a similar role during the 2007 season.[6]
Personal life
Edit
Baker was a member of the United States Marine Corps Reserves from 1969 through 1975.[7] Baker has a wife, Melissa, and two children named Natosha and Darren. Darren was famously rescued from being run over at home plate by J. T. Snow during the 2002 World Series[8]. They live in Granite Bay, California, an extremely upscale suburb of Sacramento.
Managerial records
Edit
Updated on July 30th, 2008
Team
Year
Regular Season
Post Season
Games
Won
Lost
Win %
Finish
Won
Lost
Win %
Result
San Francisco Giants
1993
162
103
59
.636
2nd in NL West
-
-
-
-
1994
115
55
60
.478
2nd in NL West
-
-
-
-
1995
144
67
77
.465
4th in NL West
-
-
-
-
1996
162
68
94
.420
4th in NL West
-
-
-
-
1997
162
90
72
.556
1st in NL West
0
3
.000
Lost in NLDS
1998
163
89
74
.546
2nd in NL West
-
-
-
-
1999
162
86
76
.531
2nd in NL West
-
-
-
-
2000
162
97
65
.599
1st in NL West
1
3
.250
Lost in NLDS
2001
162
90
72
.556
2nd in NL West
-
-
-
-
2002
161
95
66
.590
2nd in NL West
10
6
.625
Lost in World Series
SF Total
1,555
840
715
.540
2 Division Championships
1 Wild Card
17
18
.486
Chicago Cubs
2003
162
88
74
.543
1st in NL Central
6
6
.500
Lost in NLCS
2004
162
89
73
.549
3rd in NL Central
-
-
-
-
2005
162
79
83
.488
4th in NL Central
-
-
-
-
2006
162
66
96
.407
6th in NL Central
-
-
-
-
CHC Total
648
322
326
.497
1 Division Championship
6
6
.500
Cincinnati Reds
2008
162
74
88
.457
5th in NL Central
-
-
-
-
CIN Total
162
74
88
.457
0
0
.000
-
Total
2,412
1,259
1,1153
.521
3 Division Championships
1 Wild Card
23
24
.493
External links
Edit
Community content is available under
CC-BY-SA
unless otherwise noted.