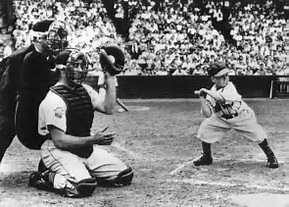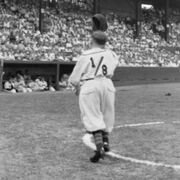 Edward Carl Gaedel
(June 8, 1925 – June 18, 1961) was an
American
with dwarfism who famously participated in a
Major League Baseball
game.
St. Louis Browns owner Bill Veeck, secretly signed Eddie Gaedel. In between games of a doubleheader, with the Detroit Tigers, Gaedel came out of a paper-mache cake to celebrate the American League's 50th anniversary. Gaedel pinch-hit in the second game on August 19, 1951. Gaedel standing at 3 feet 7 inches tall became, and still is, the shortest player in the history of the Major Leagues. He made a single plate appearance and was walked with four consecutive balls before being replaced by a pinch-runner at first base. His jersey, bearing the uniform number "1⁄8", is displayed in the National Baseball Hall of Fame and Museum.
Community content is available under
CC-BY-SA
unless otherwise noted.