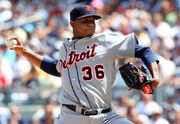 Edwin Jackson (born September 9, 1983 in Neu-Ulm, Bavaria, West Germany) is a Major League Baseball pitcher who played for the Los Angeles Dodgers and currently plays for the Tampa Bay Rays.
Jackson's father, a cook in the United States Army, was stationed in Germany at the time of his birth.[1] Jackson is one of 27 major league players who was born in Germany. The majority of Jackson's youth, however, was spent in Columbus, Georgia.[2]
Jackson was drafted by the Dodgers in the 6th round[3] of the 2001 MLB entry draft out of Shaw High School in Columbus.[2] He was originally drafted as an outfielder but was quickly converted into a pitcher by the Dodgers.[2] There was a time when Jackson was regarded as one of the premiere pitching prospects in baseball (after posting sub-4.00 ERAs in AA and the majors at age 19 in 2003), but poor showings in AAA and MLB after that season ended his status as a "can't-miss" prospect. On January 14, 2006, Jackson and left-handed pitcher Chuck Tiffany were traded to the Devil Rays for pitchers Danys Baez and Lance Carter.
In 2006, Jackson saw more major league time then at any other point in his career; pitching in 23 games, mostly in middle relief, Jackson posted a 5.45 ERA in 36 1/3 innings, including one start.
In 2007, Jackson saw his first season as a dedicated starter. His season began very poorly, going 1-9 with a 7.23 ERA in 17 games, 16 of them starts, over 74 2/3 innings pitched. Jackson managed to rebound somewhat after the all-star break, posting a 4-6 record and a 4.48 ERA over 15 games, all of them starts. His season highlight came in a start against the Texas Rangers on August 11th, in which he recorded a complete game shutout, allowing only four hits and one walk, striking out eight, throwing only 110 pitches and facing only 30 batters. Jackson finished the season with a 5-15 record and an ERA of 5.76.
However, in 2008, Jackson's career has shown signs of turning around for the better. Jackson won the number 4 spot in the Rays starting pitching rotation out of spring training and through July 9th, had a record of 5-6 but a much improved ERA of 3.93. Making him one of the best number 4 starting pitchers in the league.
Community content is available under
CC-BY-SA
unless otherwise noted.