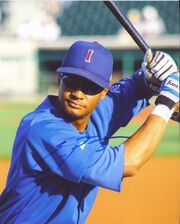 Eric Scott Patterson (born April 8, 1983, in Tallahassee, Florida) is an outfielder in Major League Baseball for the Boston Red Sox. Patterson has played most of his career as a second baseman.[1] Patterson made his major league debut with the Chicago Cubs on August 6, 2007.
Baseball career
Edit
Although Patterson originally was drafted by the Colorado Rockies in the 23rd round of the 2001 Major League Baseball Draft out of Harrison High School in Kennesaw, Georgia, he did not sign and went on instead to attend the Georgia Institute of Technology. With the Yellow Jackets, Patterson was named an Atlantic Coast Conference All-Star three times (2002-2004) and an All-American twice (in 2002 on the Freshman 1st Team, and in 2004 on the 3rd team). He was named to the USA Baseball team twice, in 2002 and 2003.[2] Patterson was selected in the 8th round of the 2004 Major League Baseball Draft by the Chicago Cubs.
Patterson played in the 2006 All-Star Futures Game in Pittsburgh,[3] and was ranked the sixth-best prospect in the Cubs organization by Baseball America prior to the 2007 season.[4] He collected his first major league hit on August 7, 2007, by singling against Woody Williams in a game against the Houston Astros. On June 22, 2008, Patterson hit the first home run of his career.
On July 8, 2008, Patterson was traded along with pitcher Sean Gallagher, outfielder Matt Murton, and catcher Josh Donaldson to the Oakland Athletics for pitchers Rich Harden and Chad Gaudin.
On June 22, 2010, Patterson was designated for assignment to make way for Coco Crisp on the A's roster.
On June 26, 2010, Patterson was traded to the Boston Red Sox for pitcher Fabian Williamson, after Dustin Pedroia was placed on the disabled list having sustained a nondisplaced fracture of the navicular bone on his left foot.
He is the younger brother of Orioles outfielder Corey Patterson.
References
Edit
External links
Edit
Community content is available under
CC-BY-SA
unless otherwise noted.