Fernando Valenzuela Anguamea (born November 1, 1960 in Novojao, Mexico) is a Mexican former left-handed pitcher who pitched for six different teams during his Major League Baseball career, most notably the Los Angeles Dodgers, with whom he pitched for eleven seasons, from 1980 to 1990. Thanks in part to his "Ruthian physique,"[1][2] and a devastating screwball that helped him win his first eight straight decisions in 1981, Valenzuela touched off an early 80s craze dubbed "Fernandomania".[3] That year, Valenzuela became the only player in Major League history to win both the Rookie of The Year award and the Cy Young Award in the same season.
Early life
Valenzuela, the youngest of twelve children, was born in Etchohuaquila, is a Mexico former small town within the municipality of Navojoa, in the state of Sonora, Mexico.[4] His birth date is officially listed as November 1, 1960, but during his phenomenal rookie season in 1981 some observers questioned his age, guessing him to be significantly older than twenty. [5]
Playing career
In 1978 17. year-old Fernando Valenzuela began his professional baseball career with the Guanajuato Tuzos of the Mexican Central League, posting a 5-6 record with a 2.23 ERA. The following year, the Mexican Central League was absorbed into the expanded Liga Mexicana de Beisbol (Mexican Baseball League), automatically elevating then 18-year-old Valenzuela to the Triple-A level. Pitching for the Leones de Yucatán (Yucatan Lions) that year, Valenzuela went 10-12 with a 2.49 ERA and 141 strikeouts.[6] A number of Major League teams scouted Valenzuela during this time, but it was the Los Angeles Dodgers who finally gambled on the young lefty, buying out his Liga contract on July 6, 1979, for $120,000.[7]
Los Angeles Dodgers
After acquiring Fernando Valenzuela in the summer of 1979, the Dodgers assigned him to the Lodi Dodgers (now the Rancho Cucamonga Quakes) of the High-A level California League, where he posted a 1-2 record and a 1.13 ERA in limited action.[8] In 1980 Valenzuela was promoted to the Double-A level San Antonio Missions. There Valenzuela led the Texas League with 162 strikeouts, and ranked third in ERA.[9]
Valenzuela was called up to the Los Angeles Dodger bullpen in September 1980. In the last month of the season, Valenzuela helped the Dodgers to a Western Division tie with the Houston Astros, pitching 17 2/3 shutout innings of relief over the course of ten games, during which he earned two wins and a save.[10] The Los Angeles Dodgers then lost a one-game playoff - and thus the division championship - to the Astros.
Fernandomania
Valenzuela's efforts made him the odds-on favorite to be the league's top rookie in 1981, and he didn't disappoint, starting the season 8-0 with five shutouts and an ERA of 0.50. Punctuating this dominance on the mound, Valenzuela had an extremely unusual but flamboyant wind-up (looking skyward just at the apex of every pitch), which drew attention of its own.[11] It was a habit which he claims to have developed spontaneously, although not until joining the Dodgers.[1] He became an instant media icon, drawing huge crowds from the Los Angeles Hispanic community every time he pitched and triggering high demand across the country for his rookie baseball cards. The craze surrounding Valenzuela came to be known as "Fernandomania."[12]
Valenzuela was less dominant after the 1981 player strike wiped out the middle third of the season, but the left-hander still finished with a 13-7 record, a 2.48 ERA, and a league-leading 180 strikeouts. That season Fernando Valenzuela became the only pitcher to win Rookie of the Year and Cy Young Award honors in the same year. In the post-season, Valenzuela pitched a complete Game 3 of the 1981 World Series against the New York Yankees, helping the Dodgers to their first World Championship since 1965.
In addition to his skills on the mound, Valenzuela also made a name for himself at the plate. During his rookie season, Valenzuela batted .250 and struck out just nine times in 64 at bats. That season, and again in 1983, Valenzuela was the recipient of the National League's Silver Slugger Award for pitchers. In 1990, his last season with the Los Angeles Dodgers, Valenzuela hit .304 in 69 at-bats, with one home run, five doubles, and eleven runs batted in. In 936 career at-bats - roughly two full seasons worth of at-bats for a full-time position player - Valenzuela had ten home runs and 84 runs batted in. On at least two occasions with the Dodgers, Valenzuela was called upon to play outfield and first base in marathon extra-inning games in which he did not pitch. [13]
El Toro
Following the outstanding debut, Valenzuela, nicknamed "El Toro" by fans, settled down into a number of years as a workhorse starter and one of the league's best pitchers. He had one of his best seasons in 1986, when he finished 21-11 with a 3.14 ERA and led the league in wins, complete games and innings pitched. He lost a narrow vote for the Cy Young Award to the Astros' Mike Scott.
At the 1986 All-Star Game, Valenzuela made history by striking out five consecutive American League batters, tying a record set by fellow left-handed screwballer Carl Hubbell in the 1934 contest.
In 1987, he began to slump, dropping off to 14-14 with a 3.98 ERA. By 1988, when he won just five games and missed much of the season (a year in which the Dodgers won the World Series), it was obvious he had a dead arm.
No longer blessed with his great screwball, he came back in 1989 and went 10-13, improving to 13-13 a year later. He had one last great moment on June 29, 1990, when he threw a 6-0 no-hitter against the St. Louis Cardinals just hours after the Oakland Athletics' Dave Stewart had thrown one against the Toronto Blue Jays.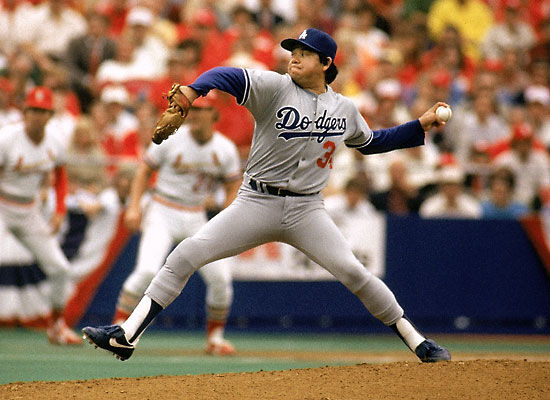 Post-Dodgers career
After pitching ineffectively in spring training in 1991, Valenzuela was released by the Dodgers. An abortive attempt at a comeback with the California Angels failed later that summer. He returned to the Mexican League, where he pitched and played some first base when he wasn't on the mound, before making another brief comeback in 1993 with the Baltimore Orioles.
Jumping between the big leagues and Mexico for the next few seasons, he put together one more solid big-league season in 1996 for the San Diego Padres, going 13-8 with a 3.62 ERA. He retired a year later with a final record of 173-153 and a 3.54 ERA as a member of the St. Louis Cardinals under new manager Tony LaRussa.
The Los Angeles Dodgers invited him to spring training in 1999, but he declined the offer.
On June 29, 2004, Valenzuela announced he would return to the mound in the Liga Mexicana del Pacífico (the Mexican Pacific Coast League) to play for Los Aguilas de Mexicali in October at which time he was nearly 44 years old. He pitched again that Mexican winter league, during the 2005-06 season.
Hitting
Valenzuela was considered an exceptionally good hitter for a pitcher. His best year at the plate was 1990, when he hit .304 with five doubles and 11 RBI in 69 at-bats. His career batting average was .200, with 10 homers, 26 doubles, and 84 RBI in 936 at-bats. Valenzuela was even used on a number of occasions as a pinch-hitter, batting .368 (7-for-19) in such situations.
After retirement
In 2003, Valenzuela returned to the Dodgers organization as the Spanish-language radio color commentator for National League West games, joining Jaime Jarrin and Pepe Yniguez in the Spanish-language booth.
Valenzuela also served on the coaching staff of Team Mexico during the 2006 World Baseball Classic and 2009 World Baseball Classic.
Legacy
Fernando Valenzuela was inducted into the Hispanic Heritage Baseball Museum Hall of Fame on August 23, 2003 in pregame on field ceremony at Dodger Stadium, Los Angeles, CA.
In 2005, he was named one of three starting pitchers on Major League Baseball's Latino Legends Team.
Dodgers clubhouse manager Mitch Poole has unofficially kept Valenzuela's jersey number 34 out of circulation out of respect for him.[2]
In 2008, musicians Scott McCaughey (of The Minus 5), Steve Wynn, Linda Pitmon, and Peter Buck formed The Baseball Project to pay homage to America 's greatest pastime. Their album Volume 1: Frozen Ropes and Dying Quails contains the song Fernando, a tribute to the pitcher in Spanish. The Baseball Project
Family
Valenzuela's son, Fernando Jr., played in the San Diego Padres organization as a first baseman. In 2006, Fernando Jr. moved to the Kannapolis Intimidators, a Class A League team in the South Atlantic League affiliated with the Chicago White Sox and located in Kannapolis, NC, as a first baseman. In 2008 season, he played first base for the Leones de Yucatan, of the Mexican Baseball League [14].
He also has a daughter named Maria.
References
External links
Persondata
NAME
ALTERNATIVE NAMES
SHORT DESCRIPTION
DATE OF BIRTH
November 1, 1960
PLACE OF BIRTH
DATE OF DEATH
PLACE OF DEATH