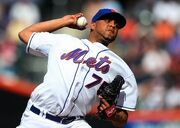 Francisco "Frankie" José Rodriguez (born January 7, 1982 in Caracas, Venezuela), is a Major League Baseball player. Nicknamed "K-Rod," Rodriguez is a right-handed relief pitcher who has played for the Los Angeles Angels of Anaheim since 2002 and served as their closer since 2005. Rodriguez holds the Major League record for saves in a single season with 62.
Career highlights
Edit
Rodriguez signed as an undrafted amateur free agent in 1998. Originally a starting pitcher, Rodriguez moved to relief pitching in 2002 after elbow and shoulder injuries shortened his 2001 minor league season. That same year, he made his major league debut. Because of the multiple injuries to the Angels bullpen, the club picked him up during the middle of September. He emerged as a postseason relief hero on international television, winning five postseason games after never having won a Major League game before.
Because Rodriguez had played very little in the Major Leagues, hitters in the playoffs had little idea what to expect from him, a situation that often favors the pitcher. In the ALDS he silenced the Yankees bats, and got two victories with eight strikeouts in five and two-thirds innings. Against the Twins in the ALCS, he went 2-0 with seven strikeouts in four and one-third innings. Finally, in the 2002 World Series against the Giants, he had a 1-1 record with 13 strikeouts in eight and two-thirds innings. At 20 years old, he became the youngest pitcher in 32 years to pitch in the World Series and the youngest ever to win a game.
In 2003, Rodriguez became a setup man. He gave up an earned run in nine of his first 15 games, but rebounded to only allow nine in his last 44 appearances.
Rodriguez was selected for the All-Star Game and on August 24, 2004, became the sixth pitcher in the Angels' 44-year history to strike out at least 100 batters in a season without starting a game - joining Mark Clear (105 in 1980), DeWayne Buice (109, 1987), Bryan Harvey (101, 1991), Troy Percival (100, 1996), and Scot Shields (109, also in 2004).
Entering the 2005 season, veteran Angels closer Troy Percival signed as a free agent with Detroit which left the door open for Rodriguez to become the Angels' full-time closer. Rodriguez ended the season tied with Bob Wickman for the American League lead in saves with 45.
Rodriguez improved on his share of the 2005 American League saves title by leading the Majors in 2006 with 47 saves, one more than the National League leader Trevor Hoffman and six more than American League runner-up Bobby Jenks. On September 10 against the Toronto Blue Jays, he became the youngest closer in Major League Baseball history, at age 24, to accumulate 100 career saves. He accomplished this feat a year younger than the previous record holder, Gregg Olson. Rodriguez was named the DHL Major League Baseball Delivery Man of the Month for August.[1][2]
At the 2007 All-Star Game in San Francisco, Rodriguez was named as one of three Angels to represent the club, along with teammates Vladimir Guerrero and John Lackey. Despite two walks in one-third of an inning, Rodriguez recorded the save as the American League defeated the National League, 5-4.
On September 25, 2007, Rodriguez was named as one of ten finalists for the DHL Delivery Man of the Year Award but lost out to Jonathan Papelbon of the Boston Red Sox. He finished 2007 with 40 saves in 46 opportunities.
In the 2008 season, Rodriguez received his second career DHL Major League Baseball Delivery Man of the Month Award after posting 11 saves in 12 appearances during the month of June.[3] Rodriguez set a major league record by recording his 35th save before the All-Star Break, breaking the previous record of 34 set by John Smoltz in 2003.[4][5] He was a member of the American League All-Star Team for the third time and made a brief appearance in the game, facing two batters while walking one.[6] On August 20, 2008, he set both his and the Angels single season record with his 48th save.[7]
With his 50th save on August 24, 2008, Rodriguez became the first relief pitcher to reach that number since Mariano Rivera in 2004 and the ninth overall.[8] He was also the youngest pitcher to ever reach that number at 26 years, 7 months, and 17 days. In addition, he reached that milestone in 129 team games, faster than any pitcher in history.[9] With three saves during the week of August 18–24, including the milestone of number 50, Rodriguez was awarded the American League Player of the Week for the first time in his career.[10]
On September 2, 2008, Rodriguez saved his 200th career game (54th of the season), becoming the youngest player in history to reach that number.[11] On September 10, 2008, while facing the New York Yankees, Rodriguez saved his 56th game of the season and clinched the American League Western Division title for the Angels.[12] On September 11, 2008, while facing the Seattle Mariners, Rodriguez saved his 57th game of the season, tying Bobby Thigpen's 1990 major league record.[13]
On September 13, 2008, while again facing the Mariners, Rodriguez recorded his 58th save of the season, setting a new MLB record.[14] On September 20, 2008, Rodriguez became the first pitcher to reach 60 saves in a season when he closed out a 7-3 victory against the Texas Rangers.[15]
On September 24, 2008, Rodriguez was named as one of the ten finalists for the DHL Delivery Man of the Year Award for the second time in his career.[16] He finished the 2008 regular season with 62 saves in 69 opportunities, appearing in a total of 76 games. It was his fourth consecutive season of recording at least 40 saves.[17]
On December 10, 2008, Rodriguez signed a three-year, $37 million contract with the New York Mets. This, along with the December 11 trade for J.J. Putz, greatly bolstered the Mets' bullpen. Rodriguez, who has worn the number 57 for his entire career, will switch to the number 75, as Mets ace Johan Santana currently wears the number 57.
Rodriguez throws a fastball that has consistently reached 94-97 mph (151-156 km/h), but generally throws it away from the strike zone to get batters off balance. However, unlike many closers, he utilizes the breaking ball as his primary pitch. His breaking ball comes in two varieties—a hard curve which appears to be a strike and suddenly breaks down and out of the strike zone (often confused with a slider), and a slower, looping, more traditional curve which makes right-handed batters' knees buckle before breaking back into the strike zone. Since his faster curveball breaks so sharply into the dirt, it at times makes him vulnerable to throwing wild pitches. Rodriguez has thrown a circle changeup since the 2006 season and uses it as a strikeout pitch against left-handed batters.
Personal life
Edit
Rodriguez's nickname of "K-Rod" became quickly popular during late September 2002 and the playoffs. It is a take-off on "A-Rod," the nickname of baseball star Alex Rodriguez, with "K" representing the common abbreviation for strikeout.
Rodriguez is a practitioner of Santería and is Catholic.[18]
References
Edit
External links
Edit
Community content is available under
CC-BY-SA
unless otherwise noted.