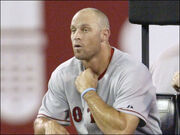 Gabriel "Gabe" Stefan Kapler (born August 31, 1975, in Hollywood, California) is an outfielder for the Milwaukee Brewers. He has also played portions of nine seasons in Major League Baseball with the Detroit Tigers, Texas Rangers, Colorado Rockies, and Boston Red Sox. He is 6 feet 2 inches tall, and weighs 188 lbs.
Kapler was a 57th-round draft pick (1,487th overall) by the Detroit Tigers in 1995. He bats and throws right-handed. In his first nine Major League seasons, Kapler posted a .270 batting average with 64 home runs and 302 RBIs. He is "known as a superb defensive player."[1]
Heritage and early life
Jewish heritage
To honor his Jewish heritage, Kapler has a Star of David tattooed on one leg, with the inscription "Strong Willed, Strong Minded" in Hebrew, and the post-Holocaust motto "Never Again" with a flame and the dates of the Holocaust on the other.[2][3]
Kapler has been given the nickname Hebrew Hammer[4][5] due to his frequent longball hits, along with his muscularity and the fact that he is Jewish. It has more recently become the nickname of Ryan Braun, who is also of Jewish descent, and is Kapler's teammate on the Brewers.[6]
On September 27, 1999, the Tigers commemorated the closing of Tiger Stadium by wearing the numbers of greats from the organization's history. Kapler's jersey was blank, a homage to Ty Cobb, who competed before players received numbers. This was ironic, as Cobb was a notorious anti-Semite. [7]
On August 8, 2005, while playing for the Red Sox, Kapler took the field in the 9th inning along with Kevin Youkilis and Adam Stern, setting a "record" for the most Jewish players on the field at one time in American League history and the most in Major League Baseball history since four Jews took the field for the New York Giants in a game in 1941.[1]
Early life
Kapler played for the Taft High School (Los Angeles) baseball team, and graduated in 1993.
He attended Cal State-Fullerton in 1994 on scholarship, before transferring to 2-year Moorpark College in 1995. He was named 1st team All-Western Conference after hitting .337 with 7 homers and 52 RBI. Kapler was inducted into the Moorpark College Athletic Hall of Fame in 2008.[8]
Kapler is an avid weightlifter and used to be a bodybuilder. He was on the cover of several bodybuilding magazines and became renowned for being the focus of an entire K-Swiss shoe campaign before he had even reached the pros.
Minor leagues
In 1996 he led the South Atlantic League in hits (157), doubles (45), and extra-base hits (71), was 2nd in homers (26), RBIs (99), and slugging (.534), and 5th in batting (.300). He was named a South Atlantic League All-Star.
In 1997 at Single-A Lakeland, he led the Florida State League in doubles (40) and total bases (262), tied for first in extra base hits (65), was 2nd in games, 3rd in hits (153), tied for 3rd in home runs (19) and RBIs (87), was 4th in slugging percentage (.505), and tied for 4th in runs (87).
In 1998 he won the Southern League MVP award, as he batted .322 with a league-high 28 home runs, 47 doubles, and 146 RBIs (most in the minors in 1998 and most ever in the Southern League). His league record for RBIs broke the 1986 record of 132 set by Terry Steinbach. He also set league records with 81 extra-base hits and 319 total bases, and broke the old doubles record of 44 with 47. He also led the league in hits (176), runs (113), and finished 6th in batting. He played in both the Double-A and Southern League All-Star Games and was recognized as MVP of the Southern League All-Star Game. He was also named to the SL's post-season All-Star team. He was honored as Minor League Player of the Year by USA Today, Baseball Weekly, and The Sporting News and USA Today, and was named Tigers Minor League Player of the Year and Detroit's No. 1 prospect by Baseball America.
Major Leagues, Japan, and managing
Detroit Tigers (1998-99)
He made his Major League debut in 1998 at the age of 22. He became the first Tiger since the inception of the draft in 1969 to be selected as late as the 57th round and reach the majors.
In 1999 he hit 18 home runs in just over 400 at bats, third among AL rookies.
Texas Rangers (2000-02)
In November 1999 he was traded by the Tigers with Al Webb (minors), Frank Catalanotto, Francisco Cordero, Bill Haselman, and Justin Thompson to the Texas Rangers for Juan Gonzalez, Danny Patterson, and Gregg Zaun. Doug Melvin, the Rangers' general manager, engineered the trade.[9]
Kapler hit two home runs the next Opening Day for the Rangers, and had a team record 28-game hitting streak later that season.[10] In 2008, Ian Kinsler threatened to break Kapler's record, but fells short with a 25-game hitting streak.[11]
In 2000 he batted .302 with 14 home runs, hitting .344 in the second half of the season.
In 2001 he stole 23 bases, and had 8 assists from center field, for Texas. He batted .267, but .329 in games that were late and close. He made just one error in 344 total chances for a .997 fielding percentage, second-best in the AL.
Colorado Rockies (2002-03)
In July 2002 he was traded by the Rangers with Jason Romano and cash to the Colorado Rockies for Dennys Reyes and Todd Hollandsworth.
In 2002 he batted .279, but .321 in games that were late and close, and .357 with runners in scoring position.
Boston Red Sox (2003-06)
In June 2003 he was purchased by the Boston Red Sox from the Rockies.
In 2004, when Shawn Green of the Dodgers announced that he would not play on Yom Kippur, the Boston media asked Kapler if he would do the same thing. Kapler called a Boston-area rabbi for advice. With the Curse of the Bambino still hanging over Red Sox fans' heads, the rabbi reportedly said: "Do it! We need all the help we can get!" Kapler decided to play... but went 0-4, with four strikeouts.
Kapler played a career-high 136 games in 2004, hitting six home runs and driving in 33 runs in 290 at-bats. He batted .272, but .303 in games that were late and close. He also led the team with 6 outfield assists.
In Game 4 of the World Series, Kapler had been a pinch runner, but Manager Terry Francona left him in the game to play right field in the ninth. Kapler joined an exclusive club, as one of the nine players who were on the field when the Red Sox won their first title in 86 years.[12]
Yomiuri Giants (2005)
Less than one month after the Red Sox dramatic 2004 World Series victory over the Cardinals, Kapler departed the Boston Red Sox for Japan's Yomiuri Giants. He received a $2 million deal plus a $700,000 signing bonus, compared to the $750,000 salary he had received from the Sox. Driven by the memory of an elementary-school report that he had written about Japan, he felt it was time for a change. "I tend to make emotional decisions," he said. "I did it more for the life experience than anything else. And ever since I wrote that report, I've been fascinated by everything that an 8-year-old associates with a country far, far away."[13] He struggled in 38 games in Japan, and was placed on the inactive list by Yomiuri in the 2005 mid-season.[14]
Kapler was signed by the Red Sox in July 2005, just a few hours after clearing Japanese Central League waivers.
In September 2005, Gabe Kapler ruptured his left Achilles tendon while running the bases on what turned out to be a home run by teammate Tony Graffanino. This ended Kapler's season. Kapler was usually the go-to guy in the outfield in case of an injury. Kapler, who hit lefties very well, usually would play instead of Trot Nixon in right field when a lefty was slotted in as the opposing pitcher.
In 2006 Kapler finally came back from his injury in June,[15] and had his best OBP in 5 years (.340), hit .316 with 2 out and runners in scoring position, and played error-less outfield for the second year in a row.
Kapler announced his retirement from professional baseball on December 12, 2006 (which proved to be temporary).
Managing career (2007)
He served the Boston Red Sox as manager of their Class-A minor league affiliate, the Greenville Drive, for one season in 2007. The team went 58-81, and finished in 7th place in the Southern Division.
Milwaukee Brewers (2008)
"I miss the battle. I still need to be on the field as a player."[16]
— Kapler
On September 20, 2007, after only a season as a manager, Kapler announced that he would like to return to Major League Baseball for the 2008 season.
Kapler, now 32 years old, has a career .270 batting average, along with 64 home runs, with 302 runs batted in. Kapler last played on October 1, 2006, for the Red Sox.
"He knows he has to come in and win a job. I don't think this was about the money for him. It was about getting a chance to play again. He has great work ethic. People love the way he plays the game. He's a guy with Major League experience and can play all three outfield positions. And this guy is in better shape than our 25-year-old guys."[17]
— Brewers General Manager Doug Melvin, who conceded the Brewers have a bit of a crowd in the outfield.
On December 20, 2007, Kapler signed with the Milwaukee Brewers to a one-year, non-guaranteed contract that paid $800,000 when Kapler made the roster.
[18] The plan, before Mike Cameron was acquired, was initially to have Kapler replace the non-tendered Kevin Mench as a right-handed option to share time with Tony Gwynn, Jr., Gabe Gross, and Joe Dillon, in left field.[19][20] With a focus on defense, Yost indicated in March that Gwynn and Kapler might have a leg up on Gross.[21]
"He's been very impressive so far," said Brewers manager Ned Yost in March.[22] "I would have never known he took a year off. He doesn't show any signs of it to me.[23]
While Mike Cameron served a 25-game suspension to start the season for twice testing positive for a banned stimulant in the Fall of 2007,[24] Kapler made the club, and began to see action in center field.[25][26] On April 5, 2008, he hit the first pinch-hit home run of his career for Milwaukee in the 7th inning of a game against the San Francisco Giants. Kapler started the season as the Brewers' hottest hitter, going 11-for-26 with four home runs and 11 RBIs.[27]
By late June, with Gabe Gross traded to Tampa Bay and Tony Gwynn, Jr. back down with Class AAA Nashville, Kapler was the top option at every outfield spot if a backup was needed.[28] On July 10th he was batting .315, with a .517 slugging percentage, had 5 home runs, and was 3-0 in stolen bases while playing most of his games in center field.
Public service
Kapler and his wife, Lisa, co-founded the Gabe Kapler Foundation, which is dedicated to educating the public about domestic violence and helping women escape abusive relationships. [29]
Personal
Kapler and his wife Lisa have two sons, Chase Ty and Dane Rio.
Kapler is well-known in baseball for his extraordinary musculature.

Bob Ryan

once wrote a column in which he nicknamed Kapler "The Body," and mused on the fact that, traditionally, bodybuilder-type physiques have not been considered desirable for baseball players (as speed and reflexes are more important than muscle). This same muscularity has become a part of pop-culture and a staple among Boston fans. His musculature and shirtless photos have made Kapler a favorite of those inclined to appreciate such things. [30]
In a clubhouse poll it was once revealed that of the 25 players on the Red Sox, 24 were

Republicans

and Kapler was the lone

Democrat

.[31]
External links