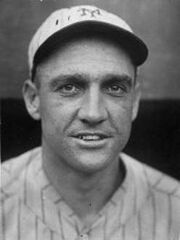 George Lange Kelly (September 10, 1895 - October 13, 1984), nicknamed "Highpockets," was a Major League Baseball first baseman.
Kelly entered the majors briefly in the mid-1910s, beginning in 1915 with the New York Giants, but he wasn't a regular in their line-up until 1920, when he had a league-leading 94 RBIs. In 1921, Kelly began a string of successful years individually and with his team. Kelly drove in 100 or more runs for four consecutive seasons and batted .300 or higher six consecutive seasons. The Giants appeared in the World Series in 1921, 1922, 1923, and 1924, and won in 1921 and 1922.
Kelly was traded to the Cincinnati Reds prior to the 1927 season for Edd Roush. His production declined somewhat in Cincinnati, to the point where he spent part of 1930 and all of 1931 with the minor-league Minneapolis Millers. Kelly retired after the 1932 season as a member of the Brooklyn Dodgers.
Kelly shared the National League record with seven home runs in six consecutive games, set in 1924., until Barry Bonds had 9 in 6 consecutive games in 2001.
Kelly was inducted into the National Baseball Hall of Fame and Museum in 1973. He was selected by the Veteran's Committee, which included two of his former teammates, Frankie Frisch and Bill Terry. Also selected by the Vets that year were Mickey Welch (who won over 300 games in the 19th century) and Umpire Billy Evans - 2 much more solid selections. Charges of cronyism would lead to the Veteran's Committee having its powers reduced in subsequent years. Kelly has been called "the worst player in the Hall of Fame" by baseball historian Bill James.[1] Most knowledgeable baseball historians, however, believe Tommy McCarthy, a 19th century player to be the worst Hall of Fame player.
References
Edit
↑ James, Bill (2003). The New Bill James Historical Baseball Abstract, p.455. Free Press. ISBN 0743227220.
External links
Edit
Community content is available under
CC-BY-SA
unless otherwise noted.