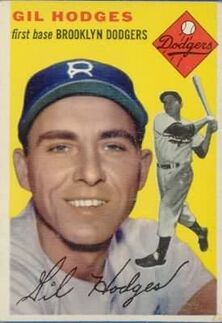 Gilbert Raymond Hodges (April 4 1924 - April 2 1972) was an American first baseman and manager in Major League Baseball who played most of his career for the Brooklyn & Los Angeles Dodgers. He was the major leagues' outstanding first baseman in the 1950s, with teammate Duke Snider being the only player to have more home runs or runs batted in during the decade. His 370 career home runs set a National League record for right-handed hitters, and briefly ranked tenth in major league history; he held the NL record for career grand slams from 1957 to 1974. He anchored the infield on six pennant winners, and remains one of the most beloved and admired players in team history. A sterling defensive player, he won the first three Gold Glove Awards and led the NL in double plays four times and in putouts, assists and fielding percentage three times each. He ranked second in NL history with 1281 assists and 1614 double plays when his career ended, and was also among the league's career leaders in games (6th, 1908) and total chances (10th, 16,751) at first base. He managed the New York Mets to the 1969 World Series title, one of the greatest upsets in Series history, before his sudden and untimely death on April 2, 1972 after playing golf, 2 days short of his 48th birthday.
Early years
Edit
Hodges was born in Princeton, Indiana, the son of coal miner Charlie and his wife Irene; the family moved to nearby Petersburg when Gil was seven. He declined a 1941 contract offer from the Detroit Tigers and instead attended Saint Joseph's College with the hope of eventually becoming a collegiate coach. He was signed by the Brooklyn Dodgers in 1943, and appeared in one game for the team as a third baseman that year. He entered the Marine Corps during World War II after having participated in its ROTC program at Saint Joseph's, serving as an anti-aircraft gunner in the battles of Tinian and Okinawa and receiving a Bronze Star and a commendation for courage under fire for his actions. After his 1946 military discharge he returned to Brooklyn and saw play as a catcher in 1947, joining the team's already solid nucleus of Jackie Robinson, Pee Wee Reese and Carl Furillo; but the emergence of Roy Campanella made it evident that Hodges had little future behind the plate, and he was shifted by manager Leo Durocher to first base, where his play came to be regarded as exemplary. Hodges hit his first major league home run against Hank Borowy of the Chicago Cubs at Wigley Field on June 18, 1947. Hodges' only appearance in the 1947 World Series against the New York Yankees was as a pinch-hitter for pitcher Rex Barney in Game 7; he struck out. As a 1948 rookie, he batted .249 with 11 home runs and 70 RBI.
On June 25, 1949, he hit for the cycle. He led the NL in putouts (1336), double plays (142) and fielding average (.995) that season, and tied Hack Wilson's 1932 club record for right-handed hitters with 23 homers. His 115 RBI were fourth in the NL, and he made his first of seven consecutive All-Star teams. Facing the Yankees again in the 1949 Series, he batted only .235 but did drive in the sole run in Brooklyn's only victory, a 1-0 triumph in Game 2. In Game 5 he hit a 3-run homer with two out in the seventh to pull the Dodgers within 10-6, but struck out to end the game and the Series. On August 31, 1950 against the Boston Braves, he joined Lou Gehrig as just the second player since 1900 to hit four home runs in a game without the benefit of extra innings; he hit them against four different pitchers, with the first coming off Warren Spahn. That year he also led the league in fielding (.994) and set an NL record with 159 double plays, breaking Frank McCormick's mark of 153 with the 1939 Cincinnati Reds; he broke his own record in 1951 with 171, a record which stood until Donn Clendenon had 182 for the 1966 Pittsburgh Pirates. He finished 1950 third in the league in both homers (32) and RBI (113), and came in eighth in the MVP voting. In 1951 he became the first Dodger to hit 40 home runs, breaking Babe Herman's 1930 mark of 35; Campanella hit 41 in 1953, but Hodges would recapture the record with 42 in 1954 before Snider eclipsed him again with 43 in 1956. His last home run of 1951 came on October 2 against George Spencer of the New York Giants at the Polo Grounds, as the Dodgers tied the 3-game NL playoff series at a game each with a 10-0 win; New York would take the pennant the next day on Bobby Thomson's "Shot Heard 'Round the World". Hodges also led the NL with 126 assists in 1951, and was second in HRs, third in runs (118) and total bases (307), fifth in slugging average (.527), and sixth in RBI (103).
Hodges was an eight-time All-Star, from 1949-55 and in 1957. With his last home run of 1952, he tied Dolph Camilli's Dodger career record of 139, and he passed him in 1953; Snider would move ahead of him in 1956. He again led the NL with 116 assists in 1952, and was third in the league in HRs (32) and fourth in RBI (102) and slugging (.500). A great fan favorite in Brooklyn, he was perhaps the only Dodger regular never booed at their home park, Ebbets Field. Fans were very supportive even when Hodges suffered through one of the most famous slumps in baseball history, going hitless in the last nine games of 1952; during the 1952 World Series against the Yankees, he finished the Series 0-21 at the plate as Brooklyn lost in seven games. When his slump continued into the following spring, fans reacted with countless letters and good-luck gifts, and one Brooklyn priest – Father Herbert Redmond of St. Francis Roman Catholic Church – told his flock: "It's far too hot for a homily. Keep the Commandments and say a prayer for Gil Hodges."[1] Hodges began hitting again soon afterward, and rarely struggled again in the World Series.
He ended 1953 with a .302 batting average, though only fifth in the NL in RBI (122) and sixth in HRs (31). Against the Yankees in the 1953 Series, Hodges hit an impressive .364; he had three hits including a homer in the 9-5 Game 1 loss, but the Dodgers again lost in six games. Under new manager Walter Alston in 1954 he enjoyed one of his best campaigns, setting the team HR record, hitting a career-high .304 and again leading the NL in putouts (1381) and assists (132). He was second in the league to Ted Kluszewski in HRs and RBI (130), fifth in total bases (335) and sixth in slugging (.579) and runs (106), and placed tenth in the MVP vote.
The Boys of Summer
Edit
1955 saw his regular-season production drop off to a .289 average, 27 HRs and 102 RBI, but the year ended with a most satisfying conclusion. Facing the Yankees in the World Series for the fifth time, he was 1-for-12 in the first three games before coming around. In Game 4 he hit a 2-run homer in the fourth inning to put Brooklyn ahead 4-3, and later had an RBI single as they held off the Yankees 8-5; he scored the first run in the 5-3 win in Game 5. In Game 7 he drove in Campanella with two out in the fourth for a 1-0 lead, and added a sacrifice fly to score Reese with one out in the sixth. Johnny Podres scattered eight New York hits, and when Reese threw Elston Howard's grounder to Hodges for the final out, Brooklyn had a 2-0 win and the first World Series title in franchise history.
In 1956 he had 32 home runs and 87 RBI as Brooklyn won the pennant again, and once more met the Yankees in the World Series. In the third inning of Game 1 he hit a 3-run homer to put Brooklyn ahead 5-2, and they went on to a 6-3 win; he had three hits and four RBI in Game 2's 13-8 slugfest, scoring to give the Dodgers a 7-6 lead in the third and doubling in two runs each in the fourth and fifth innings for an 11-7 lead. In Game 5 he struck out, flied to center and lined to third base in Yankee Don Larsen's perfect game, and Brooklyn went on to lose in seven games.
In 1957 Hodges set the NL record for career grand slams, breaking the mark of 12 shared by Rogers Hornsby and Ralph Kiner; his final total of 14 was tied by Hank Aaron and Willie McCovey in 1972, and broken by Aaron in 1974. He had another excellent season, finishing seventh in the NL with a .299 batting average and fifth with 98 RBI, and leading the league with 1317 putouts. He was also among the NL's top ten players in HRs (27), hits (173), runs (94), triples (7), slugging (.511) and total bases (296); in late September he drove in the last Dodger run ever at Ebbets Field, and also the last run in Brooklyn history. He was named to his last All-Star team, and placed seventh in the MVP balloting. After the Dodgers relocated to Los Angeles, on April 23, 1958 he became the seventh player to hit 300 home runs in the NL, connecting off Dick Drott of the Chicago Cubs. That year he also tied a post-1900 record by leading the league in double plays (134) for the fourth time, equaling McCormick and Kluszewski; Clendenon eventually broke the record in 1968. But he had only 22 HRs and 64 RBI as the Dodgers finished in seventh place in their first season in California. Also in 1958, he broke Camilli's NL record of 923 career strikeouts.
Things turned around in 1959 as the Dodgers captured another NL title, with Hodges contributing 25 HRs and 80 RBI and hitting .276, coming in seventh in the league with a .513 slugging mark; he also led the NL with a .992 fielding average. He batted .391 in the 1959 World Series against the Chicago White Sox (his first against a non-Yankee team), with his solo home run in the eighth inning of Game 4 giving the Dodgers a 5-4 win, as they triumphed in six games for another Series championship. In 1960 he broke Kiner's NL record for right-handed hitters of 351 career home runs, and appeared on the TV program Home Run Derby. In his last season with the Dodgers in 1961, he became the team's career RBI leader with 1254, passing Zack Wheat; Snider moved ahead of him the following year. Hodges received the first three Gold Glove Awards ever presented from 1957 to 1959; his career fielding average of .992 is outstanding.
Return to New York
Edit
After being chosen in the expansion draft, Hodges was one of the original 1962 Mets; despite knee problems he was persuaded to continue his playing career in New York, and he hit the first home run in franchise history. By the end of the year, in which he played only 54 games, he ranked tenth in major league history with 370 HRs – second to only Jimmie Foxx among right-handed hitters. He hit his last major league home run against Ray Sadecki of the St. Louis Cardinals who he later managed with the New York Mets.
Cite error: <ref> tags exist, but no <references/> tag was found
Community content is available under
CC-BY-SA
unless otherwise noted.