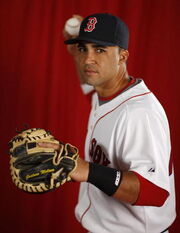 Gustavo Molina (born February 24, 1982 in La Guaira, Venezuela) is a Major League Baseball catcher for the Boston Red Sox. Molina bats and throws right-handed. He is not related to Major League Baseball's current "first family" of catching, the Molina brothers (Jose, Bengie, and Yadier).
Molina was originally signed as an undrafted free agent by the Chicago White Sox on January 3, 2000. He spent seven years in the minor leagues with the White Sox organization before making his major league debut on April 2, 2007, with the White Sox. He was on the White Sox' opening day roster due to backup catcher Toby Hall being placed on the disabled list. Molina sent down to the minors once Hall returned. During Molina's short one-and-a-half month tenure with the White Sox, he went 1-18 with one RBI. He got his first hit against the New York Yankees at U.S. Cellular Field. Shortly after, he was sent down to the minors.
On July 30, 2007, Molina was claimed off waivers by the Baltimore Orioles, who immediately sent him to play with the Bowie Baysox, the Orioles' Double-A team.
In December 2007, Molina signed a minor league contract with the New York Mets and became a free agent at the end of the season. On December 23, 2008, he signed a minor league contract with the Washington Nationals.
On January 29, 2010 the Boston Red Sox signed Molina to a minor league contract.
On June 29, 2010, he was purchased to replace Víctor Martínez, who was placed on the DL.
External links