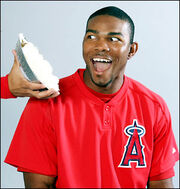 Howard Joseph Kendrick III (born July 12, 1983 in Jacksonville, Florida) is a Major League Baseball second baseman for the Los Angeles Angels of Anaheim. He attended West Nassau HS (Callahan, Florida) and St. John's River Community College (Palatka, Florida), where he was named Conference Player of the Year.
He is sometimes referred to by fans as "HK-47" due to his initials and jersey number. Kendrick earned the nickname "Truck" from former Angels pitching coach Bud Black, due to the similarity of his last name to Eddie Kendricks (of The Temptations), and his song Keep On Truckin'.[1]
Kendrick was drafted in the 10th round of the 2002 Major League Baseball Draft, and named the #1 prospect in the Texas League in 2005.
Major league career
Edit
Kendrick had a one-on-one collision with actor Ben Affleck during his rookie season in the stands on the first base side of Fenway Park. On a foul ball that was hit towards where Affleck, accompanied by actress Jennifer Garner, was sitting, Kendrick snatched the ball from the outstretched arms of Affleck, recording the out. Fans sitting nearby bothered Affleck about not taking the ball away from Kendrick. The event landed Kendrick's picture in People magazine. In an edition of the syndicated Access Hollywood, Kendrick presented Affleck an autographed baseball for his birthday as a token of sympathy for the actor's misfortune at Fenway Park.
Kendrick hit his first home run against the Tampa Bay Devil Rays on July 26, 2006. After Adam Kennedy signed as a free agent with the St. Louis Cardinals during the 2006-2007 offseason, Kendrick made his expected move to be the new starter at second base for 2007. He batted .322 in 88 games and again batted over .300 in 2008.
External links
Edit
Community content is available under
CC-BY-SA
unless otherwise noted.