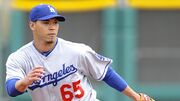 Iván DeJesús, Jr. (born May 1, 1987)[1] is a right-handed throwing and right-handed batting Puerto Rican professional baseball player. He was selected by the Los Angeles Dodgers' in the 2005 Major League Baseball Draft,[2] and he is the son of Ivan DeJesus.[2] DeJesús was named 2008 minor league player of the year for the Dodgers organization.[3][4] DeJesus had been the Dodgers sixth highest rated prospect and best defensive infielder prior to 2007.[5] He was listed as the #12 Dodger prospect prior to 2008 by Scout.com and #13 by Baseball America.[6][7]
Career
In 1987, he was born in Guaynabo, Puerto Rico.[1] He went to high school at Puerto Rico Baseball Academy of Gurabo, Puerto Rico.[1] He was the Los Angeles Dodgers' 2nd selection and 51st overall selection of the 2005 Major League Baseball Draft.[2]
In 2005, he split time between the GCL Dodgers of the Gulf Coast League and the Ogden Raptors of the Pioneer Baseball League. He has played with the Columbus Catfish of the South Atlantic League in 2006 and with the Inland Empire 66ers of San Bernardino of the California League in 2007. He spent the 2008 season with the Jacksonville Suns of the Southern League.[1] He was selected to play for the South Division of the Southern League All-star game,[3] but he instead played in the 2008 All-Star Futures Game.[8] He ended 2008 with a 23-game hitting streak.[3] He finished second in the Southern League with 76 walks and tied for third with 150 hits.[9] He was selected to the Baseball America Minor League All-Star Second Team as a second baseman.[9]
Notes
External links