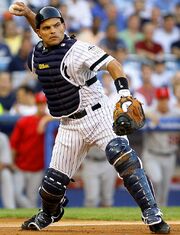 Iván Rodríguez Torres (born November 30, 1971, in Manatí, Puerto Rico), also known as "Pudge Rodríguez"[1] and "I-Rod",[2] is a Puerto Rican former baseball catcher. He has played for the Texas Rangers, Florida Marlins, Detroit Tigers, New York Yankees, Houston Astros and Washington Nationals. Some consider him the greatest defensive catcher ever.[3] Rodríguez was awarded the American League (AL) Most Valuable Player Award in 1999.
Rodríguez won the World Series with the Marlins in 2003, and also played in the 2006 World Series as the Tigers' starting catcher.
Early life
Iván Rodríguez was born in Manatí, Puerto Rico, and raised in Vega Baja. His father, Juan, worked for a U.S.-based construction company, and his mother, Eva Torres, was an elementary school teacher.[4] Iván's first job involved delivering flyers in the shopping malls in Puerto Rico.[5] He learned baseball at an early age, his biggest rival being Juan González, who he often played against in his youth.[4] As a Little League player, he moved from pitcher to catcher because his father, who was also his coach, thought he was throwing too hard and scaring opposing players with his pitches.[6] Rodríguez attended Lino Padron Rivera High School, where he was discovered by scout Luis Rosa. Rosa reported that "he showed leadership at 16 that I'd seen in few kids. He knew where he was going."[4] Rodríguez signed a contract with the Texas Rangers in July 1988, at the age of 16, and began his professional baseball career.[4]
Playing career
Minor leagues
Rodríguez made his professional debut in 1989 at the age of 17 as catcher for the Gastonia Rangers of the South Atlantic League. In his first game, Rodríguez went had three hits in three at bats (3-for-3) against Spartanburg. Playing in the Florida State League in 1990, Rodríguez was selected the best catcher in the league and named to the all-star team. He placed 15th in the league in batting at .287, and led his team in runs batted in, with 55. He also played in the Puerto Rican Professional Baseball League (LBPPR) over the offseason.[7]
Major Leagues
1991–1993
When Rodríguez made his major league debut with the Texas Rangers on June 20, 1991, he became the youngest person to catch in a major league game that season.[8] He immediately established himself as an excellent hitter who was also proficient in throwing out would-be base-stealers. In fact, no other catcher in the past 35 years of the League has been as successful at this aspect of the game, with Rodríguez throwing out 48% of attempted basestealers through May 2006. This was far more than the runner-up during this period, the late Thurman Munson.[9] He started many of the Rangers games at the end of the season, including 81 of the last 102. Rodríguez became the youngest player in the history of the Texas Rangers to hit a home run, on August 30, 1991 in a game facing the Kansas City Royals. Rodríguez hit the home run off right-hander Storm Davis. He was named to the Major League Baseball (MLB) Rookie all-star team by both Topps and Baseball America and finished in fourth place in the American League Rookie of the Year voting. He also placed first in throwing out runners, catching 48.6 percent of runners attempting to steal.[10]
In 1992, Rodríguez started 112 games behind the plate and was the youngest player in the major leagues for the second year in a row. Playing in the Puerto Rico Winter League, he had a .262 batting average playing in 17 games for Mayaguez.[11] In the 1993 season, Rodríguez batted .273, had 66 runs batted in and hit 10 home runs, ranking fourth, fifth, and fifth on his team respectively. He had a stretch of eight straight hits over two games facing the Kansas City Royals on July 26 and July 28. He played the final month of the regular season in the Puerto Rican Winter league, where he had a .425 batting average and 14 runs batted in for Mayaguez. Rodríguez was named to the Puerto Rican Winter League all-star team and was also the league Most Valuable Player (MVP).[12]
1994–1997
In 1994, Rodríguez led the American League in batting average among catchers, at .298. He placed high on his team in many statistics, placing second in batting average (.298), tied for third in doubles (19), and fourth in hits, total bases, runs, home runs, walks, games, and at bats. He also caught Kenny Rogers' perfect game on 1994-07-28. Rodríguez played in the Puerto Rican Winter League over the winter, but he suffered a severe knee injury which kept him from playing for the rest of the season.[13]
Playing for the Rangers during the 1995 season, Rodríguez led his team in batting, total bases, and doubles, at .303, 221, and 32 respectively. He was names the Texas Rangers' player of the year. Rodríguez also had his first multi-home run game while playing the Boston Red Sox on July 13, hitting both off all-star pitcher Roger Clemens. He also played for Caguas in the Puerto Rican Winter League during the offseason.[14]
In 1996, Rodríguez set an MLB record for most doubles by a catcher, amassing 44 doubles over the course of the season. This broke the previous mark of 42, set by Mickey Cochrane in 1930. He also set the major league record for at-bats by a catcher in a single season, with 639, which surpassed Johnny Bench's record of 621 in 1970. He led the Texas Rangers in doubles, at bats, hits, and runs scored. He was selected to the Major League Baseball All-Star team that played a series in Japan against the Japanese all-stars after the season was over. He again played in the Puerto Rican Winter League this season.[15] In the 1997 season, Rodríguez also placed first among catchers in many categories in Major League Baseball. These categories were hits, runs, runs batted in, and doubles. He placed second in home runs among catchers, below only Sandy Alomar, Jr. of the Cleveland Indians, who had 20 home runs. He appeared on the cover of Sports Illustrated on the week of August 4. This marked the fourth time a player from the Texas Rangers had been on the cover of Sports Illustrated. Rodríguez played in the Puerto Rican Winter League yet again, where he had a .285 batting average, 4 home runs, and 18 runs batted in over the course of 32 games playing for Caguas.[16]
1998–1999
In the 1998 season, Rodríguez led the Texas Rangers in batting average at .325, which placed eighth in the American League. He also had 75 multi-hit games and 186 hits, finishing seventh and ninth in MLB respectively. He finished second on the Rangers in hits, total bases, triples, total bases, and slugging percentage. Rodríguez was third on the team in doubles, home runs, and stolen bases, and fourth in runs batted in. He had his 1000th in a game facing the Cleveland Indians on May 10 of that season. Rodríguez also became the first catcher in the history of Major League Baseball to have two or more seasons with 40 or more doubles. He was selected to the American League All-Star Team again, and he was also named to all-star teams by the Associated Press, The Sporting News, and Baseball America.[17]
In 1999, Rodríguez was selected American League MVP by Major League Baseball. That season, he set a new record for home runs in a single season among catchers, with 35. This record was later broken by Javy López of the Atlanta Braves in 2003, who hit 42.[18] Rodríguez was also the first catcher to have more than 30 home runs, 100 runs batted in, and 100 runs scored in the history of Major League Baseball. In addition, he holds the distinction of being the first catcher in the history of the league to amass more than 20 home runs and 20 stolen bases. From May 8, 1999 to June 1, 1999, Rodríguez had a career high 20 game hitting streak. He had 25 stolen bases, which was fifth most among catchers in the history of the league. He led the league in times grounded into a double play, with 31. Rodríguez was only the ninth catcher in the history of Major League Baseball to win the Most Valuable Player award, and he was the first to win it since Thurman Munson in 1976. He was named on all of the ballots, getting seven first place votes and six second place votes. Rodríguez was the sixth Puerto Rican to win the award, and the fourth player from the Texas Rangers to win it. He also won the Silver Slugger Award for the sixth time in a row and was selected Most Valuable Player by Baseball Digest. He was again named to all-star teams by the Associated Press, The Sporting News, and Baseball America.[19]
2000–2002
In 2000, Rodríguez appeared in just 91 games, which was the fewest that he appeared in since his first season in the league, 1991. On July 24, Rodríguez suffered a season-ending injury in a game against the Anaheim Angels. While trying to make a throw to second base, his thumb made contact with the swing of Mo Vaughn's bat. He fractured his right thumb and underwent surgery the next day. This injury caused him to miss the rest of the season. Even though he was injured, he was still named to the second-team of the Baseball America Major League Baseball All-Star Team.[20] Rodríguez returned to full action in 2001 and had another all-star season. He was selected to his ninth straight MLB All-Star Game in a row, which tied the all time record set by Johnny Bench. He also tied Bench's record of ten straight Rawlings Gold Glove Awards in a row. He batted .308, making 2001 his seventh straight season with a batting average of over .300. He had 25 home runs, 136 hits, and 65 runs batted in.[21] Rodríguez's final year with the Texas Rangers came in 2002. His .314 batting average was seventh best among American League players. This was his eighth season in a row with batting average of .300 or above. He also had 32 doubles, 2 triples, and 60 runs batted in while playing in 108 games for the Rangers. Rodríguez was placed on the disabled list on April 23 after suffering a herniated disk on April 15. The injury did not require surgery, and he rehabilitated while playing for class A Charlotte. He later returned to the Rangers and played there for the remainder of the season. When his contract with Texas ran out following the 2002 season, Rodríguez signed with the Florida Marlins for one year. By then a major-league veteran of over a decade, he helped lead the young team to victory in the World Series.[22]
2003
Rodríguez's played his first and only season with the Florida Marlins in 2003. Over the off-season, he was signed to a one year deal with the Marlins after his contract expired with the Texas Rangers, and he opted out of the contract for free agency. During the 2003 regular season, he set many Marlins single season records for a catcher, such as batting average, at .297, and runs batted in, at 85. On March 31, Rodríguez became the tenth Marlins player ever to hit a home run on the team's first game of the season. On April 8, he set a Marlins single game record by drawing five walks in a game against the New York Mets. He had a career high nine game hitting streak from June 24 to July 2, during which he batted .500 with seven doubles, two triples, and four home runs. From June 24 to July 1, he drove in a run for eight consecutive games, another single season record for the Florida Marlins. In the post-season, he led the Marlins to their second World Series title and was named National League Championship Series Most Valuable Player for the first time in his career. He chose not to return to the Marlins the following season, and he later signed with the Detroit Tigers over the offseason.[23]
2004–2008
On 2004, he was selected to the MLB All-Star Game for the eleventh time in his career and for his tenth time as a starting player, joining Johnny Bench and Mike Piazza as the only Major League Baseball catchers to start an all-star game ten times or more in their career. He also won his eleventh consecutive Rawlings Gold Glove Award, making him the first player on the Detroit Tigers to win the award since Gary Pettis won it in 1989. He won his seventh career Silver Slugger Award, tied with Victor Martinez of the Cleveland Indians. He was fourth in the American League in batting average and fourth among all Major League Baseball catchers. On October 1, he recorded his 1,000th career RBI in a game against the Tampa Bay Devil Rays.[24] The 2005 season was another all-star year for Rodríguez. He was selected to the Major League Baseball All-Star Game for the twelfth time in his career, and he participated in the Century 21 Home Run Derby on the day before the all-star game. In the home run derby, he finished second to Bobby Abreu of the Philadelphia Phillies. By the end of the season, he batted .276 with 14 home runs and 50 runs batted in.[25] On October 26, 2005, Major League Baseball named him the catcher on their Latino Legends Team.
In 2006, Rodríguez returned to throwing out runners attempting to steal a base at a very high percentage, as he did in his earlier career; he was first in the league in this category, throwing out 45.7 percent of all runners attempting to steal a base.[26] On May 9, 2006, Rodríguez played first base for the Tigers. That game, a 7–6 loss to the Baltimore Orioles, was the first time that he played a position other than catcher in his 1,914 Major League games.[27] On August 15, 2006, he also made his first Major League appearance at second base after regular second baseman Plácido Polanco was injured in a game in Boston. On April 16, 2007, he batted in 6 runs on the way to a 12–5 victory over the Kansas City Royals. He caught Justin Verlander's no-hitter, the second no-hitter he's caught in his career, on June 12 of that year. In 2007, Rodríguez walked only 1.8 percent of his plate appearances, the lowest percentage in the major leagues.[28] On October 9, the Tigers announced that they were picking up the fifth-year, 13-million-dollar option on Rodríguez's contract, keeping him on the Tigers team through at least the 2008 season. The team could have bought out the option for three million dollars and allowed him to become a free agent.
In spring training in 2008 he led the major leagues, with 8 home runs. He also got his 2,500th hit.[29] Manager Jim Leyland said that he would rotate Rodriguez and Brandon Inge at Catcher every other day for the time being.In late July, Rodriguez was traded to the New York Yankees for relief pitcher Kyle Farnsworth. For the reason that the Yankees' other catcher, Jorge Posada, was injured, he has started most of the Yankees' games since he was traded. Rodriguez changed his jersey number to 12, because his custom number 7 was retired for Mickey Mantle.
World Baseball Classic
Rodríguez represented Puerto Rico in the 2006 World Baseball Classic. He was part of a team that was mostly consisted of Major League Baseball players, among whom were Carlos Beltrán, Javier Vázquez, Bernie Williams and Carlos Delgado.[30] Rodríguez was one of several Major League Baseball players that announced commitment to represent their native countries before the organization of the tournament.[31]
Steroid allegations
In 2005, Rodríguez was accused by former Major League Baseball player José Canseco, along with fellow Texas Ranger teammates Juan Gonzalez and Rafael Palmeiro of using steroids. Canseco stated that the players used the steroids when they were all Texas Rangers players in 1992. The three players were featured in a section of José Canseco's 2005 book, Juiced: Wild Times, Rampant 'Roids, Smash Hits, and How Baseball Got Big (Amazon ). Rodríguez denied Canseco's allegations.[32]
Personal life
Rodríguez married Maribel Rivera on June 20, 1991. That same night, having been called up from triple-A by the Texas Rangers, he made his major league debut, in which he threw out two White Sox would-be base stealers.[5] The couple and their three children divide their time between Colleyville, Texas, Miami, Florida and Puerto Rico.[5] In 1993, Iván and Maribel founded the Ivan "Pudge" Rodriguez Foundation whose purpose is to help families in Puerto Rico, Dallas and Fort Worth, Texas.[33] Rodríguez has also stated that the Make-a-Wish Foundation is one of his charities of choice.[5]
See also
References
External links