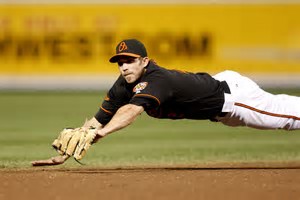 James Jerry "J.J." Hardy
(born
August 19
,
1982
in
Tucson, Arizona
) is a
Major League Baseball
shortstop
for the
Milwaukee Brewers
. His father was a professional tennis player and his mother was a professional golfer. He played high-school baseball at Sabino High School in Arizona and was captain of the "Sabercats" baseball team. He was an All-State Selection in 1999, 2000, 2001, and was All-American in 2001. Was a member of the U.S.A Junior National team in 2001 and won the silver medal in Edmonton, Canada. Hardy was drafted by the
Milwaukee Brewers
during the second round of the 2001 draft. In 2003 he played for the U.S.A. Olympic Qualifying team. His current 2008 contract with the
Milwaukee Brewers
is $2,650,000.
Baseball career
Edit
Hardy's style of play has drawn comparisons to hall-of-famer Robin Yount, also a Brewers shortstop. Hardy suffered a dislocated shoulder and a torn labrum in 2004 in the minor leagues and sat out the year.
He went into spring training in 2005 as the frontrunner to win the starting shortstop job. Although he got off to a very slow start, Hardy finished strong and ended the year with a .247 batting average, 9 home runs and 50 runs batted in. Hardy only committed 10 errors in the field, but also had the lowest range factor of all major league shortstops, 3.76.[1]
On May 16, 2006, Hardy slid into Philadelphia Phillies catcher Sal Fasano at home plate trying to score and badly injured his ankle when Fasano attempted to block the plate. X-rays revealed a severe sprain of the ankle, and he was placed on the 15 day disabled list. Hardy recovered from the sprain, but constantly had trouble with an ankle tendon that kept popping in and out of place. On July 18, the Brewers announced that Hardy would have season-ending surgery on his ankle, performed by team physician Dr. William Raasch. [1] Hardy finished the year with an average of .242 with 5 HR and 14 RBI.
2007 proved to be a breakout year for Hardy. As of June 27 he had already doubled his career home run total. He ended the season batting .277 with 26 home runs, and 80 RBIs.
Hardy was selected to play as a reserve in the 2007 Major League Baseball All-Star Game, held in San Francisco. He played in the ninth inning and was walked on his first and only time up to bat.
As of October 5, 2008 Hardy is batting with an average of .283, 2 stolen bases, 24 home runs, and 74 RBIs. He had a 16 game hitting streak, which was broken on July 5 with a sacrifice bunt in order to aid the Brewers in defeating the Pittsburgh Pirates. The week of July 7 he was the National League player of the week. The Milwaukee Brewers went to the postseason, and lost in the fourth game against the Philadelphia Phillies. [2]
References
Edit
External links
Edit
Community content is available under
CC-BY-SA
unless otherwise noted.